5 of Our Favorite Salads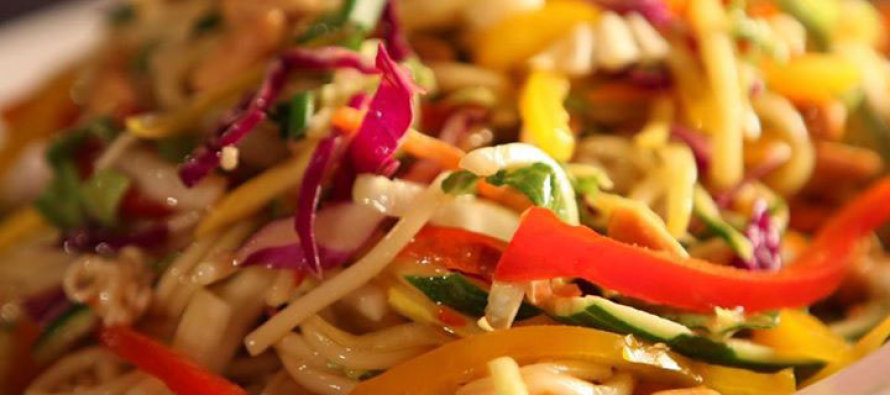 When people think of salads, they often think of a side salad. I chose to challenge this notion – move over side salad! I ventured out and found five salads that could easily make up a main course. These salads included a variety of ingredients such as meats, cheeses, veggies and more. These salads are enough to satisfy any palate – enjoy!
Jams – Fried Coconut Chicken Salad
I made my first stop at Jams and went with the fried coconut chicken salad for $12.50. The salad includes coconut coated chicken, artichoke hearts, avocado, Swiss cheese, tomato, red onions, croutons, almonds, field greens, creamy herb mustard dressing and raspberry sauce.
The combination of ingredients created a delicious melody in my mouth. The creaminess of the dressing and sauces, atop the crispiness of the field greens, was delightful. The chicken was tender and the coconut flavors were an added bonus.
If you are going to spend between $12 and $15 for a salad, you definitely want it to be a meal. Jams did not disappoint. It was difficult to decide between the many salads that were offered. Jams' atmosphere includes great art, spirits, atmosphere and efficient wait staff. All of which provide a great dining experience.
Mantra – Thai Vegetable Salad
Mantra is relatively new to the Benson neighborhood and offers a wide variety of dishes. I decided to go with the Thai vegetable salad. This salad is made of fresh zucchini, yellow squash, bell pepper, spaghetti noodles, carrots, Napa cabbage and chili lime dressing. The salad is $9.95 and you can add chicken for an additional $3 or shrimp or salmon for $4. I chose to add chicken, which was grilled to perfection and was a nice addition to the dish.
These ingredients combine to give irresistible flavors and textures. The vegetables are perfectly chopped and prepared. The salad is extremely fresh and light, yet bold. I walked away feeling full, yet healthy as well.
Lot 2 – Kale Salad
Lot 2 offers many different dishes, however I opted for the kale salad. This simple yet flavorful salad has multiple flavors. The salad is made of fresh, finely chopped dinosaur kale, roasted cauliflower, capers, walnuts, golden raisins, parmesan and yogurt dressing – all for $5. The kale gives a crunchy and slightly rough texture while the dressing adds a smooth creaminess. The walnuts add to the crunchiness and the golden raisins leave a sweetness that resonates in your mouth.
McFoster's – Health Nut Salad
McFoster's is known for its many vegetarian dishes and I opted to go with the health nut salad. The many ingredients create quite the concoction of flavors. The ingredients include charred peppers and onions, honey glazed pecans, tamari roasted cashews, blanched brussel sprouts, broccoli and cauliflower. The salad is lavishly garnished with nasturtiums, organic tomatoes, waffled carrots, cucumber, garlic bread and dairy or vegan cheese. All of this lies atop a bed of fresh greens.
There are many vegan salad dressings to choose from and I went with the cucumber garlic ranch. Each ingredient offers its own part in the salad. From the crispness of the lettuce to the crunchiness of the delicious roasted nuts, each bite offers delight to the senses. A whole salad is $12.95 and a half is $8.95.
Sgt. Peffer's – Grilled Chicken Salad
Sgt. Peffer's is a staple in Omaha, known for their delicious Italian food. The grilled chicken salad is no stranger to being a favorite of many. Thinly sliced pieces of marinated grilled chicken lay atop a bed of fresh spinach and iceberg lettuce. Marinated mushroom, artichoke hearts and black olives compliment the salad with additional bold flavors. The salad is $7 – an additional 50 cents for homemade vinaigrette. This salad can also be delivered
---
---
Related Articles
You eat with your eyes first. It is no secret that a professionally designed cake looks more appetizing than a
The Omaha pizza scene is an ever-changing carousel of wonderment. Some restaurants are like long-lost friends that remind visitors of
There is a history of civilization that is only discoverable through the dogged and deft perusal of restaurant menus. The
Only registered users can comment.