Let Them Eat Pizza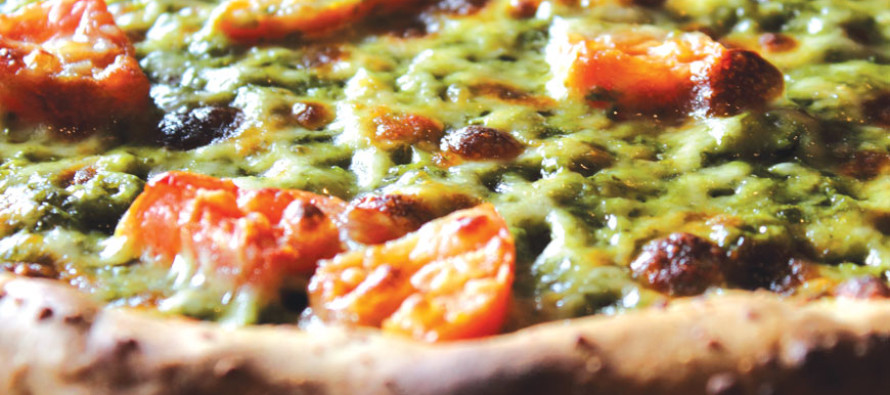 When I was in high school, pizza came in one form: a circular pie with a crust made of flour, with an available variety of toppings, but cheese was always the best. Pizza was not the stuff of fine dining; rather, it was a party snack or a reward for a late play rehearsal. It was a quick dinner that made everyone happy. It was simple, it was rustic, and it was perfect.
Over the last few years, the evolution of food culture has changed the way people regard their meals. Key words like "local" and "organic" have become hot button issues, and the ethics of food production could be its own liberal arts seminar. With the onset of social media, self-professed "foodies" have taken to posing their meals like beauty pageant participants: stiff, unnatural, and way too put together.
Hand in hand with the focus on local and organic is the gluten-free movement. While many people do suffer from this allergy (which causes terrible stomach ailments), others have worn this trend like a badge of honor, violently refusing to consume anything containing wheat. In this world, bread is sprouted, pasta is a vegetable, and gluten-free beer is a real thing.
Creativity is key for a restaurant to survive nowadays, and pizzerias are no exception. Luckily, Omaha is chock-full of innovative chefs that can cater to all preferences. Omaha is a demographically segmented city with different preferences for food on all corners. From downtown to West Omaha, there are no shortages of exciting pizza places.
Situated on Leavenworth Street, La Casa has been serving amazing pizza for over 60 years. Their varied menu offers Italian staples like lasagna and penne pollo diavolo, appealing to a variety of tastes. The real draw of this place is their crust. Flakey, pillowy and similar to a croissant, their thin crust pizza is to die for. I've had dreams bordering on filthy about their Shrimp Margherita pizza. A spicy garlic sauce holds sautéed shrimp, tomatoes, scallions and herbs, topped with fresh mozzarella. La Casa also offers a gluten-free option.
Recently voted a 2014 Hot Spot by OpenTable diners, Pitch Pizzeria in Midtown has found the perfect balance between rustic and gourmet. An upscale atmosphere flanked by craft cocktails and modern design, Pitch hosts a variety of customers from all different demographics. By coal firing their pies, Pitch offers a medium thickness of crust with an incredible variety of toppings. From pancetta and arugula to Thai chicken, Pitch has a flavor for every palate. Covering all their bases, Pitch also offers a gluten-free option for pizza. My personal favorite is the Marsala pie. Sweet figs marry into the richness of goat cheese, drizzled with the deep vibrato of truffle oil. Flanked with the peppery zip of arugula, it is impossible to have just one slice.
There are few things that loyal Midtowners would wander past 90th street for, and Dante's Pizzeria is one of them. Pushing local produce for their Neapolitan style pizzas, owner Nick Strawhecker is a stickler for fresh, quality ingredients. By wood firing their pies, Dante's enhances the natural flavor of the ingredients without overpowering them. With a friendly and upbeat atmosphere, as well as gluten-free options, this place is definitely worth the drive.
Nestled on the edge of downtown, Little Italy is a Mecca for pizza lovers. Mainly settled by Italians in 1893, the Little Italy neighborhood is rich with recipes that have been passed on from generation to generation. Orsi's Bakery and Pizzeria is a gold mine for Italian fare, and their Sicilian style pizza, in particular, has had an audience since it was first opened in 1919. Passed through the Orsi family for over 90 years, the interior and the owners may have changed, but the recipes have stayed the same. Along with pizza (carry out only), their Italian deli offers a variety of meats, cheeses, olives, peppers and desserts.
Traveling back around the globe, New York style pizza has a popular draw here in town, and Omaha staple Zio's has this style down to an art. Hand stretching their pizzas and calzones, Zio's also offers 40 toppings for their oven fired pies. A popular lunch spot, customers can enjoy people watching as much as their fresh made slices, and can opt for a gluten-free choice as well.
Brick Oven Pizzeria on 72nd St. boasts both pizza and calzones, and stands out because of their Vegan slice option. As "Home of the Crispy Crust," Brick Oven offers a variety of New York crust options. On the edge of midtown and West Omaha, Brick Oven caters to a variety of diners. The calzones are in fierce competition with pizza, however, and are brimming with a variety of fresh ingredients. In fact, just order both, and get the best of both worlds.
No matter your dietary restrictions or late night snack must-haves; pizza is the reigning food option that pleases everyone. Omaha pizzerias have taken the latest food trends and blended them with familiar flavors, keeping true to the rustic foundation of pizza itself. Eaten with the hands, pizza is a food that helps one develop a relationship with their food, to create preferences and pairings, and to nurture a style that encompasses many areas of life. As food culture continues to evolve, there is no telling what the next great ingredient or trend will be, but one thing is certain. Whether the ingredients include cauliflower, buckwheat, beets, or flaxseed, or no matter if it is vegan, wheat free, dairy free, or animal free, pizza is here to stay.

Jessica Clem
Jessica Clem is a freelancer writer based in Omaha, Nebraska. A marathon runner and food writer, her favorite way to get motivated to finish a project is the promise of a craft beer. She has a B.A. in English and an M.S. in Urban Studies, and enjoys traveling, finding typos on billboards, and the smell of a real book. She currently works for National Media Brands as an account executive.
---
Only registered users can comment.