5 of Our Favorite Salads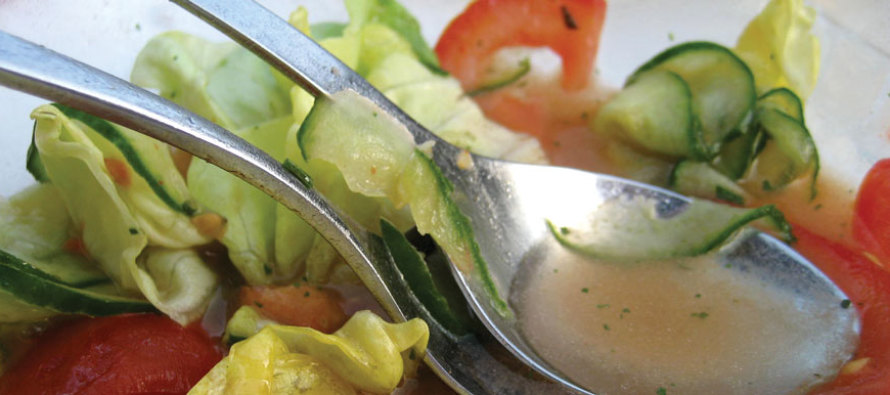 Summer is here and the time for light lunches has arrived. Whether you are a year-round salad enthusiast or one who sways with the seasons you know that a tasty and satisfying salad can make the perfect meal in warm weather. Here are the five top picks in Omaha.
Koko's Harvest Salad
Stoke's Grill & Bar  (114th & Dodge and 12th & Howard)
Wood grilled chicken, jack cheese, bacon, tomato, avocado, red onion and croutons top this bed of greens with a splash of two separate dressings. The jalapeno ranch dressing has a kick, but is light enough that it's not overpowering, and the sweet pepper dressing is reminiscent of my favorite combination of salsa and sour cream. This Southwestern creation by executive chef and partner John Ursick was the clear winner with its complex toppings quarantined in separate sections for picky eaters. It's a salad light enough for salad enthusiasts, but heavy enough that the entrée ordering crowd will feel satisfied too.
Still hungry? Order the Guacamole, Chips & House Salsas appetizer to try one of Stoke's original recipe salsas.
Sesame-Seared Salmon Salad
Taste  (110th & Elm)
The mixture of honey mustard balsamic vinaigrette, feta and almonds makes all Taste salads mouth-watering, but the hoisin sauce and hot mustard topping the sesame seared salmon on this salad pushes it over the edge as the best. As a bonus, the moist, tender salmon packs a healthy dose of Omega 3s.
Still hungry? Try the hummus with flour chips. You won't find this sweet tasting appetizer, created by executive chef and owner Don Doty, made with honey and peanut butter anywhere else.
Pear Salad
Mia's Bongo Room  (61st & Maple)
South American style cuisine is the main attraction in Benson's newest hit restaurant, and this salad is one of the best things on the menu. Seasonal apple and pear spears jut out in angles on a red triangular plate with a honey vinaigrette dressing served on the side in a classic cruet. The blue cheese crumbles, juicy mandarin oranges and fresh European greens enjoy a perfect marriage alongside feta wedges and the perfectly colored and firm apples and pears.
Still hungry? Try your luck with the Bongo Room's Soup of the Day option, which is guaranteed to be both nutritional and flavorful.
Honolulu Cobb
Twisted Cork Bistro  (107th Ave. & Pacific)
The Twisted Cork Bistro opened its doors in January, but owners Darrell and Laura Auld have this salad perfected, and with their promise to serve meals made with all natural and handmade products you can't help but feel good about eating here. The pretty display of crisp romaine is topped with prawns, mango and crunchy cooked prosciutto. Tillamook aged white cheddar mutes the lime-jalapeño dressing while avocado and tomatoes rest along the outside of the plate for easy tossing, if preferred.
Still hungry? Come back for "Twisted Social Time" to enjoy wine and pizza until 6 p.m.
Fried Coconut Chicken Salad
Jams  (78th & Dodge)
Although the wait is usually long for lunch at Jams, it is well worth it. Crispy-fried, coconut-covered chicken tops this masterpiece along with cherry tomatoes, artichoke hearts, avocado, Swiss cheese, red onions, croutons and almonds. There is a perfect amount of creamy herb mustard dressing that doesn't wilt the lettuce and compliments the chicken.
Still hungry? Order the delectable crab cakes with Cajun red pepper sauce.
Runners-up
Coconut Chicken Salad – Taste
Saigon Salad – Jams
---
Only registered users can comment.