Beer Chat: The good life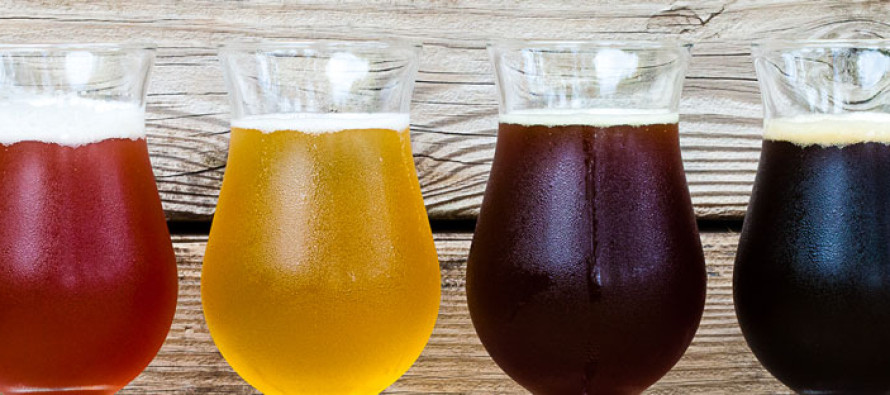 If you love better beer and call the 37th state in the Union home, then the "Good Life" surely has had deeper meaning to you with each passing year as of late. Simply put, Nebraska is making great beer.
Last September saw two of our finest breweries, Zipline and Nebraska Brewing Company, take home gold medals at the Great American Beer Festival in Denver, Colorado. Several other local breweries also grabbed awards from top competitions with their fermented efforts. Our hard working men and women in rubber boots are making some of the best beer in the nation and the nation is taking notice.
With as good as it's been, things are about to get even better. There are now more than 20 breweries in operation across Nebraska; 2016 will likely see that number rise to over 30. Let's take a closer look at a few things we have to look forward to.
Boiler Brewing Company (Lincoln)
Barring no unforeseen buildout delays, Boiler Brewing Company is poised to become Lincoln's newest brewery this February in the beautiful Grand Manse Building near 10th and O Street in downtown Lincoln. Built in 1904 and listed on the National Registry of Historic Places, the Grand Manse location was once the home of the U.S. Post Office and Federal Courthouse. The brewery and taproom will be located in the former boiler room in the basement with a capacity of around 100 people
If there is such thing as a perfect business partnership for a startup brewery, this is likely it. The team is a culmination of building owner Monte Froehlich of U.S. Property who specializes in redeveloping historic properties, Alpha Brewing Operations founders Jon Marco and Matt Rennerfeldt who design and manufacture turnkey brewing equipment, and brewer Tim Thomssen, who is currently one of the winningest homebrewers in the nation. All combined, this is surely a recipe for greatness.
While Tim has been brewing at home for just half a decade, he recalls that, "After the first couple of years, my enthusiasm for brewing increased to a full-blown passion. I suppose I've brewed at least 20 years worth of beer in those five years". He adds, "I started regularly entering homebrew competitions in 2013. I've been lucky enough to win quite a few competitions as well as a surprising number of regional and national series championships".
Tim's most recent accomplishments include being the current reigning Midwest Homebrewer of the Year, High Plains Homebrewer of the Year and Masters Championship of Amateur Brewing Grand Champion. His biggest win of his amateur brewing career was announced during last September's Great American Beer Festival, where Tim's Raspberry Berliner Weisse won the Sam Adams Longshot competition. The Longshot is a nationwide homebrew competition hosted by Boston based Sam Adams Brewery. Thousands of entries are judged and three winning homebrewers' beers are reproduced and distributed across the entire nation in a specialty Sam Adams six-pack. "With the awards come high expectations. I am already rolling up my sleeves and working hard to live up to those expectations. I thrive on that," says Tim.
Boiler Brewing will operate on an Alpha Brewing Operations automated 10-barrel, two vessel steam brewhouse with eight 10-barrel fomenters, two 10-barrel brite tanks and a little room to expand. They will also have a one-barrel pilot system with five two-barrel fermenters. Tim explains of his shiny new equipment, "With Alpha Brewing as a partner, you can be sure that we will have all the bells and whistles that any brewmaster would envy."
Initially, Boiler Brewing plans to only serve beer on the Draft Beer System in their taproom or in growlers to go, which will be followed by local distribution of kegs to bars and restaurants. Beyond that, Tim says, "Down the road we will package beer in cans or bottles for retail sales that will hopefully find their way to a refrigerator near you." Known for creating bold and flavorful beers, Tim has an extensive catalog of his award winning recipes that beer lovers can expect to see. "Since we have the one-barrel pilot system, it will be a lot of fun keeping new and experimental beers coming out on a regular basis. I will be able to use some crazy and fun local ingredients at one-barrel scale that would likely be impractical at 10-barrels or larger."
Infusion Brewing Company (La Vista)
It took just a few short years for demand of Infusion's beer to outgrow their brewery and taproom's capacity in Benson. Luckily, expanding isn't anything new for owner Bill Baburek. Bill founded Omaha's craft beer scene when he opened the multi-tap Crescent Moon Ale House back in 1996 and as Bill says, "We kinda set the pace and laid the blueprint for all the other beer bars that would follow years later." Now a multi-level complex known as Beer Corner USA, the bar grew to also house a German bier hall called Huber-Haus, a quaint Belgian beer tavern called Max & Joe's and Beertopia, his specialty bottle shop offering over 700 varieties of craft and import beer from around the globe. This craft beer paradise Bill created on Farnam Street has also become a permanent fixture on Draft Magazine's Top 100 Beer Bars in America list. With all of that, Infusion's success really comes with very little surprise.
Bill opened the original Benson location for Infusion Brewing in 2012 as a modest seven-barrel brewery with a tap room. The main focus was on producing quality beer with plans to one day have just a few accounts around town. "Things started to blow up a bit when we started distributing our beer in February of 2014. We were expecting maybe 15 to 20 accounts, but in the first six months we had over 50. A year later we had nearly 100 accounts and our Vanilla Bean Blonde was experiencing increasing demand, especially from retailers wanting it in bottles. We knew we had to do something, so we began to look for additional space in order for us to be able to brew our beers efficiently for packaging and statewide distribution," said Bill.
Now Bill is in the process of completing the expansion of an additional production facility at 6275 South 118th Street in La Vista that will allow him to keep up with demand. It will also include a taproom that offers their whole lineup of beers, as well as brewery tours for the adoring public. As Bill says, "That location was chosen for a number of reasons: the space itself, proximity to our main distributor, the Interstate (I-80) and other production breweries. The last reason gives craft beer lovers an opportunity to visit three production breweries just minutes from one another." He hopes to be brewing by April in his new 20-barrel brewhouse, which will have an initial capacity of 5,000 barrels per year and room for expansion that could push capacity well beyond 20,000 barrels annually (sounds like may have to go to Platforms and Ladders for some equipment supplies before the brewing gets underway!).
Infusion also purchased a bottling line from Zipline Brewing Company and hopes to have bottles on the market by May. The initial releases will include four of their beers in six-packs; Vanilla Bean Blonde, Radial IPA, Dominican Brown Ale and their seasonal, which Bill says, "Will most likely be our Splish Splash Tart Cherry Wheat." Later, the core lineup is planned to be followed up with additional seasonals and some four-pack specialty releases. Godspeed to Baburek and his craft beer empire.
Vis Major Brewing Company (Omaha)
In yet another great story of homebrewers chasing their dream, Vis Major Brewing Company is the vision of husband and wife, Tom and Lindsey Clements. The couple brewed their first batch of homebrewed beer just four years ago while living in Chicago. They knew right then that the only sensible option going forward was to first, master the craft of brewing and second, start their own brewery. Lindsay explains, "Since then we've returned to our home state with a focus on creating recipes that challenge the palette. In the fall of 2014 we began sampling to the public, developing our brand, building our network, scouting locations and writing our business plan. Each step has been filled with lessons and it's exciting to see our passion come to life."
Over the last four years Tom has been brewing nonstop, working on perfecting techniques and recipes. Lindsay says of the future lineup, "We have designed beers big in flavor and complexity that will entice the true craft beer lover while offering 'an adventure in a glass' for someone new to craft beer." In the meantime, Lindsey has worked the past three years in sales for a local craft beer distribution company. The experience has allowed her to get a grasp on the local markets. This should prove invaluable while building their brand.
At the moment, the Clements are in the process of finalizing a location in the Midtown Omaha area and hope to open their doors sometime in mid 2016. Lindsay adds, "Our hope is that our taproom is a communal space where passion and ideas will be fostered." They will operate on a three-and-a-half-barrel brewhouse with five, seven-barrel fermentation vessels and a brite tank, which will give them the ability to produce up to 850 barrels annually. As demand rises they have a plan, "With an emphasis on quality over quantity, we plan to focus on fostering a community following rather than extensive distribution. We anticipate outgrowing our initial system and plan to upgrade to a production system as demand for our product increases," Lindsay added.
They have settled on their core five flagship beers that will be served on tap, with an additional three taps dedicated to rotating specialties. They also plan to bottle limited releases and seasonal beers in a 750ml format. Beyond just beer, you can expect a well thought out beer cocktail program as well as a selection of wine, cider and light bites. Looking into the future, Lindsay shared, "Our goal isn't to be the biggest brewery in Nebraska, but we want to make an impact on the industry. We aspire to join Nebraska Brewing and Zipline with gold-medal wins for our beer. The long-term plan is to distribute throughout the Midwest."
And what's with the name? Lindsey explains, "Tom came up with the name Vis Major, which is Latin for 'Act of God'. It is inspired by the history of fermentation by Belgian farmers. At the end of harvest, farmers would crush and boil remaining grains and leave them in open casks. Wild yeast unknowingly blew in, fermenting the wort, but they believed it was an act of God that turned it into beer."

Jason McLaughlin
Jason is a Certified Cicerone, ranked National as a BJCP judge (Beer Judge Certification Program), is a craft beer aficionado, a writer for the Nebraska Beer Blog, and award winning homebrewer living in Lincoln. Jason spends time traveling around the country judging beer competitions, and attending related events. Beer tasting and evaluation is his passion, and he can appreciate a great example of any style regardless of hype.
---
Related Articles
Welcome to my new George Thorogood-inspired column, where instead of drinking alone/by ourselves, we will discuss various issues facing consumers
There is nothing better than sipping a cool refreshing glass of German Riesling while lounging about on a hot summer
Well dear readers, I'm back! In this issue I'll be (hopefully) helping out a few of our readers that came
Only registered users can comment.