Bourbon County, Nebraska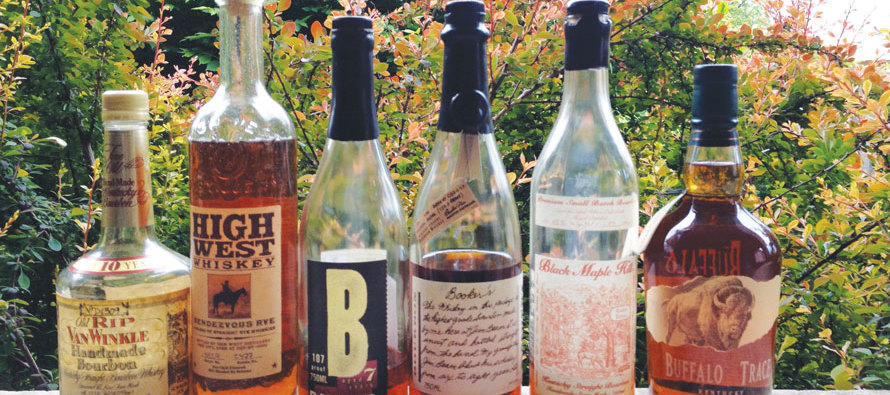 Scotch has long been considered the classy, elegant, nuanced spirit in the whiskey family, while bourbon has been regarded closer to a toothless uncle. But, thanks to a spike in popularity in the last ten years, bourbon is starting to appear in many a sipper's glass. I'm going to look at this phenomenon and visit some of the best places for bourbon in Omaha.
Let's get some basics out of the way. Bourbon is made by fermenting grains distilled into a jet fuel-caliber, clear distillate which is then dumped into a new American charred white oak barrel and left alone for any number of years, from as few as 2 to rarely more than 15. To be considered bourbon the grain recipe or mash-bill must contain at least 51% corn (the same is true for rye, except where rye is the primary grain instead of corn). It does not have to be made in Kentucky to be called bourbon but it was invented there and the people are pretty proud of that. When a master distiller decides it's time for the whiskey to come out of the barrel the whiskey is diluted with water and bottled.
I think of a nice glass of bourbon like a kind of small dessert — in a given glass you may find flavors like brown sugar, dark fruits, cinnamon, oak, mint, nuts and vanilla. The grain recipe (the secondary grain is usually rye, sometimes wheat or malted barley) and the amount of time the juice spends in the barrel are the main factors that go into determining the flavor, color and texture of the eventual product.
Bourbon is typically sweet, while rye is spicy. Although rye actually predates bourbon as the first American whiskey, I won't say much more about it for now except that it's also seeing a huge spike in popularity and that it is an entirely separate category from bourbon, i.e. "give me a glass of rye bourbon," doesn't make any sense.
So what's new in the world of whiskey today? In some cases not much and sometimes a whole lot. The world of American whiskey is steeped in tradition. People have been making whiskey on the site of the Buffalo Trace Distillery in Frankfort, KY since the mid-19th century. The recipes are largely unchanged and the water and grain come from the same place.
While 80-proof has long been the standard, 90-proof bourbon is becoming more popular due to a greater concentration of flavors and versatility for mixing cocktails. The craft cocktail boom, and the return to fashion of classic whiskey drinks like the Manhattan, Old Fashioned, and Sazerac, has also contributed to its popularity.
There are new brands of whiskey appearing on the shelf every day. When prohibition ended there were only five distilleries in operation in Kentucky. Today there are several large distilleries that produce many of the different whiskeys you see on the shelf. Jim Beam for instance has its popular flagship bourbon of the same name but also produces various small batch and single barrel bourbons like Knob Creek, Baker's, Booker's, and Basil Hayden's.
And while the major distilleries are producing more brands of whiskey, more "micro" distilleries are cropping up across the country. Companies like High West in Utah and Hudson in New York are taking part in the recent craft boom by producing products that are made with unique processes and/or in small runs. Tiny hand-labeled bottles, blue corn whiskey and endorsements by Al Capone can all be found in today's whiskey world and it's all fair game.
Alright, that's enough talk – let's start drinking. Normally I start and end at Jake's Cigars and Spirits in Benson. Jake's has been featured in this magazine before and for full disclosure, I am proud to say I work there. The bar is a rare combination of a comfortable atmosphere, a huge selection of excellent booze and cigars, and a diverse crowd of good people. Every Wednesday Jake's presents Whiskey Wednesday, where they feature a new whiskey at a special price. Recently the featured whiskey was the entire lineup of whiskeys produced by the aforementioned High West Distillery out of Park City, Utah.
High West is an innovator in the world of American whiskey in that they are operating a distillery in Utah, but, maybe more importantly, they are sourcing and blending which are two somewhat controversial practices among purity snobs. Though they are now producing whiskey on-site, they operate on relatively small premises so the majority of the whiskey they bottle is bought from other unspecified distilleries. What makes the products really different from the company they originally bought it from is the process of choosing the barrels and blending them together to make a new and unique whiskey.
The Campfire is a blend of bourbon, rye and peated scotch. It is like nothing else on the shelf and the flavors call for the glow of a campfire. I usually sip whiskey neat and recommend trying it that way first. Some whiskeys are just too 'hot' and will require some water or an ice cube to knock down the alcohol and bring out more of the flavors. To me Campfire has a pretty heavy dash of iodine on the nose. It seemed like it would be pretty intense but with a sip the rye spices emerge first and open the way for a long, sweet bourbony middle. This whiskey is unfiltered which gives it a kind of sticky mouth feel that I like. The finish is long with a pleasant lingering smoke from the peat that you just don't experience in other American whiskeys.
Next I had The Last Word, a classic cocktail that is traditionally made with gin but it is equally delicious with rye whiskey. It is equal parts rye, green chartreuse, lime juice and maraschino liqueur. It is the idea of a whiskey sour perfected: a deliciously tart and boozy summer drink. I used the Double Rye, also from High West, which is a blend of a two year old 95% rye and a 16 year old rye with a bit more corn in the mix. It is a bright but well-rounded rye that is good for sipping and great for mixing.
Just a short drive from Benson, The Library Pub on north 90th is a comfortable bar that is away from the popular bar neighborhoods. It has a fantastic rotation of craft beer on tap and, even more exciting, an overwhelmingly large selection of whiskey. I was glad to get away from my usual haunts and try something new.
I had the Four Roses Single Barrel 2012, a limited edition barrel strength bourbon served neat with a glass of ice on the side. This high rye bourbon (about 30%) comes in the same bottle as its readily available cousin but at about 110 proof it is a different animal. I was surprised at how manageable the heat was with the initial sip. There is a huge taste of maple brown sugar but also some lighter stuff going on, maybe nutmeg and honey. I added two small ice cubes about halfway through my glass to see what a little water would do but, for me, this is a bourbon that can be sipped neat, if it can be found. This was a big, delicious bourbon that more than satisfied its $8 price tag.
Although they are well known for their sprawling selection of scotch, the Dundee Dell also has a good selection of bourbon. In addition to a number of other classic whiskey labels, the Dell features the coveted Pappy Van Winkle line of wheated bourbons. Wheated bourbon behaves more like a scotch in the barrel than "normal" bourbon. While most bourbons will tend to reach an ideal age for bottling around 7-12 years, the "wheaters" only get more round, full bodied, and flavorful as they get older.
The 20 year is one of the most expensive bourbons on the shelf but is pretty reasonable when you start comparing it to some of the better scotches. The cheaper 15 year is also very good. Regarding ice or water this one is a ketchup and steak situation – do not do it, you will only give yourself a less memorable experience. If you do shell out for a glass you will enjoy one of the best whiskeys out there. It is balanced like a great meal, with flavors of maple, toffee, vanilla, oak, dark fruits, candied nuts and twenty other things mingling together in supreme syrupy harmony.
Though I am thankful for bars like these, let's admit it. There's no place like (drinking at) home. There are several shops around town where you can pick up a good bottle of bourbon and sip on it or make cocktails in the comfort of your own home, or porch if you're lucky enough to have one.
Though most of the whiskeys I tried on this tour would be between $60-$100 per bottle, there is plenty of value to be found when shopping retail for a bottle. Most quality booze retailers in the area such as Brix, Spirit World, and Jake's offer a good selection of quality bourbons around $25. Elijah Craig 12 year and Buffalo Trace are widely available, delicious bourbons that would be a good addition to anyone's medicine cabinet.
Thanks for hitting the Omaha whiskey trail with me. I think bourbon is an important cultural part of American history and our cultural fabric. When we drink it today we are continuing the tradition and helping to move it forward with the products we choose to buy. If you weren't a whiskey drinker today, I hope you will be one tomorrow.
---
---
Related Articles
On Monday, April 24, 2017, my wife Sonja and I welcomed our second child, Zooey Elizabeth Gudgel, into this amazing
Recently I attended my college fraternity anniversary/reunion weekend along with hundreds of other fellow alumni. Interspersed between the as expected
Admit it. Running off to a wine shop or the grocery store every time you need a bottle or two
Only registered users can comment.