Bring on the Farmer's Markets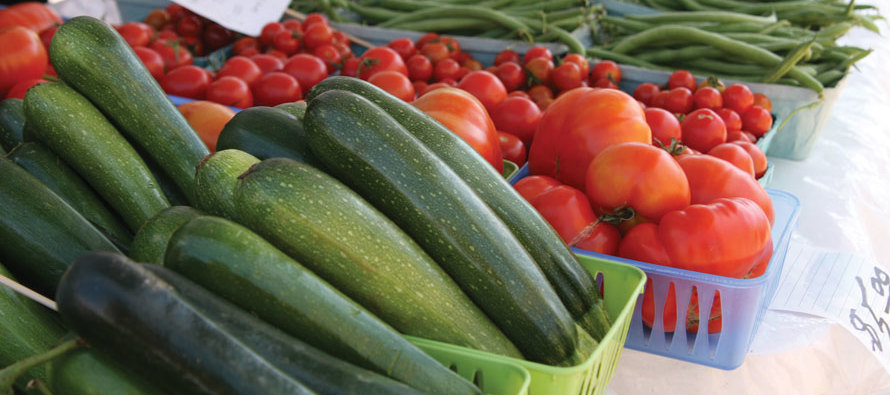 It's that time of year again – when everything is moving outdoors, including our meals. In the past, farmer's markets were the primary connection between the production by farmers and the consumption of food by the end consumer. With the growth in popularity of locally produced food, farmers markets have been popping up all over the country, and Omaha is no exception. Farmer's markets opened all over Omaha throughout May, and throughout the entire summer, there will be a weekly market close to all Omaha residents. If you are an Omaha farmer and are preparing for the market season, you may want to look at some truck bed covers from https://www.peragon.com/shop/covers/Ford/F-150 to make sure your product is safely covered in transit, so it is fresh and undamaged for your customers.
As I walk down Harney Street, with a pocketful of cash and my collection of reusable bags, I can already hear the sounds of the market – it's packed down here. I hop past cars waiting for elusive empty parking stalls. Sprawled out in front of me from Howard to Jackson were excited vendors and shoppers. At each booth there is conversation about the products, about the beautiful weather, about upcoming events, and the best ways to grill vegetables.
The Omaha Farmer's Market in Omaha's historic Old Market kicked off on Saturday, May 1st, and will be open every Saturday through October 9th, from 8:00 a.m. to 12:30 p.m. The Omaha Farmer's Market in the Old Market is the largest market in the Omaha area. Each week over 6,000 shoppers visit the market for locally grown food, meat, granola, homemade soap and balloon hats. The Market was started during the turn of the 20th Century and ran until 1964. The Market was revived in 1994 in the same historic location, and still essentially serves the same purpose: a direct market for local farmers to sell their products, and form relationships with individuals and business owners within the city.
The Benson Farmer's Market is held at Military Ave. and Maple Streets, approximately 61st and Maple, every Saturday from 8:00 a.m. to 12:00 p.m. Still growing with only about 15 vendors, the Benson Farmer's Market is not able to draw crowds from all over town but the Benson locals love it. For its small scale, this market offers a surprising variety of vendors. Some of the offerings include fresh produce, homemade granola, vegetable plants and flowers.
You can also start the weekend off with a relaxing massage, join an online community supporting all natural food production, or pick up an issue of the Found in Benson Magazine. Nearby, Jane's Health Market has also begun a Saturday raw food brunch. The sparse traffic in the market is a refreshing change of pace from the hustle of the workweek. Vendors selling radishes, shallots, rhubarb, and spinach can be engaged in leisurely chat, unhurried by long lines of shoppers. The Benson Farmer's Market is worth the trip to stock up on fresh food and be a part of one of Omaha's oldest communities.
West Omaha has its own farmer's market at Village Pointe that's held every Saturday from 8:00 a.m. to 1:00 p.m. through October 2. The Village Pointe Farmer's Market focuses on fresh produce and farm products such as meats and cheese. It was established with the mission to promote sustainable, locally produced food to the community in West Omaha. While there are not vendors of craft items at Village Pointe, the selection of fresh local food is fantastic – it's definitely worth the trip. Table after table are covered with tomatoes, green onions, lettuce, and rhubarb. Vendors offer samples of cheese and bread, and locally raised beef, pork, and lamb can be purchased. The Village Pointe Farmers Market draws a large crowd, but both vendors and shoppers are cheery and energetic, making the experience fun and productive.
Tomato Tomäto, Omaha's year-round indoor farmers market caters to anyone who cannot make it to any of the farmer's markets offered on the weekend. The market is located at 2634 S. 156th Circle, and is open Monday through Saturday from 9:00 a.m. to 6:00 p.m. Tomato Tomäto was founded in May of 2008 as a distribution outlet for Garden Fresh Vegetables in O'Neill, Nebraska. After being involved in the Village Pointe Farmer's market, and after networking with other vendors the idea was born to have a year-round market for local farmers to sell to consumers. Tomato Tomäto now sells from over 30 vendors, and is continuously looking for ways to grow and serve its customers and vendors. True to its name, Tomato Tomäto continues to sell a huge variety of locally grown tomatoes. While you are in picking up ingredients for your award winning salsa, you can stock up on popcorn and grain products, specialty meats, all natural fruit chews, seasoned soy nuts, honey, and jam.
Shopping at the farmers market is much different than the typical grocery shopping experience. Purchasing food at a farmer's market deepens and enhances the relationship you have with the food. All of the salsa recipes on the internet are not a match for the advice of a farmer who has been growing tomatoes for twenty years. There are countless reasons people flock to the markets all summer long and luckily for us, there are unique farmer's markets all over the Omaha metro area.
---
Related Articles
It's late in the afternoon on a lazy summer Sunday, that time of day between lunch and dinner that's typically
A recipe is defined as a set of directions accompanied by a list of ingredients that describe how to prepare
Chicken may be the most democratic of all foods. It transcends ethnicity, enjoys a rare liberty from most religious taboos,
Only registered users can comment.