Fall Food Memories: Thai Pumpkin Bisque Recipe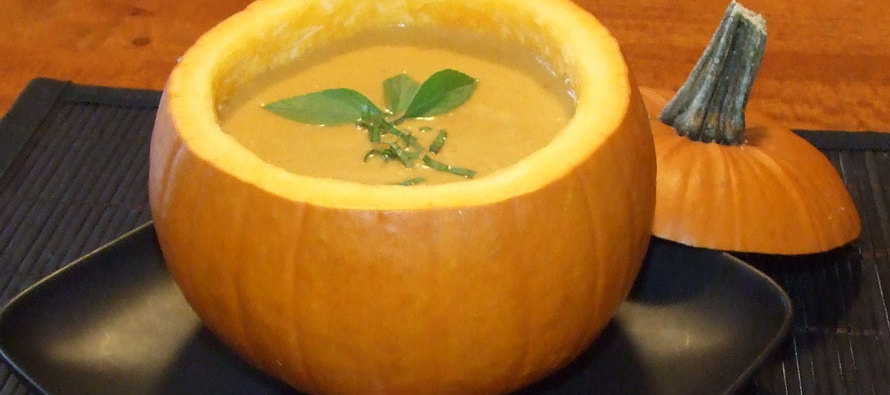 Why is comfort food so popular at many restaurants nowadays? Because a big bowl of mac and cheese is more than just a way to fuel your body, it's also a time machine that takes you back to your childhood. Certain aromas evoke an almost instantaneous memory of grandma's house and the joys of families coming together for the holidays. Just think of what the smell of fresh homemade bread baking in the oven conjures in your mind.
With this in mind I started quizzing my friends at work. I asked them to tell me the very first thing that popped into their minds when I asked them to think of "fall/winter foods".
Now most of you instantly thought of pumpkin pie at past holiday dinners. In my case though, my experiences as a chef come in to play and I think back to a fall wine dinner I did at Nick's Main St Grill years ago. The soup course was a Thai inspired spicy pumpkin, coconut bisque. We served it in bowls made out of small pumpkins surrounded by fall leaf shapes cut out of red, yellow and orange bell peppers (much easier than it sounds).
The soup and the dinner were a huge hit. I'd like to invite you to try my pumpkin soup recipe (with a few new twists). My hope is that whether it becomes a family favorite at your Thanksgiving dinner or just a fun new recipe to try out , that you'll discover that cooking with family and friends is way to not only feed your physical body, but also a way to create lifelong memories to warm the soul.
Thai Pumpkin Bisque
Recipe yields 6 servings
2 Tbsp butter
1 cup chopped onion
3 cloves minced garlic
2 Tbsp Thai red curry paste
1/2 tsp ground allspice
2 cups chicken broth
2 cups unsweetened coconut milk              
3 cups canned pure pumpkin                                    
2 Tbsp lime juice
Zest of 1 lime
3 Tbsp sugar
1 bunch Thai or regular basil
1 bunch cilantro
Melt butter in sauce pan and sauté onion over medium heat till softened, then add garlic, red curry and allspice, stir for 30 seconds. Add the next six ingredients and simmer over medium heat for 15-20 minutes, add salt and pepper to taste. Puree soup in a blender, in the pan with a hand blender or leave it as is for a more rustic soup. Serve with chopped basil and cilantro as a garnish.
For a special celebration serve in small individual pumpkins garnished with fall leaf shapes cut out of red, yellow and orange bell peppers (leaf shaped cutters available at Williams Sonoma). For an extra special treat add shrimp and mussels at the end of cooking and simmer for about 3-5 min. until shrimp are cooked and mussels open.

Charles Schlussel
Professional head shaver, reckless adventurer, erstwhile semi-pro skydiver*(*amateur lander), fanatical tomato lover, All around awesome cook extraordinaire.
---
---
Only registered users can comment.