Finding the Food: Avoca, Weeping Water, Manley, Papillion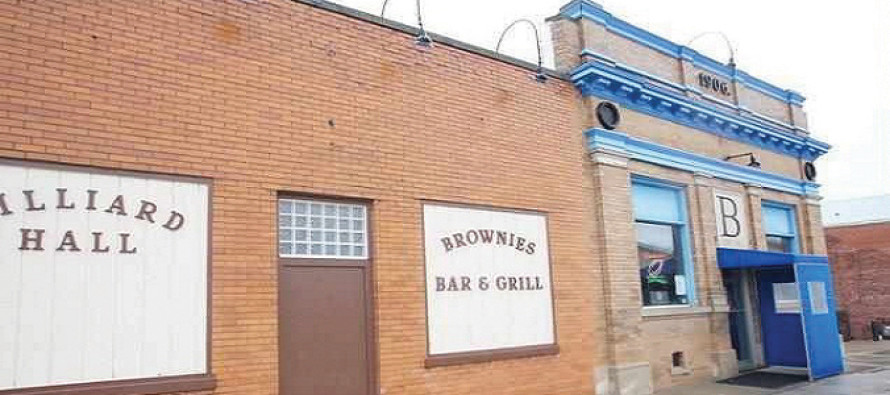 Sometimes, when trying to find places to check out in small towns around the state, you end up finding something good closer to home.
This happened to me recently when a group of friends made a trip to Avoca, Nebraska, and the surrounding area, for the annual Quack-Off Duck Races. This is an event where people race ducks in the freezing cold on a tennis court and thousands of people huddle around drinking and betting with their friends. It was once a less attended affair and more of a small town party where you spent more time in the town's one bar than watching the ducks. Now, it is very well attended with buses carrying people in and the bar no longer exists. Our time here was short as it was so crowded, and people were fall-down drunk before the first race started. It did give us a good starting point though.
Then we headed to Weeping Water and found a bar with the hopeful name of Hoppies. Hoppies turned out to be a dive bar in an old bank with a lot of NASCAR big-beer signage on the wall and not a hop-filled craft beer emporium. A bartender leered at us, the only customers, as we walked in during the early afternoon hours. We gave our orders (a few big beers available and they were out of many major brand liquors) on this Saturday afternoon. The place had a creepy, haunted vibe to it, and our bartender's personality was only helping to push these thoughts forward. We sat at a table full of dust and I glanced down at the floor, which was really full of a layer of dust, and then at the vault door that now opens to the walk-in cooler. The place had a lot of potential to be a pretty cool bar. It is really off the beaten path though, so I can see where the motivation might not be there. We went out back to have a smoke where they have a good-sized area full of rundown horseshoe pits, plastic picnic tables and actual tumbleweed. Some other people filtered in from the duck races as we were leaving, so our bartender friend was probably in for an afternoon she did not want.
We headed over to Manley, Nebraska, a small town with a bar and grill called The Get-Away. We walked in and they looked prepared for spill over from the duck races, but it was just a handful of town-folk when we got there. It was a nice bar that had obviously been remodeled in recent years. They had quite a few tables, a shuffleboard table, pool table and a loaded digital jukebox that kept displaying obscure new wave 80's hits as possible choices. I found that to be odd.
We all ordered some food from the typical bar menu of fried appetizers and burgers, French dips, chicken items, salads and such. I ordered some gizzards which came up super overcooked, were hard to eat and not very enjoyable. The burgers and other items ordered looked pretty good for bar food though. This place has a massive beer garden that you could hold live music events in (and they do) easily. It was pretty impressive, especially for a town that is essentially a village.
When out in the beer garden you see a large barn type structure on the horizon. I asked what it was and they said it is called The Loft and they do theater there. I was told about an upcoming performance of The Wizard of Oz that was happening soon. Shortly, every one of those party buses from Avoca was pulling up and the place got very packed. We literally pushed our way through the throngs of people queuing for a drink and women dancing on chairs to Ted Nugent songs to the door.
We ended up at Round the Bend steakhouse pretty much out of a need for one last stop. We had some drinks in the lounge while hordes of families and older couples filed in for their weekend prime rib specials.
Once we got back into Papillon, we were not satisfied with Round the Bend being the final stop and ended up at a place called Brownies Watering Hole. I had never heard of this place even though it has been there for about 30 years I guess. Located in their old town area, it resides in a building that has been there since 1906. A large, open dive bar and dining area that felt like a small town, if not more, than any we had been in that day. We were seated at the only open table in the place on a busy Saturday night.
I wasn't going to order food, but I saw some really good-looking burgers being walked by. I looked at the menu, saw the prices and was pretty shocked. I had to ask if these were the lunch prices. They were not. So I ordered a burger and got a very satisfying large, juicy handmade burger made of quality meat on a good fresh bun. The steak fries that were served with the burger were excellent. They were crisp, unseasoned and soft and hot on the inside.
The burger, fries and a mixed drink on a Saturday night didn't even cost a ten spot (without tip). It was not patio weather, but being a smoker, I stepped out on it and it looks like one of the best patios in the metro area. A nice, very large and private wooden patio with built-in seats and tables. After driving around the outer fringes of the metro looking for fun and food, it was on the trip back into town where I found a spot that I will be visiting time and time again.

Marq Manner
MarQ Manner is a fan of Americana. He is interested in small town cafe's, roadside BBQ, getting a hotdog from a stand made in the likeness of George Washington, and the grittier eating atmospheres found in out of the way places. MarQ has been writing about the local music scene for The Omaha City Weekly for the past five years and has also written music features for many other rags and blogs.
---
---
Related Articles
We've all been there: Unable to find the time to make dinner, not wanting to leave the house due to
Harrah's 360 Steakhouse is rated as one of Open table's top 100 scenic restaurants. The ambiance of the place may
Recently, I found myself helping a friend out on a photo shoot near Beatrice, Nebraska. The models were cows, tractors,
Only registered users can comment.