Buying Fresh and Local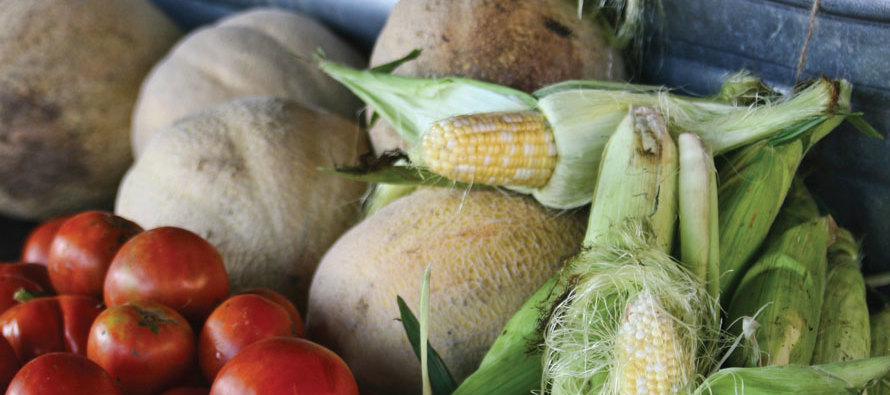 I went to a documentary recently called "Food Fight." It's a film about the U.S. food market and how we Americans have moved away from eating fresh and local produce. The film appealed to me because my dad is a farmer in Kansas. He works from dawn until dusk to farm 1,200 acres of land in addition to running a feedlot and side business. It amazes me that he's such a large producer of food, yet my family is unable to eat what he produces. The corn, wheat and soybeans are not for immediate consumption but rather for feeding the cattle he raises and for the production of potato chips, cereal and ethanol gas. And in my family's rural community, in the heart of the agriculture belt, my mom buys almost all of her produce from Wal-Mart. You'd think that growing up in the middle of farmland my family would have unlimited access to fresh fruits and vegetables, but it's not so. In fact, I have better access to fresh produce through the farmers' markets in Omaha than my parents do in Western Kansas.
"Food Fight" examines how government regulations have led to an agricultural system that's controlled more by politics than by public health and sustainability. It's a system that's built on crops that can be processed into hundreds and hundreds of food products rather than be eaten fresh from the field.
While at the documentary, I was surprised to see every seat filled in one of the theaters at Film Streams. I was even more surprised during the Q & A session afterward (thanks to Film Streams and Alegent Health who sponsored the screening, and for allowing us to interact with the producer) when a dozen or so people stood up to talk about what they're contributing to Omaha's local food movement, people like Libby Broekemeier from the Nebraska Food Cooperative and Elle Lien, proprietor of Clean Plate, a farm-to-table whole food restaurant that opens in the Empty Room this August. I had no idea that we had so many options for buying fresh, local and even organic food right here in Omaha.
What also surprised me was the fact that I didn't know that this counterculture existed and I like to consider myself a healthy eater. I had never thought about the fact that I am more tempted to buy packaged goods like cookies and chips when I go to the store than I am to buy tomatoes and spinach. Where did I get this idea that it's okay for me to fill my body with food that is processed full of sodium, sugar, and preservatives? Well, the big food marketers have become really good at selling their products. Read articles like MSN's "The Worst Packaged Food Lies" and you'll be disgusted to see how tricky marketers can be with their promises on food packaging. Instead of using reliable eco-friendly custom food packaging that does not skimp out on quality and value they instead turn to non-renewable methods to save a small amount of money. In his book "In Defense of Food," author Michael Pollen explains that we have also been tricked into boiling our diets down to nutrients-carbohydrates, protein, etc.-rather than enjoying the taste and communal experience that humans were meant to enjoy while consuming food. Our diets are built around convenience and nutrient-packed convenient foods rather than simple, fresh meals that can be created on our own. We have become so confused and think that we're too busy to think for ourselves anymore when it comes to planning for and preparing a meal.
If you need proof that we don't know how to eat, take a look around. According to the Centers for Disease Control and Prevention (CDC), Colorado had the lowest obesity prevalence rate in the country in 2008. It was the only state with an obesity rate less than 20%. The obesity rate in Nebraska was 26.6%. That's more than a quarter of our state's population.
We have so many food options that come in fast, easy and attractive packaging that our food culture has centered around processed foods with little to no nutritional value: fast food patties, potato chips, fried chicken tenders, crackers, cookies, and breakfast sandwiches. Our other options? Processed foods with nutrients added to make them "healthier," and then lastly real food that's not processed or fortified. It's hard to believe how easy it is to go a day or two or more without eating one piece of fresh fruit. We spend more time in the packaged goods section of the store (located conveniently right in the center of most grocery stores) than the fresh produce area.
According to the director of "Food Fight," Chris Taylor, two generations ago our grandparents had access to produce that was grown locally for the whole community and meals were a time to sit and relax, to enjoy what you were eating. Now our communities are large enough that a complicated agricultural system has been created to provide enough produce for everyone, and we demand quick options. That's where the government has helped: to provide large quantities of food for its citizens. The problem with this is that food gets shipped across states, countries and oceans and therefore is rarely eaten fresh. The production methods are more about quantity and preservation for the long journey than quality, which leads to crops that are doused in herbicides and pesticides in order to produce higher yields, while production methods guarantee less spoilage. But never does anyone consider the taste, the real taste sans sugars, salts and preservatives.
Oh, the taste of a freshly picked fruit, a tomato that's lusciously red and juicy. It's soft, not hard. And the inner flesh is watery and sweet rather than bland and porous. The insides drip out profusely when you cut into it. Do you know what that tastes like? Or how about those fresh strawberries that you can find in June? They are teeny little things but they pack more sweetness than five oversized, picked-before-ripe strawberries you can buy all year at the grocery store.
During the Q & A session I learned that although it seems to be an overwhelming task to incorporate fresh and local produce into my diet, I have many options here in Omaha. With a small amount of effort I am now able to purchase and eat fresh and local fruits and vegetables. In fact, I rarely visit the processed foods aisle of the grocery store anymore. And I've found that using fresh and local produce makes my meal planning much easier because there are fewer options. I mean, I can't get peaches in June, but I can get lettuce. So I buy the produce that's available and then craft meals around those items.
If you're interested in supporting the local food movement here in Omaha, you have a number of options. Here are some of them:
Nebraska Food Cooperative
Join the Nebraska Food Co-op to learn about the local food community and shop online for produce from local farms.

Buy Fresh Buy Local
Visit BuyLocalNebraska.org for a comprehensive list of farmers' markets, local farmers, recipes and tips for supporting the local food movement in Omaha and the surrounding communities.

Community Supported Agriculture (CSA)
Visit LocalHarvest.org for a list of small farm CSAs. Purchase shares in a CSA to receive two to four servings of fresh produce delivered to your family every week. Enjoy fresh produce while you help finance the farmer's operation.
Farmers' Markets
Visit a farmers' market to meet local farmers and purchase fresh produce right after it's picked. Most run mornings from May to October.
Bancroft Street Farmers' Market: 2702 S. 10th St. (Sundays)
Blair Farmers' Market: 103 S. 12th St. (Wednesday and Saturdays)
Omaha Farmers' Market: 11th and Jackson (Saturdays)
Tomato Tomato Indoor Farmers' Market: 156th and Center (daily, year-round)
Village Pointe Farmers' Market: 168th and West Dodge Road (Saturdays)
Restaurants
Support the chefs who stimulate our local economy and support local food producers by visiting these restaurants who strive to serve fresh and local produce.
Clean Plate
The Boiler Room
Institute for the Culinary Arts Sage Bistro-Metro Community College Fort Omaha Campus
Community Gardens
Help teach your children how to grow their own food by participating in a community garden. You can also enjoy the fruits of your labor as the produce you grow begins to ripen.
Gifford Park Community Garden
Eastern Nebraska's Big Garden
School Programs
Teaching our children how to grow their own food is vital. And showing them the health benefits and taste of fresh and local produce will be imperative to their future. Support these programs in some of our Omaha schools.
Duschenne local food club
Farm to School program
---
Only registered users can comment.