Globally First: Whiskey Dispensing Makes Mark in Omaha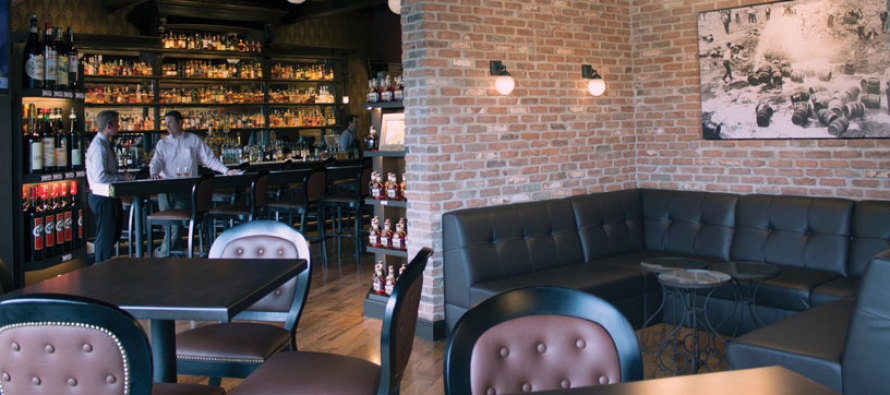 Imagine creating an appeal to a global company whose business plan is, metaphorically, carved in stone. Picture the change is accepted. The result? An exclusive bar in the middle of the Midwest, complete with a dispensary system that is unlike anything else in the world. That is exactly the story wrapped around Omaha's newest and most innovative whiskey bar, Grane.
WineEmotionUSA is a global leader in the spirits industry, and no stranger to Omaha. The company provides the dispensary system for Brix at both Omaha locations.
"When Riccardio Gosi, the founder of the company was in town, I talked to him about dispensing spirits," said Dan Matuszek, owner of Grane. "It wasn't a part of the plan."
The conversation was bolstered with the success of small sample pours in Omaha from Brix, another Matuszek run establishment. "Fast forward six months, and the owner came back and said with the massive growth of whiskey consumption in Nebraska, and nationally, let's take this on."
Recognizing the potential of a cornered market, Matuszek persuaded the company to give Grane global exclusivity with the sleek dispensing equipment, Bartender by WineEmotion.
"I wanted us to be the guinea pig for this system," he said. "The fact that they adjusted their entire year plan for us is remarkable, but the fact that this system is the very first of its kind anywhere, and it is here in Omaha? Truly amazing."
The popularity of craft cocktails and whiskey has surpassed expectations, not only in Omaha, but all over the world. Many need more information about how they can help add more options to the industry, but many worry about Disappearing in a saturated market, as this is also a main concern for new bars. Bar owners like Matuszek have found that innovation is the antidote.
"The concept of dispensing wine, for instance, is very successful, and we decided to try the same thing with whiskey," he said. "We aren't the first people to open a whiskey bar, but we are the first to do it with this technology."
The idea of a small pour system helps provide a breadcrumb trail for consumers to try new whiskey in an unintimidating manner. "People always want to try before they buy," he said. "The ability to do this is helpful for people who want to try pricey spirits before they invest. And they can try different whiskeys at their own pace."
Wanting to stay away from a "man-cave" set up, Grane is built around accessibility and appeal to men and women of all ages and demographics. "It's really amazing how many groups of women we have come in here," he said. "Some of them have never tried whiskey before, and they get to do it in a manner that is fun. We are not only in the restaurant business, but also the entertainment business."
The juxtaposition of two eras of whiskey is evident when one first enters the bar. Velvety, rich colors highlight the 20s and 30s era design, complete with handmade chairs and a buttery smooth bar softly lit with LED lights.
"Every detail in this place is hand selected and unique," he said. In a splash of brightness, five machines with seven bottles each, totaling 35 bottles, stand at attention in the Bartender set up, perched beneath their Dewey Decimal style labels, detailing flavor descriptions.
"The way the system is set up is that a customer loads their Grane card with money when they come in. They then slide the card in whichever machine they want, and an icon appears with desired pour size, which comes in three options: half ounce, full ounce, and an ounce and a half. "The great thing about the card system is, once you use the card, it activates all the machines, so the taster can move with ease."
On the east side of the bar, a brick wall breaks the smoothness of the decor.
"We actually bought these walls from a buyer that specializes in historic bricks," Matuszek said.
The last remains of a brewery from 1870 Cleveland, rough details on the bricks were left as found, including a splash of light sea foam on a brick near a booth. "This was from the brewery sign that was ripped from the front," he said. "It's a detail that is a great conversation starter."
Every nook and cranny has been accounted for in this cozy bar. A standing bar near the dispensing machines encourages customers to socialize over pours of whiskey, with the Grane logo engraved on each side in gold plate.
"We really want to appeal to the business traveler, and make it easy for people to stay for a while and enjoy themselves," Matuszek explained. "We have USB hookups through all the bars. The chairs are custom made to be comfortable for people who want to stay and work on their laptops."
Another way to make people stay at the bar? Offering amazing food. Grane has a small plate menu focused around items that can be easily enjoyed along with spirits. Keeping food local helps bolster the already impressive menu. Nebraska-based Shadowbrook Farm provides fresh chevre for the Warm Goat Cheese Fondue, and drunkernickel rye from Culprit Cafe is the offered bread plate. Local chef Clayton Chapman of The Grey Plume and soon to open Provisions is collaborating on a series of sausages.
"We are working with Chapman on whiskey inspired foods," Matuszek said. "We have five types of sausage, and a dry aged salami that is washed with bourbon."
Another popular snack is the Grane "rail mix," a mixture of nuts and wasabi peas, pretzels and cacao nibs.
For those who don't care to try samples of whiskey, you can instead order a cocktail from a full bar with over 300 bottles of whiskeys, scotches and spirits. Six draft beers feature local brews from Borgata Brewing and Distillery, Zipline and Nebraska Brewing Company. But the most popular draft? An old fashioned. A blend of Wild Turkey 101, sugar, orange and bitters, this beloved cocktail gets an upgrade at Grane on the tap. The digestive Amaro, an Italian herbal liqueur that is sweet and bitter, commonly consumed after dinner, shares the tap.
"We offer our draft Old Fashioned that is proportioned perfectly. People love the idea of a cocktail on tap," Matuszek said.
The details in this impressive bar make it memorable. Metal straws are used in place of plastic for the pre-prohibition and house cocktails. Juices and sodas are made in house. A regal ladder glides along with bar, reminding me of a library filled with the other classics that have been loved through the years. A retail section with 200 items gives patrons the chance to buy after they try, making Grane a great place to stop for an entire experience: a cocktail, a pour, and a bottle for home. By blending innovative technology with vintage style, Grane has set itself up to be a lasting establishment in a sea of whiskey bars.
"This brand has appeal not only in Nebraska, but nationally and internationally," Matuszek said. "This set up gives us a head start in the whiskey community. This is something we are incredibly proud of."
In true speakeasy form, the highly anticipated soft opening was less dramatic and more reliant on word of mouth in the community. With the idea of the business traveler in mind, Matuszek is looking to collaborate with hotels to help spread the word to travelers.
"The response has been great so far, but now that we have a system set with our staff, we are ready to dial up as far as exposure," he said.
Beer events and craft bars are helping Omaha become a beer and spirits destination spot, and a one of a kind establishment like Grane will only help solidify our spot in the global spirits industry.
Grane Whiskey Dispensary and Craft Cocktails
120 S. 31st. Ave, Suite 5105, Omaha, NE 68131
402-934-5727
granewhiskey.com

Jessica Clem
Jessica Clem is a freelancer writer based in Omaha, Nebraska. A marathon runner and food writer, her favorite way to get motivated to finish a project is the promise of a craft beer. She has a B.A. in English and an M.S. in Urban Studies, and enjoys traveling, finding typos on billboards, and the smell of a real book. She currently works for National Media Brands as an account executive.
---
Only registered users can comment.