Heart of Spain: Little Espana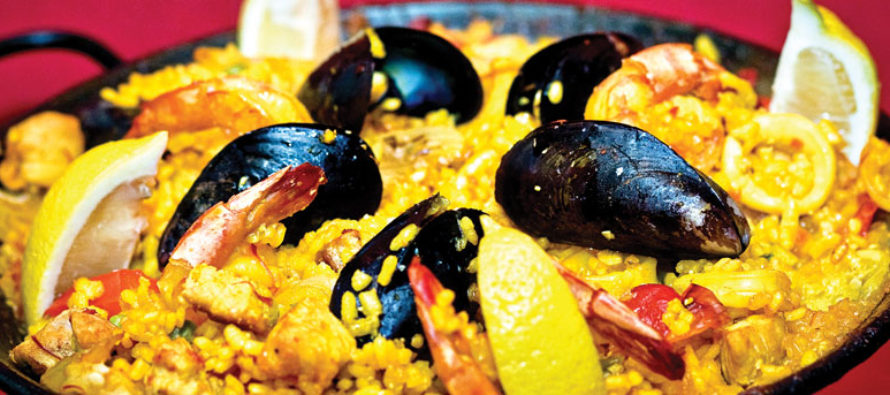 Memories of Old España
My love of tapas and Spanish cooking began when I went to my first Spanish restaurant in a large city about 20 years ago. When I moved to Omaha, I found España, a much-loved Spanish restaurant that was a Benson neighborhood anchor for many years. The first time someone there offered me a fruity garnacha blend and some bacalao fritters with aioli, I felt happy. I felt like I had come home. España did a good thing, bringing the Mediterranean to Omaha. And part of its success was due to Carlos Mendez, who began as a server and bartender there, and later became chef-owner. But he didn't stop there.
Tapas for Lunch, Meant to Be Shared, for Midwestern Palates
España is gone now (more on this in a jiff), but there is a mini-version of it in Rockbrook Village. Little España has been there since 2009, when it opened.  Señor Mendez intended it to focus on tapas, rather than entrees, and rotate through a seasonal menu. It's a beautiful space, with a spacious patio, and warm but modern dining spaces that feel like a living room in a really cool friend's house. He talks about his restaurants as if they are homes, "I want people to feel comfortable, to enjoy the time, the food, as if they are my family."
Sharing our History with Food
I only had to watch Sr. Mendez talking about his mother and his grandmother's food, to know that he gives his family's love of food and memories to everyone who comes through his restaurants' doors. Coming from the food-centric South, I asked if he felt that when we prepare food and drink for others, if we are always trying to relive something, and help others experience that. "Oh, definitely," he says, "Here in Rockbrook we have a wonderful community, diverse, friendly. It's a beautiful space, it's convenient to so many places for lunch or dinner." It is close to Dodge and 680, but I think there's a better reason to eat there. "Our passion for the food has to come out," Mendez says, "My grandmother made cakes, it was her business, so of course, when people ask me what the best dessert we have is, I tell them tres leches, because that is the one that was her cake." That kind of love, you don't get in just any restaurant.
The Mother of All Dishes
Sr. Mendez is from Venezuela, a country for whose people I have great admiration. Nominally, I taught many Venezolanos business English. In reality, they taught me Spanish mixed with goofy good humor, a crazed work ethic, and above all, a storm surge of passion for their families, their culture and its food. Spanish food is the mother of Latin American food, with each country offering its own regional produce and history, celebratory dishes and endless riffs on corn-based staples. Cuisina Latina is also responsible for introducing the spicy and sweet pepper to the world, the tomato to the Italian, the potato to the German, le chocolat to the French, and the avocado to the Californian. Fact is, Spanish flavors are the weft and warp of Latin cooking, the ancient heritage of Gauls, Romans, Basques and Moors, and it lives on in homes from the pointy tip of Argentina, through the narrow waist of Panama, all the way to North America, and islands in between. That's what we students of anthropology call "a crap ton" of food culture.
Everything Old is New Again
Asked what the essential heart of Spanish food is, Sr. Mendez doesn't pause, "The sofrito. It's the base everything is built on: the garlic, onion, peppers, sometimes tomato." And just like Spanish cooking uses Old World basics and New combined, Little España, brings together the best of Spanish cooking to the Midwest. "People are different, we have a very diverse clientele here. Some come from LA or New York and want a traditional paella, some want to just try the dish and are not used to the really traditional one. We learned after many years in España that most Midwesterners don't care for the soccarat, the crunchy rice at the bottom of the paella, so we adjusted. We make it however you want. But the real paella is a seafood dish, and we use good products and real saffron. It takes time to make each dish by hand, and it takes authentic ingredients to make this dish well, so it's a little expensive and our customers don't always see why they have to wait."
To Burn or not to Burn?
A little clarity here if you don't speak authentic Spanish cooking. Soccarat means a crust on the bottom of the rice where the dish is purposefully toasted from below, as if in a reverse salamander oven. The word comes from soccare in the old language of Cataluna, and meant "burnt." But that is an insult to those who appreciate the history and the crunch, and in Spain, it's the part of the paella people fight over. Having recently seen the madness that ensued as French people fought over the heel-ends of freshly baked boules and baguettes at a resort buffet, I get it. But many Midwesterners don't, and, as Mendez told me, sent the paella back because it was "burned." Well, scoff if you will, but it just makes you look boorish and ridiculous. Who are you to tell people a "Husker" beef and cream cheese roll isn't real sushi? Restaurants are about serving people well, and Sr. Mendez changed the way he presents his paella to suit his diners. You can request it either way, sans or with soccarat. And no one is offended. The great Spanish chef, Jose Andres, who believe me, is Señor Traditional as Mendez reminded me, once vowed he would never stop until there were tapas in every city and town in the US. Even he once said that his mentor cautioned him to stay true to his roots but to learn from mistakes and change with them, that to do otherwise would mean stagnation and failure, "We don't import Spanish fish to Washington DC," he said about his gorgeous restaurant, Jaleo, "that would be crazy. Some of the best producers are right here, and they don't produce traditional varieties of produce, but they are the best, and we adapt." And Carlos Mendez bootstrapped Spanish food here in Omaha, stayed true to its essence, and made it enjoyable for everyone.
A Love of European Food
Somewhere between making España a household word and refining Little España into a tapas-centered lunch powerhouse, Sr. Mendez met chef Benjamin Maides. They worked together, became life-long friends, and then Maides went off to make his bones and get some serious cred. And boy, did he ever. Savez-vous the French Laundry? If you don't know what that is, and who its chef, Thomas Keller is, well, you haven't watched enough cooking shows on cable. FL is closed now, but Keller isn't. He is one of those luminaries in the food world; great chefs hold their breath when they say his name. And, moving on, Maides hunted up his Swiss roots and took himself to Europe, where he worked his tail off and ended up in a 3-star Michelin restaurant in Italy. Then if you please, he comes back to the Big O, sits himself down for a cigar and a Cuba libre preparada (with Venezuelan rum, of course) and picks up right where he left off with his buddy Carlos Mendez,  "We'd always wanted to do something, so we sat there and said, what can we do? And you know, everything starts from dreaming."
A New Piggie and a Well-Travelled Chef
"We were proud of what we'd done at España, but we felt it had done what it needed to do. We helped draw new blood and revitalize Benson," said Mendez, and now it was time to refine those Spanish flavors at Little España, and do something new. They decided to gut the old España, redo it totally, and do a distinctly European menu. Not the pretentious kind where the waiter rolls his eyes when you try to say the wine name, but the delicious kind, with as much local produce as Nebraska farmers can grow and raise, and with pork. Did I mention pork? The logo of his new venture features a pig. Before you knew it, Chef Benjamin Maides put himself into the fray and was designing pop-up restaurant menus with Lot 16, and sanding hardwood floors in the new restaurant.
A New Bistro is Born and it is Au Courant
Au courant means "of the moment, current, chic (or if you will) dank." It nods its French head to Maides' Swiss roots, but looking at its pilot pop-up menu, I can smell Spain. The skeleton of Spanish food is still there: pork, hints of spice (not hot but savory), and the sofrito, and the Mediterranean love of vegetables. "The new menu will be small, with four or so amuse bouches to start. We want everyone to be able to sample things, have a bite to share with friends when they drop by for a drink at the bar," says Sr. Mendez, and then we will have some appetizers, eventually pastas, and then mains." Knowing that Italians consider pasta a primo piatto, or first course, this makes sense. At Au Courant, you will then be able to pick from meat and vegetable courses, choosing either, or, if you're me, both. There will be several opening days for the restaurant, in several sittings, so if you can do social media, I recommend you seek them out or watch the papers. It's going to be tasty, folks.
"Never Drink … Unless the Day Ends in the Letter Y"
Wonderful advice from one of the great dames of acting, Helen Mirren. And Omaha likes a good hard day's slog followed by a good hard-earned grog. In Benson's newest restaurant, you'll find not only bites to amuse the palate, but supper and an excellent bar. Sr. Mendez's favorite cocktail is the Cuba libre preparada, of course, it was his father's favorite (Venezuelan rum, muddled with lime.) "Au Courant will have eight signature drinks, which we designed, and good wines, nothing over $50.00, good small batch, some Californian, but mostly European Old World wines." When Carlos Mendez says "old-world-wines," he gets the same look on his face his did when he told me about his father and his grandmother. And you can see his passion for food, his desire to translate it into something wonderful, and his goal of sharing it with anyone who looks hungry or thirsty. "His favorite wine?" I asked. "Priorat," he said. I began Googling on my phone. Briefly, it is a high altitude Catalan wine from the appellation and county of Priorat. There, it is exposed to freezing north winds and warm mistral breezes as it digs deep into volcanic soils laced with mica and quartz that give it a unique mineral-like quality. A blended wine, it is accompanied by neighboring grapes of the grenache, carignan, syrah or merlot varieties, and long-aged in barrels. It's on order at Spirit World, so I'll let you know, but I think, since I am a fan of similar styled Bordeaux-type French reds, it's going to feel like another step closer to the heart of Spain.

Ann Summers
Ann Summers is not a 40-umpthing-year old rock climber who got shut down in Boulder Canyon and drowned her failure in a microbrewery. She is neither a mother of two, a fan of Latin plant names nor a lover of fine Italian Grappa. You'll not catch her shooting guns for fun or hollering like a redneck. She hates Shakespeare, and doesn't call a certain fast food chain "The Scottish Restaurant." She turns her nose up at organic yellow beets, eschews fresh oysters, and loathes chubby guinea pigs with Violent Femmes hairdos. She is also a dreadful liar
---
Related Articles
Publisher's Note: Omega Omega Omega (Tri Omega), the culinary fraternity at the Institute for the Culinary Arts at Metropolitan Community
Anyone who has read books by Michael Pollan, Joel Salatin or Barbara Kingsolver has heard the same advice: eat fresh
If the big bomb hits tomorrow or ISIS hackers succeed in melting down our power grid, I'll be happy living
Only registered users can comment.