I Amphoreal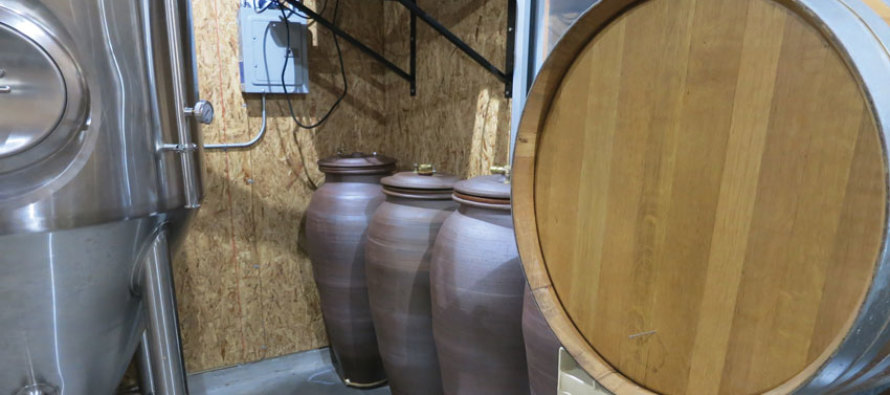 Throughout brewing history there have been many advancements in the beer-making process. The idea of making a beer in homage of the old techniques is something we are proud to explore at the Benson Brewery. Beginning with our first ancient ancestors, the tradition of brewing has matured over time, passing from early batches in every home, to monks and farmers supplying local communities, and finally to the modern age of mega-breweries and local craft brewers. Together we have refined the process into a science all its own. With our new aging program, it is our goal to give our guests a taste of beer throughout the different stages of history.
The aging of a beer is a necessary process indifferent from the ingredients in the recipe. After the primary fermentation (the conversion of sugars into alcohol by yeast), the flavor of the beer is still not complete and how a brewer ages the beer will continue to influence the flavor weeks – or even years – after the initial brew day. Some aging techniques can create very exceptional flavors and our willpower to have patience is something we, at the Brewery, think will pay off in the long run. Aging a beer is a technique that has to be one of the most exciting activities happening here, but also one of the most tedious due to the excruciating wait. Our aging program consists of two different vessels that will give our beer a much different and exclusive flavor. We have just added two varieties of vessels that we can age our beer: the clay Amphoras and the French Oak wine barrels.
Amphoras
Cialis est un traitement oral indiqué dans les troubles de l'érection. Une comprimé du générique Cialis renferme 10 mg, 20 mg de Tadalafil. Maintenant, les hommes peuvent acheter cialis générique sans ordonnance en France au meilleur prix 2020.
For the first time in Nebraskan brewing history, beer will be aged in clay pots known as amphoras. These pots range from 35-40 gallons and were custom-built right here in Omaha. Dan Toberer at Hot Shops Pottery Studio was the principal potter of these clay-aging vessels. By using clay straight from the riverbeds of Endicott, Nebraska, Dan has handcrafted examples of some of the first brewing equipment in history and with his amphoras we plan on producing a new style of beer so revolutionary, it's ancient. With these pots we are able to recreate the same technology they used for brewing back at the dawn of civilization, with a few modern tweaks from what we have learned through modern science.
With a little inspiration from European breweries and wineries overseas and some personal interpretation, Nebraska will soon have the opportunity to taste an entirely new style of beer. Not only does using clay give us the nostalgic sense of using ancient equipment, it also has beneficial flavor components as well. The unique shape of the amphora harness the natural cycle of yeast fermentation as it rises and falls in a convection pattern. The amphora's transcendent connection to history is something we hope to share with our guests in the future.
Due to the distinctive features of clay that have been overlooked, presently I see and taste some exciting future beers coming from these unusual vessels. The amphoras will allow controlled oxygenating of the beer similar to a wood barrel, without leaving behind the typical oak or spirit flavor. Ideally, we can dig up ancient beer history and mimic some beer flavors lost over the ages.
Amphora Aging Projects
Benson Braggot- Blending the two styles of ales and meads is not a first and was done often in medieval Europe. This style of beer brings a fantastic crisp sweetness to beer that is unrivaled by any other style.
Amphoria- Grapes and grains homogenized through fermentation is a euphoric idea for couples who are divided between wine and beer. Allowing the wine's flavor to come through in a beer gives us the best of both beverages.
Sin que cerevisiae– Spanish for "without cerevisiae". This beer will be completely fermented without the brewer's yeast. Some may say there are reasons brewers typically use Saccharomyces cerevisiae, but we want to allow people to explore the flavors of old.
The Nebraskan Native- Using clay from the Nebraskan soil to store the beer, grains and hops grown in Nebraska, as well as Nebraskan yeast, this beer will hopefully bring you as close to an untamed natural local beer as possible.
Wood Cask
As the technology of harnessing raw materials progressed past clay pots, and before the common stainless steel we see today at breweries, beer would be brewed in copper pots then fermented and stored in wooden barrels known as casks. The construction of a cask barrel starts with aging strips of wood which are then left outside over the course of several years to dry and remove any residual resins that might negatively impact the flavor beer. Next, a cooper skillfully cuts the strips of wood into several long pieces known as staves. Each stave needs to be individually cut to a specific width so that when they are tied together they form a watertight barrel held together with metal hoops and rivets. Finally, the cooper seals the barrel with a head fitting snugly into the croze of the staves. Pre-20th century, these casks were common in all breweries, pubs and bars around the world.
As the 20th century progressed, these cask masterpieces of craftsmanship found themselves pushed out of the brewing industry as stainless steel became more easily accessible and had innumerable benefits to brewers. Stainless steel is more reusable, reduces oxygen touching the beer and imparts fewer flavors into a beer. Recently however, the beer industry has seen a renaissance of local breweries using wood casks for different beer styles. Perhaps you have seen some examples of bourbon aged stouts, Belgian Lambic beer, or even sour beers. Each of these styles utilizes the properties of wood and how it affects the taste of beer.
Sour beers might sound unpleasant to those who have not tried one, but done correctly, these beers are becoming very popular around the country. We want to give those in Omaha a chance to enjoy a locally produced sour beer by utilizing some of our own wood casks, which were purchased from one of the oldest wineries in Los Angles, California. Allowing a beer to age in barrels creates the unique environment for growing microorganisms that give off different qualities than the typical brewer's yeast found in most beers. These microbes' eclectic properties are their ability to convert alcohol into both lactic acid (found in yogurt) and acetic acid (found in vinegar), giving it a refreshing tart flavor. Controlling the time of which this process happens ensures a sour beer to be palatable and approachable. The slower the conversion happens, the more pleasant these sour beers become. This style of beer has become most popular to craft beer connoisseurs – mostly due to the recognition of the beers most expensive ingredient, time.
The Waiting Game
So, as you read this article and curiosity of ancient ales brings you to the brewery, I must give a disclaimer; we ask you to be patient before trying to get your hands on one of these fascinating new beers. Each of these beers needs time aging in casks and amphoras, and being patient is sometimes hard when it comes to trying new things. The appreciation and understanding of time is a unanimous ingredient found in every beer recipe. Unlike chefs, it is impossible for brewers to turn raw ingredients into a final product in the same day. It takes weeks for yeast to go through fermentation and then several more days for the beer to go through secondary fermentation, where flavors are refined. This critical factor in the beer process is known as maturation, or aging, and is essential in every beer.
Similar to how an individual becomes more approachable and well balanced over time, a beer too, must mature. Time's importance in brewing is what gives us brewers our greatest challenge, but it's also what builds our obsession with researching all the chemical and biological processes occurring in the beer. Predicating the future may be impossible, yet if you learn from the past you can mold the future. For that reason, if we need to wait over a year before the beer is ready, you can believe we are doing all the research possible to make sure we do it right. Even though there is extremely limited research on amphoras.
As the artisanal ales-man representing the Benson Brewery, it is in my responsibility to improve upon each of our beers and never rest on our laurels. Knowing that, brewers must commit themselves to learning from others, experimenting with their own experiences, and remaining patient as it will improve their success in the industry. I believe we are constantly making incredible beer and continue to express our goal of giving people a chance to explore new styles and flavors, expanding the palate and the understanding of beer.
---
Related Articles
It's the breeze on your face and a cool glass with condensation dripping down your fingers that makes outdoor dining
Recently I viewed an episode of the TV series, "American Greed". The show is based on true stories of some
Zinfandel is a Vinifera grape that is grown almost exclusively in California. The major other producer is from Italy where
Only registered users can comment.