Localmotive Food Truck: Changing late nights in the Old Market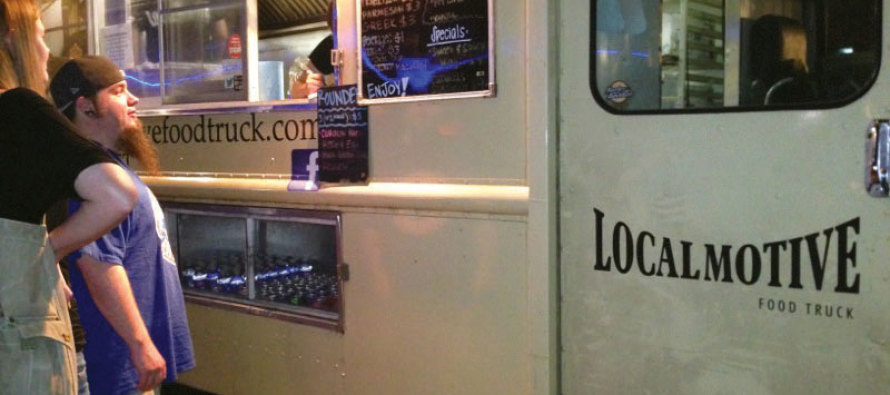 On any given Friday or Saturday night, you're likely to find a group of hungry people congregating on the corner of 11th & Jackson in the Old Market. Until recently, there weren't many options for late night food in the Old Market, especially good late night food. The Localmotive food truck is on a mission to change that.
Localmotive owner Patrick Favara and partners David Burr and David Scott had been mulling over the idea of a food truck (or something like it) for a long time. Burr is an Omaha native and veteran of Omaha's food and drink industry, having spent time working at Omaha staples like Dario's Brasserie. Favara and Burr, friends for over ten years, often found themselves lamenting the lack of good late night food in Omaha, a problem that particularly plagues service industry workers whose shifts often end late at night.
"We started following national trends," Favara said. "[We noticed food trucks] and thought we could tap into that market here in Omaha."
On March 4, 2011, the Localmotive opened for business for the first time. Soon after, they partnered with Ted & Wally's in the Old Market and put up shop in their parking lot at 11th & Jackson Streets. A little over 2 years later, they have experienced a great reception and are quickly becoming an Omaha late night staple.
"Growth has been fantastic, beyond expectations," Favara said. "We have an incredible relationship with our customers. We know our customers. Someone comes up and I already know what they are going to get."
Favara said the Localmotive's downtown customers are a mix of service industry workers, bar and restaurant patrons and Old Market residents.
"People who live and work downtown depend on us for their meal at that time of day," Favara said. "If we have to shut down service for a night it affects people. We've had a great reception from downtown."
At its inception, the Localmotive's menu consisted of mainly hot and cold sandwiches. Since then, it has evolved to include daily specials, frites and, their signature item, rounders. David Scott came up with the idea for rounders — a fluffy ball of dough, stuffed with different combinations of ingredients and deep fried to golden perfection. Some rounder varieties include Reuben, chicken cordon bleu and chorizo and egg. For a mere $5, less than you might spend at a fast food drive thru, you can get three hearty rounders with a side of housemade dipping sauce.
Regular menu items at the Localmotive include a chicken sandwich with house bacon, provolone, caramelized onion-green chile jam and chipotle aioli on focaccia. The chicken is free-range from local Plum Creek Farms in Burchard, Nebraska. Using locally sourced ingredients is important to Favara.
"We try to do everything locally," said Favara. "Most items [on the menu] are made from scratch, except for a few breads which we buy locally from Le Quartier."
Regular menu items include a vegetarian sandwich with Portobello mushrooms, asparagus, red peppers, pickled red onion, arugula, balsamic vinegar and basil-edamame pesto on French batard. I've enjoyed this sandwich on more than one occasion and, as a non-vegetarian, can attest that it is one both meat and veggie lovers could fall in love with. This is not your typical late night fare.
Other regular items include a B.E.L.T. (a spin on the classic B.L.T. with aioli and a fried egg on focaccia) and hangar steak sandwich with arugula and black-pepper aioli.
Recent daily specials at the Localmotive have included chile rellenos (a roasted poblano pepper stuffed with Plum Creek Farms chicken, house bacon, cream cheese and cheddar) and pork tacos with cilantro jalapeno chimichurri.
Favara, Burr and Scott's flair for the creative has extended beyond their menu to several collaborations, including a Valentine's Day dinner at Block 16. The dinner consisted of 13 small courses, including items from the Localmotive such as "Rabbit McNuggets" with street frites, served up in McDonald's Chicken McNugget containers.
"We definitely look to collaborate," Favara said. "Food and drink is a tight-knit group [in Omaha]."
They have also participated in local food truck festivals at Lucky Bucket Brewery, the Old Mattress Factory, and the College World Series.
If you are more of an early bird than a night owl, the Localmotive offers traveling lunch service and can be found at the Omaha Farmer's Market on weekends in addition to their standard late night service (10:30 p.m. to 3 a.m. weekends) at 11th & Jackson in the Old Market.
---
---
Related Articles
A recipe is defined as a set of directions accompanied by a list of ingredients that describe how to prepare
About a decade and a half ago and 30 miles northwest of Omaha, you would have found me overseeing the
If cuisine1 is the coming together of traditional food ways in the presence of a regional larder, then no diatribe
Only registered users can comment.