London Calling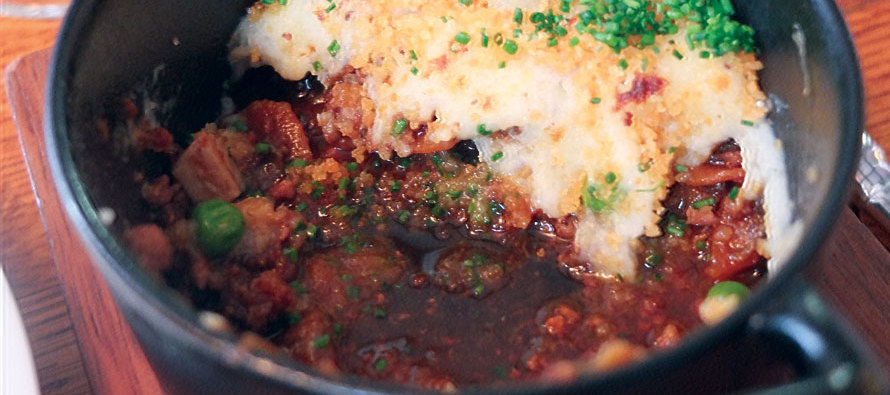 Arriving in London on a perfectly overcast, rainy day, I had been warned by fellow travelers not to get my hopes up too high for British cooking. For decades, the Brits had been the world leader in boiled meats, puddings made of blood and entrails cooked with offal. I had heard lots of positive things about covent garden bars so I knew that I wanted to go and try some of those out. I had also heard about a few 'must-eat' pubs too.
Over the last decade, I'd been hearing of a new wave of British chefs that were proudly taking the ofttimes bizarre English foodstuffs and creating new and exciting world-class cuisine. Two chefs were squarely placed atop my list; Heston Blumenthal, of the 3-Michelin starred "The Fat Duck", and Fergus Henderson, the owner of "St. John", the undisputed world leader in "the nasty bits". I would visit both chefs and see what else I could pick up along the way. I had also heard some amazing things about ormer mayfair restaurants, but I knew that I was going to be slightly hamstrung by my tight schedule.
As stated earlier, my first day in London was precisely what I had expected. This was my one day on my own, so I did what I always do in new cities; I began to wander and let the streetlights guide me where they may. This took me around the Financial District and past one of my favorite pieces of architecture: "The Gherkin", which is a round, almost egg-shaped building in downtown London. You've probably seen it in movies, but in person, it's a brilliant piece of design. Maybe I should have treated myself to a chauffeur-driven car from fcchauffeurs.co.uk to take me around these magnificent sights, there is always next time!
After gawking at the rest of the London skyline, I was ready for a pint. This being London, I didn't have to walk more than a block to find a nice pub. Sitting down at the counter, I ordered a pint of Wadworth 6x, a locally brewed English Pale Ale. My curiosity was peaked, as I had been told by a handful of friends that the warm, English ales were terribly overrated. Well damn, were they wrong! I repeated the experience over and over. Everywhere I went, these wonderful, usually Pale Ales, were served at about 45 º – 50 º and with lower carbonation than a traditional tap pour. I found the style of locally brewed beers to match perfectly with the cask style service – rich, thirst-quenching and just downright lovely. These Brits know how to do beer!
As I was nearing the end of my second pint, I asked the bartender for a recommendation for a quick bite. She was immediate and serious with her answer. "The Meat Mission is just a couple blocks away". I could tell by the warm smile that ran across her face as she stated the name that this was the place to go.
After a quick consult with my Google box, I realized that this place was just a single block away from my hotel. Sometimes, things just work out. Approaching the restaurant, I saw in red neon, above a quite nondescript door, "Meat Mission". Entering, I saw a small pub with concrete floors and simple tables. The drink menus on the wall listed a tremendous selection of ales and cocktails. The food menu was seemingly simple bar offerings – fries, wings, burgers and sandwiches. Taking a seat at the bar, I told the bartender that I was in town just for today and what would he recommend. He heartily suggested the "Dead Hippie Burger" with "Hippie Fries". Again, I could see enthusiasm behind his smile.
So, a pint or two later arrived a double cheeseburger with all the traditional toppings and their "Hippie Sauce". On a separate plate was a giant portion of thin French fries covered with caramelized onions and "Hippie Sauce". Both were astonishingly tasty. The beef was ground in-house and all the veggies were fresh cut. The "Hippie Sauce" was an herby aioli that was absolutely wonderful. It was a beautiful mix of fresh, local ingredients presented in a super laid-back environment. I killed the burger and got about halfway through the fries before I had to stop.
Not having room for even a wafer-thin spot of dessert, I turned to the cocktail menu for an aperitif. One drink immediately caught my eye. Under a section titled "Drinx for Drunkx" I saw "Grog – a dangerous mix of light and dark rums, with a splash of overproof rum shaken with our secret grog mix. Limit two per person". I think it was the two per person that caught me, but being just about 100 yards away from my hotel, I figured why not? The grog came in a large tropical, tulip-shaped glass with four or five different fruit garnishes. Wow – it packed a wallop! The rum was the obvious star here, the fruit juice tasted fresh and before I knew it, I was nicely lit. Walking back to my hotel, I was about as happy as a man can be and greatly looking forward to the journey ahead.
The next day, I awoke and made my way to the train station. The rest of my group would be arriving in Bath that morning. Bath is a Unesco World-Heritage site. Built in the Roman era, it is a wealth of history. We spent the next couple days visiting Stonehenge and the medieval villages that remain today as they were 300+ years ago.
Most of the food was fine. Similar to the US, the trend is toward local meats and produce. The "Mojito" white chocolate truffles from Hotel Chocolat were packed with booze and mint. A small restaurant "Sotto Sotto", built in what looked to be a World War II era bomb shelter served some of the best, authentic Italian that I've had. The linguine with butternut squash and a black truffle cream sauce, and the osso buck over a bed of saffron risotto is a meal I won't soon forget.
I tried the "Full English" breakfast at our hotel. Consisting of a grilled tomato, baked beans, eggs, black pudding and grilled mushrooms – it was interesting. I'd always assumed that English baked beans would be some wonderful brown sugar breakfast-type dish, but at nearly every restaurant they were proud to serve Heinz brand baked beans. The same stuff we get in cans. I don't get it. The black pudding was quite enjoyable. It was greasy and mineral rich, but paired with the rest of the breakfast, it worked.
After a few days in Bath, we headed toward London. About 40 minutes (by train) outside London is Windsor, home to the Windsor Castle, where the Royal Family still resides (one of three castles used by the Royals, I was told) and about 20 minutes out from Windsor is a small town called Bray, home to the world-famous Fat Duck. In one of the larger let-downs of my life, I was unable to secure a table within our travel dates. Tempering my disappointment was my discovery of the "Hinds Head Pub". Immediately adjacent to "The Fat Duck", the building was purchased by Heston Blumenthal and renovated into a pub with a Michelin Star. We headed in for lunch. It's a cozy space with narrow doorways and the occasional low ceiling that showed off the age of this former hotel, bar and restaurant. Seated by a window with an occasional glance into the kitchen, I was ready.
Being on vacation, why not start out lunch with a cocktail? I ordered a classic English gin martini. It was simple and perfect. Perusing the menu, I was drawn toward a daily special three-course tasting menu. I always like to order specials, as daily dishes afford chefs an opportunity to be more expressive and daring than normal menu items, and damn, I was not disappointed.
My first course was a terrine of foie gras and ham hock. A terrine is a loaf, similar to pâté but with traditionally, more coarsely chopped ingredients. I was served a single slice – foie gras layered with large tender chunks of meat from the ham hock, layered with wonderfully refreshing whole-leaf herbs. I don't know what they were, but the creamy liver, the flavorful, über tender ham pieces and the herbs combined to make one of the very best dishes I've ever eaten. The terrine, combined with a mustard-pickle relish hit every note, from fresh, to savory, to lightly sweet. Umami-overload!
Course number two was a Shepard's Pie. This is about as traditional an English dish as you'll find. This dish was presented in a small cast-iron pot. Venison, pork and maybe beef (I'm not certain) was blended with peas and a delicately herbed tomato sauce. It was then topped with creamy mashed potatoes and crumbly crunchy bits with a handful of green onions. The simply flavored potatoes and the unfathomably tender meat blended together superbly. It really was an exercise in simplicity. Too many chefs would be afraid to serve such a simple dish – they'd complicate it with truffles or blue cheese or smoky bacon. This dish was a stellar example of a supremely talented chef serving simple foods, combined with no more than needed.
My final course at Hinds Head was a lemon crème brûlée with homemade shortbread. It was good, but nothing to get too worked up over. Then came time for the final cocktail course. Knowing I was to spend the next several hours walking through Windsor Castle and being fairly disgusted with the opulence and decadence of the Royals, I needed one more drink to set me on my way. I chose the "Rum Old-Fashioned". Traditionally made with Bourbon, the Old-Fashioned is one of my favorite libations. I'd never heard of one made with rum. Knowing that I was in good hands, I ventured off into uncharted territory.
A few minutes later, our waiter presented me with a large snifter containing a blend of light and dark rums, fresh citrus juices and a hint of sugar over ice. Setting the glass on the table, the server directed my attention to what looked like a clear traveler-type coffee mug. He explained that in the cup was high-end, very dark rum that had been warmed. Atop this cup, which he also explained was custom-made for Hinds Head, contained a sieve-like container of dry ice. The warm rum was to be poured through the dry ice into my glass. I watched as my snifter filled with rum vapor. As I sipped, the vapor traveled beautifully though my nose as the strong, sweet blend of rum washed over my tongue. A truly intriguing drink and a hell of a way to finish off what will most likely be some of the best pub food I'll ever eat.
I arrived in London late that day, terribly excited about my next culinary destination, but before I get to that, I must mention the fish and chips from the Sherlock Holmes pub in London. Expecting fish sticks, I was heartily surprised to see an entire fish half, no head, with the tail. It was crisp and juicy, not at all oily. I preferred to douse mine in malt vinegar, although the tartar sauce was homemade and wonderfully herbed. It went great with the thick cut chips. Best damn fish n' chips I've ever had.
The next evening, I arrived at St. John. Chef Fergus Henderson is completely self-trained. In 1994 he opened St. John. Raved about by the likes of Anthony Bourdain and Mario Batali, Chef Henderson's cuisine is traditional British foods with a focus on what are often called "The Nasty Bits". He is in a class by himself. Approaching the restaurant my companion asked, "Are you sure this is a world-class spot?" The restaurant is in a working-class neighborhood. It is as unassuming a facade as I could imagine.
Walking in, the bar was crowded. It is apparently a hotspot for the young, fashionable crowd to start the night. Through the chaotic maze of people we found the dining room. Again, it was fantastically unassuming with simple wood floors and about 20 tables with simple white tablecloths. The kitchen is open and surprisingly tiny. Watching the chef glide smoothly around the kitchen kept me occupied for a good five minutes.
I knew going in that I would order the roasted bone marrow with parsley salad, for which Chef Henderson is famous. Other than that, I was unsure. The menu changes daily at St. John, based on whatever fantastically fresh, locally sourced ingredients appealed to the chef that morning. Having eaten a light lunch, I was prepared to feast, and feast I did. Feeling terribly indecisive, I doubled up on the first two courses. It began with grilled duck hearts with chicory, as well as the aforementioned bone marrow. For the main course, sweetbreads sautéed with peas and bacon and a half-order of grilled ox heart with horseradish and thick cut chips.
On a round white plate, I was served six duck hearts with chicory in the middle, the whole thing covered in a rich, brown pan sauce. The duck hearts were cooked medium, with a bit of pink in the middle. Tender as can be, each mineral-rich heart was juicy and flavorful, the pan sauce giving a little herb flavor. The chicory was bitter, which is not a flavor I enjoy, so it went virtually untouched.
The bone marrow serving was huge, with four large bones. Richly, darkly roasted, they were perfectly prepared and combined with the parsley salad, great. But the real star of this dish was the light grey sea salt. The server told me that this salt was quite rare. I wish I remembered the name of it, because it launched the dish into the stratosphere. It perfectly balanced the oily, rich marrow. Having tried roasted marrow a few times before, I finally understood what all the fuss was about.
The main courses also arrived together. I was agog at the sight of a ton of sweetbreads – sautéed, not fried – mixed with a mound of fresh peas and big chunks of bacon. Each one of those tasty little glands was like a flavor explosion. Creamy and savory and just oozing with flavor, the peas and bacon proved an ideal accompaniment. The grilled ox heart was served in slices, each just ever so pink in the middle. Rich in iron and mineral flavors, the grilled flavors made this dish more reminiscent of an impossibly tender steak. The subtle horseradish sauce added a little zing to the party.
Having gorged myself quite well, I opted for a light dessert – a scoop of raspberry sorbet. It tasted like the raspberries had been picked five minutes earlier. Wonderfully fresh and zippy, the sorbet was topped with a single shot of chilled Russian vodka. The combination of the fresh fruit and the gentle astringency of quality vodka was a truly unique flavor. A perfect palate cleanse to a heavy meal. St. John certainly met, and perhaps exceeded my high expectations. Again, talented chefs and wonderfully fresh ingreients combined in a simple, elegant way.
Between the great cask ales, the increasing importance of locally sourced ingredients and a healthy dose of history, I had a pretty magnificent dining adventure. And someday, I will make it to "The Fat Duck".

Matt Biggins
Matt Biggins may have discovered his love for cheeses working the rice paddies in western China. He could have learned to write during his stay on MIR. If so, he's certainly happy to be living comfortably in the US and working with FSM Omaha.
---
---
Related Articles
Editor's Note: Omaha has developed a reputation as a 'music town' around the nation, so we figured a good way
It can be fairly stated that the lobster has endured many injustices in its culinary history. Originally used as fertilizer
When I was in high school, pizza came in one form: a circular pie with a crust made of flour,
Only registered users can comment.