Noshing in Nepal: Exploring Culture with Food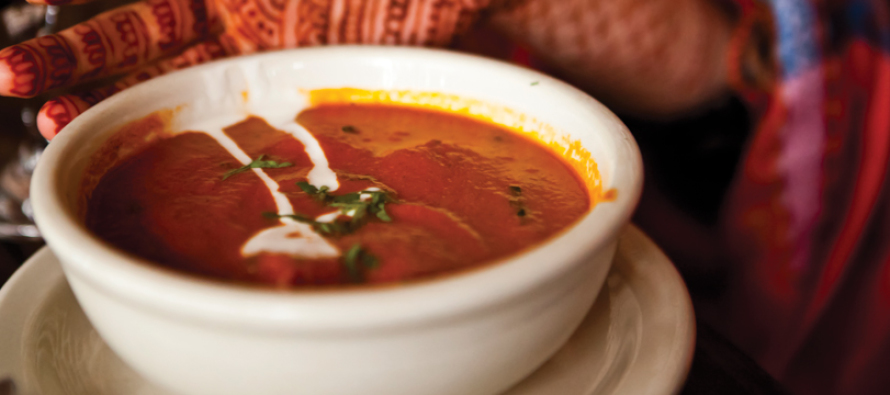 We had been up for 30 hours when we had our first meal together. After hours of flying time and airport craziness, the jet lag and overall fuzziness in my head was threatening to suck out all the politeness I had left. It was nighttime when we sat in the middle of our host's living room, cross-legged on a floral sheet stretched over the marble floor, too tired to feel anything.
Until the smell of spicy noodle soup wafted through the room.
Already fussing over our comfort, our hosts, two beautiful Nepalese women with blindingly bright scarves and kind eyes pushed china bowls of steaming goodness into our hands. Ramen noodles in a spicy broth with scallions, egg and hot pepper. The aroma cleared out my nasal passages and I felt reborn. What was once a room full of grumbling Americans turned into a chorus of slurping and murmuring, a positive energy filling our spirits as our bowls emptied.
This would be one of many food memories I would make in Nepal.
My husband and I were two of eight that made the journey from the United States to Pokhara, a lovely metropolis five hours from Kathmandu. The purpose of our visit was to see two dear friends, Jean and Joe, get married.
Though born and bred Nebraskans, the bride and groom have a particular calling for this side of the world. The bride's family resides in Pokhara, in homes set with ribbons of marble, and balconies offering the sights of sacred Fishtail Mountain, nestled in the Annapurna range. Jean's Aunt Phal was our amazing host during our time. Her cooking was nearly as perfect as her home, and she made us feel like royalty.
From boating on Phewa Lake, to paragliding over the Annapurnas, to hanging on for dear life in cabs, this trip did not disappoint, especially in the food department.
On the five hour drive from Kathmandu to Pokhara in an SUV that handled third world mountain roads better than I expected, we stopped off at a roadside restaurant cloaked in trees. Several levels of balconies and tables were stacked like Jenga pieces, and we were able to see the landscape for miles. Parched, we ordered a few beers before snacks.
Did I mention the beer? For three American dollars you are served a large format beer, the most popular choices being Carlsburg, a German pilsner brewed in Denmark; Tuborg Gold, a lager from the Carlsburg family; and Gorkha, a Nepali beer made in recycled bottles.
Now the most pressing question, what to eat? Enter the wonder of the veggie pakora.
Full of carrots, celery, burdock root and other veggies, these bites are slapped together with dough and egg, and fried in hot oil. They are crispy on the outside, and steaming and soft on this inside. I lived off pakoras for the majority of the trip, a safe option in nearly any establishment. Second only to the pakora is the momo. Momos are dumplings that can be either steamed or fried, and are stuffed with a variety of goodies from meat to veggies. Often spicy, they are little pillows of flavorful goodness. Water buffalo is a common meat used in the dumplings, and in most dishes, as cows are sacred in Nepal and are not eaten. I preferred the momos steamed, with spicy veggies, and served alongside a Tuborg.
At 4:00 a.m. each morning, a horn would sound from the mountains. Our first night, Jason and I were convinced there was a raid or a break-in, and peeked out the curtains every hour till light. Over breakfast, we were told one of the town members rings this bell every morning from a temple to gently wake the neighbors.
Our days began with coffee and/or tea. The coffee is instant, but mixed in plastic containers with sugar and condensed milk, giving it a creamy, satisfying flavor. Black milk tea with sugar was a huge hit with the group, so much so that I brought a box back for my kitchen. Most days we would wake up to omelets with whatever veggies were available, and they were always spicy. Peppers grew in colorful clusters around the porch, warm from the sun. Other days would be a plate of steaming sel-roti, rice doughnuts that are fried then dusted with sugar. The sugar would sometimes cook down into a caramel, giving the dough a delightful toasty taste. French toast was also a hit, so sweet with cinnamon that no syrup was needed.
Pokhara is a friendly, vibrant city, full of diverse neighborhoods and shops. The tourist district, known as Lakeside, is a little less cluttered than the heart of the city. Here is where we found our favorite spot of the trip, Zorbas. Owned by a Nepalese woman and managed by an Aussie, this bar and restaurant is cozy and clean, and even has a hotel attached. Best part? Feel free to have ice in your glass. Most of the restaurants in the tourist districts use mineral or bottled water to cook with, keeping visitors safe from stomach bugs. Zorbas is where I had my first experience with prawn crackers, a popular snack food in Asia. Made of fried shrimp and starch, deep fried into a pillow of flavor, these little chips pack a ton of umami goodness, and are perfect for a night of drinking.
On crooked, packed dirt sidewalks, we ventured down alleys and side streets, peeking inside little shops and cafes. Stopping into one nondescript spot, we ordered a couple of real sugar Fantas, and had curry with mutton and chicken chow mein. The dust from the sidewalk blew around our feet as we watched a young man load bottles onto what looked to be a lawnmower with a tent built over it. Cattle walked freely in the streets, with the occasional stray dog.
Eating by candlelight in the United States is often seen as a romantic gesture. In Nepal, it is a necessity. Because of an overstretched power grid, blackouts are commonplace in Pokhara, and can last anywhere from a few minutes to hours. Aunt Phal is fortunate enough to have generators that kick on when such power outages occur. However, one dinner was cloaked in darkness, which made it all the more enjoyable – chicken curry with tomatoes, potato curry with chives, and pumpkin curry. The pumpkin was actually a variety of squash, but was, by far, my favorite of the evening.
Most homes have gardens that supply food for the households, without the hint of pesticides tainting the freshness. Mountainous, robust heads of cilantro slouched like weeping willows over baskets in the kitchen, draped over tomatoes and green onions. From the care and attention to flavor that was given to smaller meals, I could only imagine how incredible the wedding meal was going to be.
In American weddings, the only involvement the family has with the food is arranging the catering. For days before the wedding in Pokhara, family members and neighbors starting bringing in massive steel pots and serving dishes to the courtyard, big enough to hold a water buffalo calf. Our host said that in this neighborhood, everyone contributes to having a set of dishes, chairs, and other items for use in events like weddings. Neighbors rent the equipment as needed, and make sure they are clean and ready for the next celebration.
Another experience for the books? That would be seeing dinner being taken off the truck, bleating and breathing. Six goats were the main course for the wedding, along with so many chickens that we lost count. There was enough food to feed the entire neighborhood, which is quite literally what was done. For weddings in close knit communities like Pokhara, the entire town is invited to join in the festivities and bless the bride and groom. In lieu of a church, we were in a Buddhist temple. Instead of taking shots in a bar, we had milk tea and cookies with the monks, while Rhesus monkeys played outside the gates. I wouldn't have traded it for all the Jameson in the land.
After the ceremony, we were dropped off about 15 minutes from Aunt Phal's' home. It is tradition that the bride is walked home as a married woman by her groom and the wedding party. In front of us, we had a traditional Nepali band and a group of dancers swaddled in red saris. Behind us, more and more people joined in the walk, singing in Nepali and grabbing whomever was near to dance in celebration. By the time we walked home, the whole of the country was behind us and we were all famished. Through a pink and red gate, we walked to a tent where some damn fine smells were permeating the air. Marigolds were tossed around us, and I was turned in every which way, with women pressing flowers into my hands.
The giant vats had all sorts of amazing dishes; Potato curry with tomatoes and turmeric, truly fresh fried chicken, yellow dal, saag (sautéed greens that consist of spinach and mustard greens), chicken curry, goat curry (with "nasty bits," the intestines), fresh vegetables and three different kinds of rice. As soon as our dishes were empty, we were encouraged to eat more, and I was worried I would be too full to dance.
All in all, the wedding was 12 hours of dancing, eating, blessing, laughing and clapping. One of the women told me this was a shorter version of a Nepali wedding; some go on for days.
All too quickly, our two weeks in Nepal came to an end. Our last night in town, we were treated to a meal at a little restaurant in Lakeside, with entertainment as we ate. A group of young dancers sang to a medley of traditional songs from all over the world, changing outfits for each country.
While entertaining, I could hardly notice the music over the mind blowing meal I was having: the very best butter chicken I have ever had. Rich, buttery and creamy, a small piece of chicken drowned in a sauce that must have been made by magicians. Chilies, turmeric, ginger, garlic and ghee (reduced butter) made up this red and gold sauce, glistening with butter oil and staining my fingers a rust color. I had a chow mein sitting in front of me, a popular item for tourists who can't handle super spicy foods, and delicious as it was, it became a sad spectator to my chicken demolishment.
Food is a way to tell friends and neighbors they are loved, and it is incredibly evident in the way meals are conducted in Nepal. For the wedding, every person in the community was invited to come eat and enjoy themselves. During our stay, the family worked around the clock to make sure we were taken care of, comfortable, and above all, full.
But there is something else in this place: a mellow kindness that you can see in every face. Women are beacons of light, loud, and always smiling. Men are stoic and strong, and children understand the importance of hard work and the reality of life on this side of the world. I never saw a tantrum being thrown, and children were always polite. From the food to the family, to the views of the mountains amidst endless marigold bushes, Nepal is truly a paradise for those who love to explore.

Jessica Clem
Jessica Clem is a freelancer writer based in Omaha, Nebraska. A marathon runner and food writer, her favorite way to get motivated to finish a project is the promise of a craft beer. She has a B.A. in English and an M.S. in Urban Studies, and enjoys traveling, finding typos on billboards, and the smell of a real book. She currently works for National Media Brands as an account executive.
---
---
Related Articles
Omaha is definitely a burger town. Nebraska is famous for its beef, and the Metro Area boasts many restaurants that
Second Empire is truly one of North Carolina's finest dining experiences. The restaurants setting takes place in an beautiful old
Food is a big part of tradition, and Fall is the time of year for comfort foods. The long, cold
Only registered users can comment.