Passing the Torch at the Dundee Dell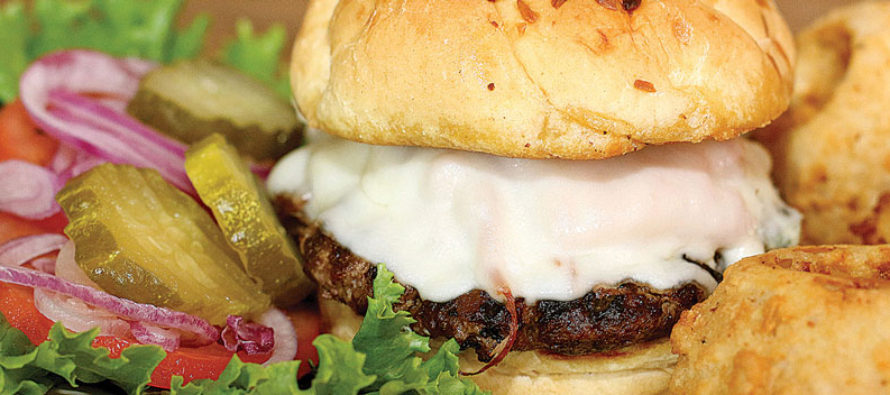 In the wake of Piccolo's closing, leaving Omaha one less signature Italian steakhouse, the Bohemian Cafe announced it would serve its last Czech specialties in September. So when rumors surfaced Pat Gobel was selling the city's oldest pub, the Dundee Dell, local diners and imbibers alike quaked at the thought of some dilettante swooping in and ruining a good thing.
Fears were allayed when news got out the Dell was purchased by veteran Omaha restaurateur and wholesale food maven Greg Lindberg. The midtown landmark has joined his Absolutely Fresh Seafood, Shucks Fish House and Oyster Bar and Bailey's family of businesses.
Since taking over last spring, with Gobel staying on to ease the transition at Lindberg's request, the new owner's made it known to devotees the magic that makes the Dell won't change.
Lindberg, who often bent an elbow at its old 50th and Dodge location and followed it to its current 50th and Underwood site, appreciates what he's inherited when he calls the homey  establishment an "icon and institution."
"The pressure I feel is to not screw it up, because it is the Dundee Dell," Lindberg said. "My witnesses or judges are the loyal customers and employees."
He said being the steward of a legacy that goes back to 1934, when it started as a Jewish delicatessen, then went through a steakhouse phase, before tuning pub, is a "labor of love." He's also quick to add, "I believe I can make money with this. I think I can make it a good business and a fun place for me to be. I'm doing this because I want to do this." There's also a deeper reason that motivated him to buy the Dell – he didn't want to see it shuttered the way so many historic restaurants have and chance a franchise opening in its place.
"I believe in small business," he said. That belief goes back to his father who championed buying on main street as publisher of newspapers in Sargent and West Point, Nebraska.
By the time Lindberg operated his own ventures, he saw too many mom-and-pops go under.
"I was selling fish to all these restaurants owned by hard working people trying to feed their families. The chains kept moving in and kicking these people out. That sucked, that is not the way I want my town to be, so I fight back."
Lindberg admires that Gobel enjoyed a long run (he bought it in 1989) and "kept the vibe, the spirit" while giving it "a breath of fresh air" upon moving to its new digs in 2000. Lindberg's added new systems, fresh carpeting and other overdue updates to provide "new energy" and "get it shiny," but he's kept most everything else the same. That includes the famous fish and chips and the hot pastrami sandwich. Holdover executive chef Mary Tomes is introducing new seafood and traditional English pub items. The Dell's epic collection of Scotch varietals is being curated to further brand the Dell as a niche neighborhood joint where you can get certain scotches you can't anywhere else.
Lindberg said his familiarity with Scotch was limited to drinking it, but he's learning from Gobel, a bonafide connoisseur. Gobel's vast store of spirits knowledge is not the only reason Lindberg asked he remain in-house awhile.
"A lot of the Dell is between his ears, quite frankly. Plus, he's the face of the Dell."
Lindberg's getting ample face time with Dundee regulars. "Whatever the politically correct term is for people with money and education, well, they're here in the Dundee neighborhood," he said, "and that's cool, I like it." The Dell can appeal to an upscale clientele looking for a relaxed setting, but looking at Dundee's mostly gourmet eateries, it fills the inexpensive pub niche otherwise missing.
He's learned things since starting his first business in 1979.
"A lot of times in my life it's been knowing what not to do. I have ideas from here to the Interstate. I'm a list guy. I've kept my last two phones and computers because they have so many lists and they don't talk to each other. There's some good ideas in there, but you can't do everything."
Many eateries go awry, he said, by "trying to be all things to all people – too many things on the menu." "Ideally," he said, "I'd shave off a third of any menu."
He believes the front and back of the house are only as good as the people working them. He was impressed enough by Gobel's tight-knit corps that he's kept the entire staff intact.
"We haven't gotten rid of anybody."
"I could not be more pleased," Gobel said. "It really is family.
So many of our staff have been here 10 years-plus. We take care of our people, we support each other. If somebody's having a rough spot, we gather around and help them through it. If there's a wedding or a new baby's born, we all celebrate."
Lindberg isn't messing with a good thing. "Everybody talks about their place is family," he said. "This is the real deal. There's a lot of amazing stories about what Pat's done for these people. If you've got good people, you can do anything. I believe that in my soul. I've done my best to surround myself with talented, hard-working people. I actually like them and they tend to like me." Yes, running a business comes with hassles, but "good people take most of those away from you," he said.
Gobel feels he's leaving his people and place in good hands.
"Greg and I really see eye-to-eye on things. I wanted to find       somebody who's vested in the legacy, in the tradition, in the Dundee Dell, and wanted to maintain that going forward, and I found that in Greg. I wouldn't have done it any other way. I'm very invested emotionally here. I will always be. But it's time for me to pass the torch.
"This thing needs to be respected and honored and cherished. It's not just another part of a large operation. I mean, do we really need another Applebees? Does it make Omaha better? The Dundee Dell does make Omaha better."
Lindberg said the timing was right. The Dell took a hit from extended street construction a few years ago that made accessing it a pain. Business further lagged this last year. When he heard Gobel was seeking a buyer, he contacted him to discuss terms and discovered the depths of the struggles.
"It got rough. It was spiraling down. Staff were a little beat down over lack of money to fix things. The way I saw it," Lindberg said, "if I didn't do it, this thing was going to fall. It was close."
Besides not wanting the Dell be another Omaha eatery casualty, taking on a new challenge is just what he needed.
"I've just been having a good time with Shucks and Bailey's and Absolutely Fresh for decades. It wasn't always fun, but it has been for quite some time. This has reenergized me. I don't have to work, but I like it. I'm 61-years old, I've been doing this for 37 years. I've been saving money – not for the first 12 or so – but I've been saving money ever since. I'd be fine. I could retire.
"But then what?"
Ever the entrepreneur, Lindberg needs the rush that comes with business risk and reward. Then there's the symmetry of it.
"I bought it from Pat, who had it for 27 years. He bought it from Neill Everitt, who had it for 27 years. That's Haley's comet weird."
Lindberg's not sure he'll make it 27 years himself, which would be 2043, but he's happy to settle for another milestone.
"It will be a hundred years old in 2034. I can make it that long."
Address: 5007 Underwood Ave, Omaha, NE 68132
Phone: (402) 553-9501
Hours: Monday – Sunday 11 a.m. – 2 a.m.

Leo Adam Biga
Leo Adam Biga is an Omaha-based author-journalist-blogger. His books include Alexander Payne: His Journey in Film, Crossing Bridges: A Priest's Uplifting Life Among the Downtrodden and Memories of the Jewish Midwest: Mom and Pop Grocery Stores. The University of Nebraska at Omaha graduate contributes articles to newspapers and magazines. His work has been recognized by his peers at the local, regional and national levels. Sample his eclectic writing at leoadambiga.com or www.facebook.com/LeoAdamBiga.
---
Related Articles
Food & Spirits Magazine held the 4th Annual 'Omaha's Largest Pizza Review' on June 25th at The Waiting Room Lounge,
Where's the buzz that should be surrounding 24th Street?  Where's the "24th Street has a lot to offer", or the
One of the things I've learned over the past several years, ever since I started my journey in bartending, to
Only registered users can comment.