Rediscovering an Old World: Tuna Carpaccio with Spicy Asian Citrus Drizzle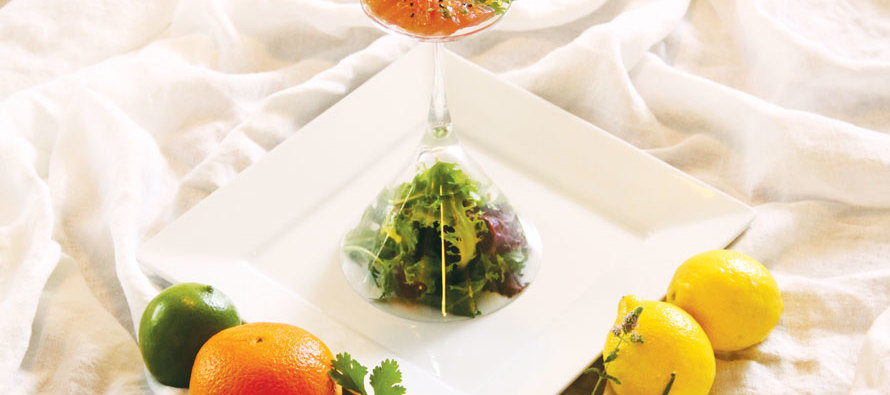 I look at food as much more than just a way to experience incredible flavors and wonderful new taste sensations – I see food as a portal that can transport us to another time and place. It can touch us at the depths of our soul and allow us to spend time with loved ones long gone, or remember dear friends that are separated from us by vast distances. Food opens and triggers cascading memories that flood the spirit with warm and wonderful emotions like nothing else can.
Even though she is long gone, one bite of chicken elderberry and I travel back through time to find myself sitting in my mother's kitchen savoring exotic flavors. I can clearly see her smiling face, hear her caring voice and feel the touch of her hand on my shoulder as she lovingly watches me take the first bite of the family recipe passed down from her mother's mother.
We all have certain dishes that are much more than just flavors on a plate; the ingredients combine with fond memories of our loved ones coalescing into an experience that satisfies not just hunger, but nourishes our hearts at the deepest levels. I truly believe that we need to take a cue from Europe and not fall into the American trap of shoveling our food down our gullets as fast as we can, so that we can then race to the movie or party or the main event of the night.
Instead let's learn how to dine again. Slowly savoring each bite, not just drinking the wine but also taking in deep draughts of our friend's smiles, their laughs and the sparkle in their eyes. Purposefully living in and reveling in the moment. My goal and challenge when I invite friends over for a meal is to feed not just their bellies, but also their souls.
I want to consciously create an environment that fosters an atmosphere where beautiful memories are formed. If I've done my job well, years from now when I'm long gone my friends will be able to go to their recipe box and pull out not just a recipe, but a memory.
Awhile back, I was in Florida visiting two of my dearest friends. One evening we had a particularly delightful meal at a great French bistro, the "Brasserie". The evening we were there, Chef Pom had a special menu of Asian fusion dishes that were amazing. We started the meal with a tuna carpaccio accented with Asian flavors; all the components of this dish came together to create a memorable and delicious first course.
After returning from Florida, my fond memories of that evening caused me to create my own version of that wonderful carpaccio. While the carpaccio we had that evening was beautifully presented the classic way (with the meat thinly pounded and served on a plate), my version employed a plating technique using a martini glass turned upside down over a salad of baby greens, the bottom of the glass becoming the serving plate for very thinly sliced tuna drizzled with spicy Asian citrus vinaigrette.
Tuna Carpaccio with a Spicy Asian Citrus Drizzle
Serves 4 as an appetizer
8oz sashimi grade tuna (frozen)
1 box mixed baby greens
Spicy Asian Citrus Drizzle
1 tsp. Thai bird or Serrano chili finely diced
1 Tbs. rice wine vinegar
1 tsp. soy sauce
¼ cup fresh orange juice
1 Tbs. each fresh lemon & lime juice
1 ½ tsp. fresh grated ginger
2 cloves minced garlic
3 tsp. honey
¾ cup extra virgin olive oil
Garnishes
Zest of 1 orange, lemon and lime
Black sesame seeds
1 bunch each cilantro, mint and chives chopped
2 tsp. tobiko (flying fish roe, available at Asian markets)
Combine the first 8 ingredients of the drizzle, then slowly whisk in the olive oil in a thin stream till it thickens, add salt and pepper to taste and set aside.
Lightly coat the greens with the drizzle, toss and place under each martini glass, very thinly slice the frozen tuna and let it set for a few minutes to thaw. Salt and pepper the sliced tuna and then fan it out on the base of the martini glass. Pour a little of the drizzle over the tuna and then sprinkle it with the citrus zest, sesame seeds, chopped herbs and tobiko.
How do you eat it? Tuna first, then salad or mixed together? It's up to you; there is no right or wrong way.

Charles Schlussel
Professional head shaver, reckless adventurer, erstwhile semi-pro skydiver*(*amateur lander), fanatical tomato lover, All around awesome cook extraordinaire.
---
---
Only registered users can comment.