Righteous Southern Grub at Dixie Quicks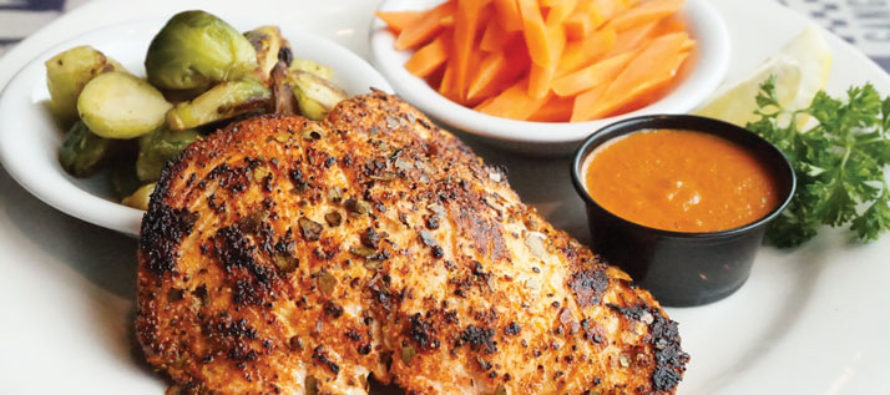 Dixie Quicks Public House features Southern-Tex-Mex infused dishes reflecting classically trained chef and co-owner Rene Orduna's many influences. But make no mistake, his good eats are soul food by any other name. He says about any cuisine, "It's all soul food if it's good, if it's got flavor." His singular bold flavors come right from the soul.
Twenty years into a run that's seen Dixie Quicks evolve across three metro locations, Orduna, together with life-business partner Rob Gilmer, has created an artful but unpretentious experience. Years before it got trendy, the two foodies emphasized farm-to-table fresh ingredients and made-from-scratch fine dining quality comfort food.
"From the day we opened we've had locally grown food," Orduna says. "It just makes sense. Having relationships with farmers always made it easy for me to get stuff in I couldn't find anywhere else."
His grandfather grew chilies and tomatoes for the family's iconic Howard's Charro Cafe in South Omaha, where Orduna got his start in the industry. On family vacations to Mexico he was introduced to the vibrant, fresh flavors of his ancestral homeland.
Gilmer's folks back East farmed acres of organic gardens. He says, "When Rene and I lived in New York City we'd go to their place and the food was amazing. Rene was like a kid in a candy chop." "Oh, yeah," Rene recalls. "Being able to go pick it and cook it right there was great. That taught me a valuable lesson – one I'd learned before." Orduna finds it ironic that farm-to-table is suddenly "all new and mainstream."
Today, his picking is facilitated by six farmers who regularly produce for him. Several others supply specialty items. Beyond that, he uses Whole Foods, Trader Joe's and H. Olafsson International.
"Knowing those places and having a good salesman like I do, who's been with me from the beginning, makes the difference. It's all about the relationships. Usually I have the menu planned out at least a week ahead of time. I know what's coming and since I already know my purveyors, I get what I want."
His refined fare is served in a relaxed, whimsical setting where CEOs, bikers, creatives, families, gays and straights feel equally comfortable.
As Rene puts it, "We open up our doors to basically our home and want whoever walks in to feel comfortable."
Gilmer never ceases to be wowed by the emotion and imagination Orduna pours into his culinary creations. If the huevos ranchero is especially hot, then Gilmer knows Orduna's upset.
"It all comes out in the food," Gilmer says. "It's that love, that passion you cannot learn, you cannot be taught. It's been instilled in him since birth. Basically, cooking is chemistry, but he adds that punch. When he makes Ramen Noodles from the package at home he throws away the seasoning packet and adds his own seasoning mix and it's a banquet."
For a Diners, Drive-ins and Dives segment, host Guy Fieri raved about Orduna's serious cooking chops and mentioned the Texas chili pepper steak, the blackened salmon, the chicken tortilla soup and other dishes. That exposure keeps bringing folks from all over the country and the world. "It's amazing how word gets out," Orduna says. He adds that the College World Series, U.S. Olympic Swim Trials and Berkshire Hathaway Convention draw people "who are serious about food – they loving coming here and they come back every year."
It's not just the food but the funky environs. In its latest iteration, glittering plastic globes and repurposed doors hang from the ceiling. Toy dinosaurs are arrayed on a front counter. Photographs and other works by Gilmer, a visual artist, adorn the dining room walls.
"It makes him part of the restaurant, too," Orduna says of having Gilmer's art displayed there.
The art and ephemera continue in the couple's adjoining RNG Gallery and cozy curio-thrift shop.
All of it has an urban-chic yet homespun feel that gains further charm from the character of the 19th century digs whose ground floor the business occupies. In 2011 Dixie Quicks moved into the renovated Hughes-Irons Building at 157 West Broadway in Council Bluffs from its decade-long home at 1915 Leavenworth in Omaha. Dixie Quicks and RNG add a bohemian accent to this block of historic buildings with quaint brick facades and wrought iron-laced balconies.
Dixie Quicks began at 1516 Dodge Street in Omaha. At each spot, it has fused food and art. Rene works his magic in the kitchen, but he also has a strong managerial and design sense. With the possible help from services similar to professional Restaurant Kitchen Cleaning in Omaha & Lincoln, building and maintaining a clean and hygienic environment for the patrons is deemed necessary for a quality restaurant standard. Surely the restaurant owners have strived for that.
"The restaurant business is a perfect place to learn where to put this and where to put that," he says, "and it transfers everywhere in regular life. How I arrange my home and my kitchen – it's all the same thing."
In addition to Gilmer making art for the eatery's walls, he curates the gallery and he adds playful flourishes here and there.
"I have as much fun with it as anyone," he says of the toys and things.
He also does the books and runs the front of the house.
"We know our stations," he says. "You don't want me cooking in the kitchen and you don't want Rene with a checkbook. Every once in a while I'll say, 'Do you want me to go in the kitchen and start cooking?' and he's like, 'No, no, no, I've got that.' We know our strengths, we know our weaknesses, we know our gifts, we know our shortcomings, and it works out really well. Sometimes we do butt heads, and I just let Rene think he's right,"
"That's all that matters," Orduna says, smiling. On a more serious note, he adds, "Knowing your abilities and your inabilities makes all the difference in the world and we're able to accept that from each other."
Gilmer says he's reminded of how Jun and Ree Kaneko work together.
"Jun is such an incredible artist and Ree is such an incredible administrator. I mean, every Jun should have a Ree, and we sort of have that. If Rene did it all by himself here he'd have to worry about the kitchen and the front, so here we even it out. It's all good."
Making them a good match is their mutual appreciation for good food and their love for the restaurant business. Orduna grew up at Howard's and broadened his knowledge at the French Cafe and M's Pub. He then left for a whirlwind culinary life and career in New Orleans, Atlanta, Kansas City, San Francisco, Hawaii, New York City and Maryland. He learned new techniques and shortcuts, he opened and closed establishments, and he worked with legends Julia Child and James Beard. The restaurant business has certainly had some changes over the years, adapting to new ways of cooking and new ways of serving. Nowadays there are modular shipping containers from companies like BMarko that people use to help start up their business or use as a runoff for their restaurant. It is truly amazing what can happen, and who knows, it may be the next step for Dixie Quicks.
"I was lucky enough to work at the French Cafe when they had three chefs from Paris working there. I waited tables and they saw something in me. They would take me off the floor back to the kitchen between lunch and dinner and teach me how to do other stuff. Those were the three best mentors I've ever had in my life. It was totally eye-opening to see the great food they put out. Learning how to make it was the best thing of all. It helped me wherever I went."
His famous Texas chili pepper steak is his take on the classic steak au poivre he learned to make there.
"When I moved to the South I had a different view of it. Instead of using peppercorns, I used chili peppers and peppercorns and brandy and bourbon instead of just brandy, which gave it its own little flair. I use poblanos, anaheims and jalapeños. One has a depth of flavor, one has the mildness of chili powder and one has the heat. It really brings out the flavor in all three. It's like our coffee here – a cross blend of light roast, dark roast, regular roast. It covers all the bases.
"I just salt and pepper the steak and put the peppercorns on top. It gets sautéed in a pan (in soybean oil). The peppers are added to it with a few onions. The bourbon and brandy's added to that. Then, I add a little beef stock, then cream and then that reduces in a pan."
For his blackened salmon he dredges his fillets in a secret spice mix that creates a blend of flavors and a hint of heat.
"It gives a carnival in your mouth every time you take a bite and our signature tomato butter goes so well with it."
He cooks the salmon atop a hot grill, sans oil or anything else. The oil from the salmon does the rest.
He's considered coming out with a line of spice mixes and such but there's been no time. "Maybe in the next five-year plan we'll do that."
There was no five-year plan when he left town, just a desire to travel.
"Once I left Omaha, I went to New Orleans. Working at Brennan's restaurant I realized I could do my job anywhere I wanted. My other mentor was Ma Hall from Ma Hall's Boardinghouse in Atlanta. She served brunch on Saturday and Sunday with tables on the front porch and in the gardens. People flocked to this restaurant. It was all self-served soul food sourced from local farmers. It was heaven."
Dixie Quicks is famous for its brunch.
Gilmer never worked in the industry until he and Rene opened Dixie Quicks in 1995, but he always found it intriguing.
"I've always loved it. I've always been enamored by the restaurant process and by what restaurants can do."
Growing up in suburbia New York state and vacationing summers in Maine, his family ate out a lot and he tried wide ranging fare in diverse settings. What most stood out were spectacle-style venues. There was the Polynesian-themed Bali Hai whose outside featured a faux volcano that lit up. Running through the inside was an enclosed mini-river filled with baby alligators. A waterfall, too. At Hamburger Choo-Choo a model railroad track ran through the kitchen into the dining room, with patrons placing their dirty dishes atop the flatbed train cars.
"That's why we have dinosaurs everywhere. I look at the restaurant as almost a kid and what makes it fun."
In addition to what Orduna's taught him, Gilmer gleaned much from his partner's late mother, Delores Wright, who made Howard's a success.
"I learned from his mom talking with her, watching her. I picked up so many wonderful pointers – to the point where his brothers and sisters will hear me say something and go, 'God, Mom said that.' I learned from the best. She was an amazing woman."
The men are grateful the family has embraced them as a couple.
Howard's is now on its fourth generation. Gilmer and Orduna settled here after they came back to help the family move that eatery from 24th and Q to 13th and J in the former Marchio's.
"I thought we could either go back to New York or we could stay here and open up our own place," Orduna recalls. "Living in the South I had a love for Southern food, Cajun, Southwestern. There was no restaurant like that in Omaha, so we opened our own. It was the time."
Dixie Quicks earned loyal customers from the start. Most followed its two moves. Oscar-winning filmmaker Alexander Payne is a fan. He says, "I went to their first place, then followed them to Leavenworth and then followed them across the river. I just think they're a tremendous asset. It's a place I can take people visiting for the first time and they're surprised by how hip it is."
Relocating to the Bluffs was done for business and personal reasons.
"It was an opportunity for us to give Council Bluffs something it didn't have," Orduna says, "and another part of it was so we could get married. We figured it was a good fit."
The new site has more space and better electrical-HVAC systems than the past spots. Much thought was given to every detail, even the acoustics. Big windows allow ample light and cool streetscape views.
"There is a commitment here that is from the soul and you have to be committed to all of it," Orduna says. "I've been in the business long enough that I do understand the art of it."
Gilmer says, "The art is making all this hard work look easy."
Satisfaction comes from "knowing everybody had a meal worth twice the money they paid for it," says Orduna, adding, "That's what I wanted people to feel. That's what makes me happy."
Sustaining that is an art, too.
"A restaurant is only as good as the last food they put out," he says. "That's as good as a restaurant gets,"
He welcomes "the camaraderie" with customers that extends over years. A generation later, he says patrons who came as kids are now parents bringing their own kids. "We get a lot of the same people we've had from the beginning." Count Mary Thompson among them. "I used to bring Rene fresh veggies from my garden," she says. "He once did a fabulous dessert presentation – Bananas Foster to be exact – for an event I did. He is a true master."
Orduna enjoys sharing tricks of the trade with young people who work for him. "Many are still in the restaurant business and they still look back on their time at Dixie Quicks as the hardest job they ever had, but the most learning job they ever had. That makes a difference to me."
He and Gilmer admire the enterprising, ingenious chef owners who've emerged to elevate Omaha's culinary scene. They host pop-ups to give people space for their dreams. The couple's own dream is rooted in family. Howard's is where Orduna's love affair with food began. It's still going strong in the family's hands. Just as Rene and Rob support that legacy, the family supports the couple's legacy.
"They're all proud of what we've accomplished," Orduna says. "Being able to be here with this place now is really great. They all come in here and have lunch or dinner on a regular basis. We go over there every Tuesday night for dinner. Oh yeah, we gotta make sure their food is right. We're quality control."
Open Wednesday through Friday, 11 a.m. to 9 p.m.; Saturday Brunch 9 a.m. to 2 p.m., Dinner 5 to 9 p.m.; Sunday Brunch 9 a.m. to 2 p.m. Closed Mondays and Tuesdays. Visit http://dixiequicks.com/.

Leo Adam Biga
Leo Adam Biga is an Omaha-based author-journalist-blogger. His books include Alexander Payne: His Journey in Film, Crossing Bridges: A Priest's Uplifting Life Among the Downtrodden and Memories of the Jewish Midwest: Mom and Pop Grocery Stores. The University of Nebraska at Omaha graduate contributes articles to newspapers and magazines. His work has been recognized by his peers at the local, regional and national levels. Sample his eclectic writing at leoadambiga.com or www.facebook.com/LeoAdamBiga.
---
Related Articles
There are a few things that strike me when I reflect on my favorites when it comes to food and
Sometimes, when trying to find places to check out in small towns around the state, you end up finding something
People have their favorite places to eat for a reason. Some people want to experience Live Music in Katy, TX
Only registered users can comment.