Snack Island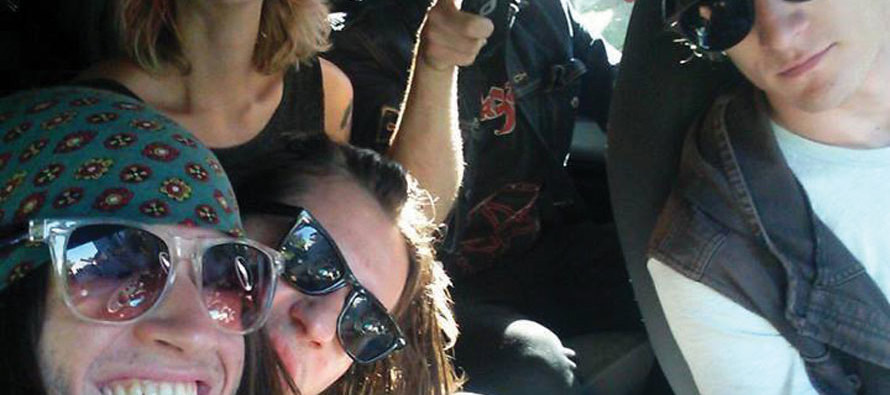 Editor's Note: Omaha has developed a reputation as a 'music town' around the nation, so we figured a good way to visit some of the food our community encounters was to talk to one of the finer bands in Omaha as they hit the road. Allan Schleich, guitarist for Snake Island!, takes us on a culinary tour of the band's fare on a recent trip.
I'm definitely not a chef, not even that decent of a cook at home, but I am an avid traveler and touring musician who loves eating food. I play in the band Snake Island! who just recently logged a 10,000+ mile tour of the western U.S. this past summer. Last year, we made a 5,000+ mile run across the Midwest and South. One of the obvious perks of being in a touring band is being able to see and perform in all sorts of places across the country. Touring is a rollercoaster though, with so many things that can go wrong and jeopardize your ability to stick to your schedule, so we always get musician's travel insurance to protect us. Once, we even had a number of shows lined up on a cruise ship but we managed to find cruise ship travel insurance so we could relax and enjoy it, knowing that if anything went wrong it would be OK.
Naturally, while out and about, my bandmates and I get to sample the local fare, which is always a highlight when I get to try something new and delicious.
I'm like those couple of guys on the Travel and Food channels who always hunt down the diners and dive restaurants and jump in on the eating competitions. In fact, I even held the $.25 taco record at Knickerbockers by eating 54 beef tacos one week (beating the previous holder's 52) and returning the next week to tie the bean taco record at 69.
My accomplishments aside, I was asked to write a few things about what type of things Snake Island! ate on the road, so here's a look at some of the cities and restaurants we've been through. To begin with, being on the road is tough, sometimes no one can afford to eat at all because any spare band fund was just spent changing the oil in the van, or we simply don't have time when facing a 15-hour overnight drive across the desert, or we're grabbing what gas station food we can before jumping back in the van. Talking about taking a long drive across the desert, there have been times when we were stuck in the middle of nowhere because our van had some glitches. Most of the time it is resolved in a short period but, sometimes it lasts longer. These are not ideal situations, and I would suggest that everyone on a camping or a long trip have their insurance sorted out before they hit the road. Agents like Staveley Head Insurance can give good deals for campervans. In our case, most of the repair cost was covered by our insurance. Nevertheless, camping on the side of the road can be fun at times!
When we can afford it – and if time allows – Snake Island! makes it a very strong point to find cool and unique local restaurants. Usually we just survey the locals and bartenders at every gig we play to find the best eats, but in towns where we're just driving through, the smartphone plays a huge role in finding the best food. With the help of sites like Yelp and Urbanspoon we've come across some fantastic restaurants. Hopefully you can use this article as somewhat of a cheat sheet and know where to eat right away in many of these cities I'll mention.
I'll start us in the Midwest. Kansas City is home to The Brick, a venue with a bar and restaurant attached. The Brick has many standard breakfast and lunch staples as well as flavorful hamburgers, but they shine through with their weird fried stuff – fried twinkle desserts, for one. I personally attempted to eat The Oklahoma; a beer battered, bacon wrapped, and deep fat fried hotdog. It was glorious.
A haven for food in the Midwest is of course, Chicago, where I frequent Kuma's Corner, the Heavy Metal Hamburger Bar. They seriously have burgers named after bands like Slayer, Pantera, Neurosis, Black Sabbath and The Sword and Clutch. There's even a pork sandwich called Pig Destroyer! Some are more like a standard bacon cheeseburger with an egg. Others have exotic items like fried cactus on them.
In my opinion, one of the greatest breakfast cafà©s is near Wicker Park in Chicago. Cafà© Con Leche, which as the name suggests, has some specialty coffee and drool-inducing Mexican dishes. Go there and get a chorizo burrito with Cafà© Con Leche – you'll thank me.
Of course the Windy City is known for its deep dish pizza. Most folks will rightly tell you that Uno's and Giordano's are the jam for deep dish, but my secret spot is Nancy's because I've never seen it busy and the pizza there is completely comparable to the big names.
This past August, the morning before Snake Island! was set to play the Psychedelic Light & Sound festival in Denver, we were craving waffles, so Urbanspoon guided us to Waffle Brothers, a delicious and cheap breakfast place with some amazing breakfast sandwiches using waffles as the buns. I had the Breakfast Sandwich with Cajun spices and Jalapeà±o. I can't recommend enough that anyone reading this go to Denver and eat that, or at least get their Original Waffle and cover it in toppings. There is a restaurant in Denver called Illegal Pete's who offers free food to touring bands in exchange for the bands mentioning them on-stage and on Facebook/Twitter, but we did not have time to actually go there.
Sometime last year, Snake Island! landed in New Orleans. We scheduled ourselves to be in the Big Easy for two days to allow for extra exploration and engorgement. After our show the first night, inebriated, we stumbled through the French Quarter and found ourselves at some unnamed bar and grill where we had real deal po' boys. They went down the hatch quickly, but definitely left us full and satisfied afterwards.
The next day for lunch, somebody's smartphone took us to Mother's Restaurant, a long-lived staple in New Orleans who was apparently one of the first businesses to reopen after Katrina. We loaded up on red beans and rice, gumbo, jambalaya and crawfish à©touffà©e and shared our plates enthusiastically; these were flavors Midwesterners can only dream about.
The next night, we played at a venue called The Siberian which served what they called "eastern European soul food" like pierogi, kielbasa and beef stroganoff, which was something new and unexpected.
Besides New Orleans, the South in general was still excruciatingly delicious. We ate at the Majestic Diner in Atlanta where I had the gyro omelet. Birmingham, Alabama had the Magic City Grill where we feasted on chicken and waffles. The bar we played in Birmingham, called The Bottletree, also fed us some delectable food from their grill. The highlight of southern cooking would have to be in Memphis with Payne's Barbecue.
While going up and down the West Coast this last summer, we discovered a fantastic meal for a touring musician called pho. It does not make you too full leaving you groggy, it is mostly healthy, and it's CHEAP. There's dozens of restaurants in every town that serve it too.
The coast of course had so much more to offer than pho; in San Diego we enjoyed Rubio's, home of the fish taco. The original beer-battered fish taco was mouth-watering while the corn avocado fish taco was glorious. I had two of each.
Up in Los Angeles we ate at Pann's Diner – where the famous Pulp Fiction robbery scene was filmed. They served enormous portions for their omelets and we happened to arrive during bottomless Bloody Mary and Mimosa brunch. San Francisco had an abundance of nameless pho, hole-in-the-wall taco, and pizza-by-the-slice restaurants, but one thing we definitely noticed was no Rice-a-Roni anywhere – I am skeptical of their claim of being the San Francisco treat.
When we got to the Pacific Northwest, Portland proved to be a unique spot for food. It is, after all, the mecca for finding free-range, organic, vegan, gluten-free, local, fair-trade menus. Being a meat eater, I tended to shy away from those places. On the other hand, Portland did have a great, heavy metal-themed pizza restaurant called Sizzle Pie (I feel they should somehow team up with Kuma's in Chicago). There was also a spot called Voodoo Doughnut that unfortunately had a line going around the block, so we went to their other, less touristy location, walked straight up to the counter and ordered the donut with bacon on it and the one next to it covered in Cap'n Crunch.
Further north, we found that Seattle was home to Dick's, the legendary greasy drive-in burger joint. We spent a total of three days in Seattle and we ordered bags of Dick's each one of those days and ate everything. Dick's is the pride of Seattle. In fact, Macklemore had just recently shot a music video on top of Dick's days before we arrived. In the Capital Hill area of Seattle, we found Tacos Chukis, a Mexican restaurant that featured some dishes I hadn't seen before like banana peel enchiladas, apparently one of the co-founders was a vaquero, or "taco artisan" in Mexico City.
I left a few cities out, and a lot more restaurants in respect for the space this article was allotted. There is just too much food out there to write about. I could have delved into helpful tour snacks, but they're no different than snacks for camping. I could have talked about what we drank, but we were broke so it was mostly PBR and well whiskey. Hopefully I'll see you at a Snake Island! show, don't hesitate to say hello and give some food recommendations from cities you've been to. Safe Travels!
Snake Island!
www.reverbnation.com/snakeislandarego
www.facebook.com/snakeislandarego
snakeisland.bandcamp.com
snakeislandomaha@gmail.com
---
---
Related Articles
Recently some friends and I decided to head up to Des Moines for their first-ever Hinterland Music Festival. We were
Yes, I know some of my friends think I'm a little extreme in my devotion to the joys of local
It is back to the future for Anne and Craig McVeigh and their new Beacon Hills restaurant at 6750 Mercy
Only registered users can comment.