Sodas Which You May Not Be Entirely Aware Of
Goody Green Pop and Blue Pop
For this installment of this column (which has become a huge part of many of our readers' lives), I will be reviewing two sodas. You must understand that this is twice the amount of effort for me and my fine palette. Boy, are you lucky. The two sodas I have chosen are not worlds apart however, and are indeed quite familiar with each other. One may even say they are siblings. Behold! Goody Green Pop and Goody Blue Pop. Before I get any further, I would like to congratulate the naming department at Goody Soda for their extreme creativity in the naming of these two sodas. I will begin by taking a look at the Green Pop, and once I have sufficiently reviewed it, I will move onto the Blue Pop.
Before we delve into the actual soda flavors, I'd like to pause to discuss the bottles themselves. Both flavors are wrapped in the same label design. In fact, there are two additional varieties not covered here, which are Goody Yellow Pop and Goody Red Pop. As expected, they also sport similar labels.
Centered on the label is a young man licking his lips. His hair is parted down the middle in the front, which shows class and respectability. However, towards the rear, his hair becomes wild and unkempt, which may suggest that he left in the morning fully groomed but throughout the day's adventures, he has neglected its upkeep. I like this. I think I would get along with this guy. The boy's head is placed on a checker boarded background in the respective soda's color which is probably an attempt at some type of nostalgia, but in this modern world, I cannot help being reminded of ska music (i.e. The Mighty Mighty Bosstones). I wish I could say this is a plus, but my ska days are long gone and I don't appreciate the resurgence of these memories. The only other appreciable markings on the bottles is the phrase, "Thirst Come, Thirst Served" and "Since 1923". Eh, I don't care.
Finally, on to the flavors! The Green Pop tastes like green apples and is gross. If you love green apples, you probably still won't like this. After drinking this flavor, I immediately realized why Goody declined to use a flavor such as "Green Apple" or "Applerageous" to name this soda. Calling it anything but "green" would be an affront to any honorable flavor. I guess if you just like the color green or those sticky hands you get in capsules out of vending machines, you may like this. If that is the case, you probably have some growing up to do before we hang out. The final verdict on the Goody Green Soda: Terrible and off-putting.
Next up is the Blue Pop. I was expecting either cream soda or blue raspberry. Cream soda is what I got. I'll be the first to admit my bias towards cream sodas. I feel they are an under-appreciated flavor as a whole and under-represented as well. You will undoubtedly be relieved to hear that I enjoyed this one. It is a fairly standard cream soda taste, but that is just fine with me. All too often I have been disappointed by cream sodas that attempt to kick it up a notch with sweetness or frothiness, destroying the whole shebang in the process. Interestingly, on their website Goody claims that there are hints of raspberry included, but I tasted none. My conclusion for Goody Blue Pop: Highly recommended if you enjoy standard cream sodas.
After looking at exactly half of the Goody lineup, I simply cannot draw a conclusion as to how I feel the other two flavors (Yellow and Red) might taste. Perhaps I will just have to expend the effort again and review both of them as well. Maybe on the one-year anniversary of this review? We can only wait and see.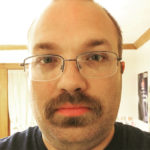 Eddie Morin
I'm Eddie Morin. I'm from Omaha. I run B & G Tasty Foods, and I like eating food, playing video games and dinking around with my wife and kids. I used to not be so fat. That's all I really think there is to me.
---
Related Articles
Me at the Buffalo County Fair, 1972: "Please can I have some cotton candy?" "No." "Pleeeeeze? Pleeeaaaauuuuzzzhhh?" As if adding
I was 27 years old when I learned that ketchup doesn't come with a refrigerator. Every fridge I had ever
As I hope you've come to expect, this issue of Food & Spirits Magazine, our 14th, is loaded with some
Only registered users can comment.