Spring in a Glass: The Flavors of Omaha's Cocktail Scene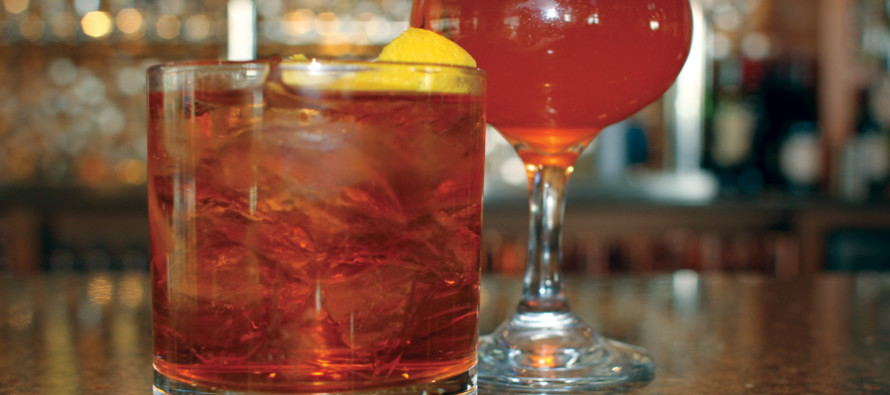 Along with craft beer and homemade soda, handmade cocktails are making a comeback. Shaken with local bitters and stirred with house made juices, tonics and syrups, variety truly is the spice of the cocktail life. The cocktail has many similarities to farm to table meals; each element has a story that both surprises and thrills the senses, giving the lucky recipient the joy of knowing how unique this little glass of substance truly is. Omaha is fortunate to be near rich farmlands with incredible produce, inspiring creative bartenders to create delicious art under dim lights.
Stone fruits and pear are the winning sweet flavors at the moment, but subject to change as many bars are still creating their spring menus. Smoky mezcal and floral, herby spirits like chartreuse and gin are popular for the warmer months, along with rich, sipping liquors such as brandy.
The following are a few of the best spring cocktails in town, but only represents six of many. Omaha is full of talented bartenders slinging some of the greatest drinks around.
Autumn and June – V. Mertz
Cozy in the calm of the Old Market Passageway, V. Mertz serves some of the best food and cocktails in town. With a reputation for class, patrons enjoy five to eight course dinners that change along with the availability of the fare, currently boasting scallop crudo, chicken roulade pho, and oxtail croquette.
Bar manager Alex Diimig is more of a cocktail engineer, a connoisseur of fine spirits who understands how to pair a drink with a desired sensory experience. His cocktail, Autumn and June, was created on a whim for Breaking the Ice, a March event put on by the Omaha Craft Bartender's Guild.
The base is Memoire d'Automnes vin blanc sec, an aged and oxidized dry white wine akin to sherry, which is shaken along with pear nectar into a champagne glass. Tying the drink together is a honey and tartaric acid foam, accented with L'Esprit de June, a wonderful liqueur distilled with grape flowers from three wine varietals. Topping the opaque liquor, this foam creates a pillow of fragrance that marries perfectly with the pear.
"I wanted to have something with a foam that was floral," he said. "This pairs well with Memoire d'Automnes, creating an orchard-like drink."
Garnished with a sprig of grapes, the look and feel of this drink emulates a walk through a French orchard with a lover, and is dizzyingly beautiful.
Hera's Gimlet – Jake's Cigars
Gin is the favorite spirit of spring. After months of heaviness and layers, it is lovely to open your palate back up with flavors of flowers and herbs. Jake's Cigars is a Benson favorite, and is an interesting hybrid of two bar cultures: one part Tall Boy, one part Pappy Van Winkle.
In the cigar bar, or 'small' bar, patrons pursue a vast collection of scotch and cigars, pairing each to amplify the flavors of smoke and sweet. The 'big bar' houses the rest of the liquor collection, an entire glass wall of vodka, gin, apertifs and tequilas. Lillet, champagne, fresh juices, and other staples fill the coolers, though Old Style and Miller High Life continue to be dominant sellers.
Jake's is wonderfully inclusive, letting people dip their toes into fine cocktails while holding onto a beer life raft. Above all, the bartenders enjoy helping customers find new favorites and the atmosphere is always laid back and friendly.
With a constantly evolving menu, the bartenders at Jake's enjoy making cocktails with a contemporary take on classics – and there is no more classic a spring cocktail than a gin gimlet. Our modern gimlet is actually a remake of the 1930's style gimblet, three parts gin, to one part lime juice, shaken and finished with soda. The bartender can adjust the sour and sweet to a customer's liking, but in the traditional sense, the gimlet is always a bit tart.
"Gin just says spring to me," said bartender Linda Lichtenwalter-Evans. "The Hera's Gimlet is a fun twist on the classic, using a touch of Velvet Falernum for the sweetness and some black pepper syrup to add a little spice."
Refreshing and with a little heat from the pepper, this drink is a perfect cocktail to enjoy slowly over conversation. "We finish it with a little champagne for a refreshing effervescence and a crack of black pepper for aroma."
Cheers to that.
The Innuendo and The Ole San Antone – Brix Midtown
"The focus of the spring menu is the patio," said Brady Hess, bartender at Brix Midtown, as he twisted a lemon over my drink. "We really want people to enjoy being outside and have cocktails that are great to sip."
Two "patio-pleasers" that he made for us are sure to be Brix mainstays: The Innuendo and The Ole San Antone.
Light and airy, The Innuendo is pale pink, with an accent of yellow from the lemon and served in a coupe. Pleasing to men and women, this drink is no Zima.
"It has Chartreuse, Luxardo (maraschino liquor), pisco and lemon juice," said Hess. "It's wonderful to sip, but is stronger than you think!"
Assertive in a rocks glass, The Ole San Antone is strong enough for a man, but made for a woman who likes mezcal.
"We had a customer come in and request it," said Hess. "It turned out to be something that is extremely versatile for people who have stuck with one kind of liquor. It's great for whisky drinkers who want to try something new."
With two types of tequila, including smoky mezcal, as the base, Aperol is the light shadow that ties the flavors together. True to the mission, these drinks are unique to Brix and perfect to sip on a warm spring day.
Hera & Aphrodite – Berry & Rye
In classic cocktail culture, vodka has gotten a bad rap. Flavorless (for the most part), and boring but abrasive, this spirit is generally the bridesmaid but never a bride, a compliment to drinks but never the star, and the staple vice of a gal on a diet, the vodka soda.
If anyone can make vodka shine in a cocktail, it is the skilled bartenders at Berry & Rye. An Old Market staple, Berry & Rye is both inviting and exclusive, enticing people to try brilliant drinks with ingredients they have never heard of. With a personal reverse osmosis system and individual ice ball shavers, the drinks at this bar are consistently spot on.
This place is perfect for those who want to get lost in history. Modeled after prohibition style speakeasies, the bartenders are always serious but friendly, dressed up, and wrapped in their work. It is a delight to watch, particularly if you have bartender Luke Edison.
"I enjoy making drinks for people who are not sure what they want," he said. "I talk with them and figure out what they like. Sometimes you just create something off the cuff."
The Hera & Aphrodite was my off the cuff drink, and now, my new favorite. A loyalist to the Trinidad Smoke (with 12 year aged rum and actual tobacco smoke), this was a huge leap for me. With a base of Tito's Handmade Vodka, the opera singer of this drink is the Massenez Pear Eau-de-Vie; A light and fragrant pear spirit that absorbs the burn of the vodka. Absinthe, malic acid, sugar and Cocchi Americano round out the drink. Shaken into a coupe with no garnish, I was nearly skeptical of the experience I would have with this naked drink.
If you close your eyes while you take the first sip, you are suddenly underneath a pear tree, biting into the sweetest, softest pear on earth. You can feel the grains of the fruit, and your tongue and mouth respond with a chewing motion. It is an incredible, yet simple, cocktail.
"We use vodka as you would use white paint," said Edison. "We can either tone down a drink with it, or let it be a background that can enhance other flavors."
Powerful and dainty, this drink is yet another testament to the brilliance behind the bar at Berry & Rye.
The Tom Cat – The Trap Room
Remember American Apparel? Neither do I. For the last year the cocktails of The Trap Room have taken over this little corner on 13th and Cuming, making us forget all things neon and spandex. With dim lights, a few tables and an arcade machine, The Trap Room is like sneaking into your older brother's room back in the 60s. Kitschy art, antlers and a record player make you feel nostalgic, and like everyone in the room are old friends from childhood.
Bartender Linda Lichtenwalter-Evans knows a thing or two about cocktails. Known throughout Omaha, she also works at The Slowdown and Jakes Cigars, and is a favorite wherever she pours. It was fitting that her drink, the Tom Cat, is one of the favorites in this little corner of town.
"It is a crisp and refreshing cocktail showcasing the wonderful Ransom spirits, specifically the Old Tom Ransom Gin and Ransom Dry Vermouth, which are two favorite ingredients of mine," she said.
With the tartness of lemon juice and ginger ale, and a bit of maraschino liqueur, this drink is perfect for seasoned drinkers and newbies alike.
"The flavors complement each other without overcomplicating the cocktail, leaving a light refreshing flavor that becomes increasingly complex as you enjoy the beverage."
With the proximity to downtown, the stadium and The Slowdown, The Trap Room is the perfect place to enjoy a summer beverage.
"The Tom Cat makes for a wonderful and unique cocktail to enjoy on a patio amongst great friends," she said.

Jessica Clem
Jessica Clem is a freelancer writer based in Omaha, Nebraska. A marathon runner and food writer, her favorite way to get motivated to finish a project is the promise of a craft beer. She has a B.A. in English and an M.S. in Urban Studies, and enjoys traveling, finding typos on billboards, and the smell of a real book. She currently works for National Media Brands as an account executive.
---
---
Related Articles
While all of Nebraska's Vineyards and Wineries give us something different on the wine shelf than the norm, Cuthills has
The wine world is filled with romantic imagery. Vineyards ripe with grapes glistening in the morning sun, cellars awash with
The professional bartender of the Pre-Prohibition era was a respected and skilled tradesman, working only with preferred spirits, hand-cut (or
Only registered users can comment.