Supper Club: V. Mertz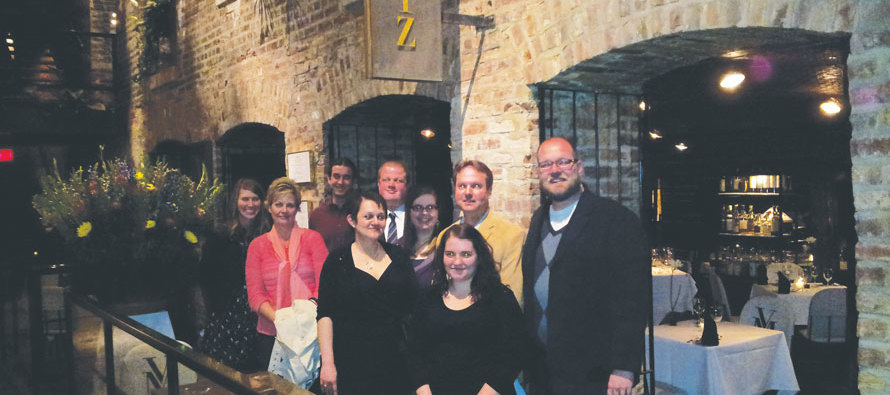 Members of the Institute for Culinary Arts' culinary student organization, Omega Omega Omega periodically gather to share a meal – this is Supper Club. But it's not just about eating. They seek out and share engaging, meaningful, delicious food experiences in different venues, and through words and photographs, they capture and then share those experiences.
V. Mertz is a modest yet elegant restaurant, tucked away inside the Old Market Passageway. Its gourmet fare and intimate setting blend seamlessly to create a one-of-a-kind experience.
The restaurant opens each evening, Tuesday through Saturday, for dinner service and offers its patrons meals from both regular and tasting menus. For this experience, head chef Jon Seymour treated members of Tri-Omega to a special, reserved spread. This exclusive menu consisted of six courses and two desserts, each expertly paired with a number of different wines.
At the beginning of the meal, diners were served an amuse bouche comprised of tomato gelée, shaved shallot and oregano on a crisp bacon wafer to whet the appetite.
"The first thing to hit my tongue was the bacon – crispy, salty and smoky," said second year culinary student Pat Ratigan. "The gelée then cuts the bacon with smooth, refreshing 'meltiness' and subtle spicy, herbaceous notes, finishing with the crisp, bright shallot."
The first wine served, Hochterrassen Grüner Veltliner, was paired with the first three courses. This wine has a fruity aroma and crisp, delicately sweet notes of apple and pear.
The first course of the experience was a diver scallop crudo with green apple, horseradish, and dried beef powder, rolled together and served as one bite in a deep, sloping white bowl that captured and focused the aroma of the preparation. The tartness of the apple flawlessly prepared the mouth for the delicate scallop while the bite-sized course as a whole left the mouth with residual flavors of horseradish and salty umami.
Next, diners enjoyed a seared cobia (black salmon) in pork broth, sweet pea purée and shungiku greens. Floating in the broth were tiny tapioca pearls that created a lovely contrast in mouth feel against the broth. The cobia was flaky, tender and full of flavor which paired nicely with the smoky ham flavor of the broth. There was a fresh, vibrant taste from the purée, and a slight bitter note from the greens – those played into the overall flavor in an interesting and pleasing way.
The third course was duck confit ravioli served on a spoon, with thickened duck jus, chicory and pickled garlic. This dish had a spicy and savory aroma that lingered in the air and tantalized the table. It hooked everyone with a single taste. The savory jus, full of hearty, earthy tones, was occasionally interrupted with alternating notes of spicy garlic and mildly bitter greens.
Next to come, in the fourth course, was bacon-wrapped bok choy with bean sprouts, sesame, and Korean pepper. The first bite of this dish was warm with smoky notes from the tender bacon. The heft filled the palate. The wine chosen for this course was Broc Cellars Carignane – a dark, smooth wine with complimentary notes of spice, smoky plum and cherry.
Finally, the fifth and sixth courses consisted of grilled squid with pickled fennel, house mustard, and grilled foccocia with parsley oil, and seared Waygu beef on parsnip purée with charred winter vegetables and miso paste. The squid was tender, completely absent of any of the "rubbery" qualities often associated with squid, and perfectly dressed with accents of lemon and mustard. The beef was exceptionally juicy and tender, with a deep and satisfying crust formed from searing.
"The course that stuck out in my mind was the Wagyu beef with charred leek, pearl onions, and parsnip purée," said Tri Omega member Angela Thomas. "The beef was so tender and perfectly seared. The pearl onions were cooked two different ways, a pickled onion to add sour and bright flavors; and a grilled onion that was sweet and mild. The parsnip purée was smooth and flavorful. This dish was a marriage of contrasts and the flavors still sit in my mind."
This extraordinary masterpiece of flavors and sensations was served with Refosco dal Peduncolo Rosso – a favorable, peppery red wine with a mild acidity and a warm, well-matured finish.
The final course of this meal consisted of two beautifully plated dishes, paired with Glacial Till Vignoles 2009, a sweet wine that is crafted in Nebraska. Unlike most wines, the Glacial Till Vignoles was thick, velvety and mead-like, with an aroma of honey and caramel and hints of cider.
The first dessert was a passionfruit sorbet with grilled pineapple, oregano and white pepper. The sweetness from the pineapple stood strictly against the intense, exotic sweetness of the sorbet, and the straightforward and powerful earthiness of the oregano and white pepper.
The second dessert was a tart comprised of lemon custard and white chocolate, caramel and hazelnut creme on thyme shortbread, topped with crisp milk meringue, and a liquid 'Lemonhead' white chocolate truffle. This dessert masterfully, and a bit surprisingly, combined these components into a truly edible work of art.
"The dessert courses outshined nearly every other dessert I've tasted in any restaurant," said Baking and Pastry student Cathy Curtis. "The passionfruit sorbet was a sharp pop of sour and sweet, and the grilled pineapple brought a lovely bright flavor to the dish as well."
Of the second dessert, Curtis went on to say, "The lemon tart was my favorite, with delightful thyme short dough, topped with a tangy barrel of lemon curd, and a white chocolate, liquid-centered lemon truffle on the side. As the citrusy, sweet liquid melted into the white chocolate, the flavor experience was divine."
Overall, every member of TriOmega present was impressed with both the service they received and the phenomenal food. Chef Seymour and the entire staff created a dining experience that more than met the expectations of the Supper Club. Chef Seymour's ability to infuse unique and exciting combinations into single bites is astounding and unparalleled.
"I thought that the menu flowed very well together," said TriOmega President Jason Volkmer. "As each course came, it progressively got better in terms of presentation and complexity. Everything was well balanced. Service was superb, wine parings were well done and staff was very knowledgeable about [them]."

Brian O'Malley
Brian O'Malley is a chef instructor at Metropolitan Community College's Institute for the Culinary Arts. A graduate from New England Culinary Institute and a member of the American Culinary Federation, O'Malley worked as the chef/owner of Spread. He was a manager/instructor at the New England Culinary Institute, head chef at Vanilia in Santorini, Greece, and BackNine Grille, assistant food and beverage manager at the Champion's Club and opening chef at BOJO. Brian O'Malley can usually be found in MCC's kitchens, teaching, creating works of culinary genius or debating the perils of out of season tomatoes.
---
---
Related Articles
Share our Strength's Cooking Matters empowers families at risk of hunger with the skills, knowledge and confidence to make healthy
Many readers of this magazine are new to Omaha and looking for a little culinary fun. Maybe you are a
Is there anything as soul satisfying as a perfectly made Reuben? Encountering your first Reuben is a delicious rite of
Only registered users can comment.