Sweet Destiny: A sampling of the stellar dessert menus in Omaha to satisfy your sweet tooth.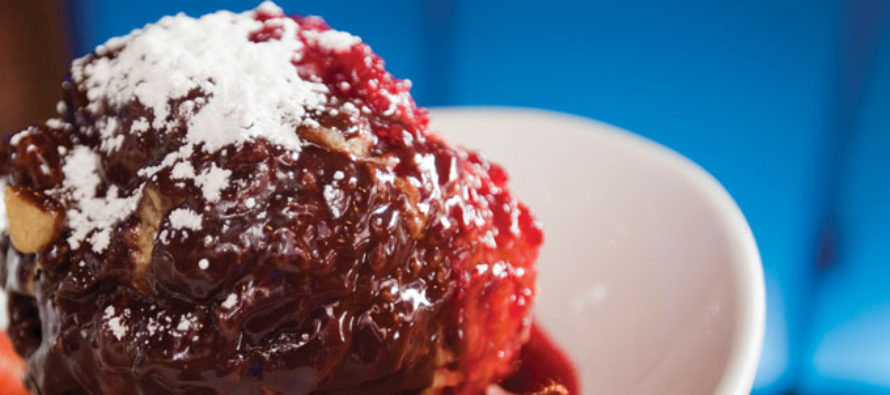 It's a warm summer's evening and you've been out enjoying a dinner with friends, a date night, or perhaps you've either attended or hosted a barbecue and you're looking for that evening chaser, to satisfy a sweet tooth to cap an excellent day. Omaha has several restaurants throughout the city where a quick stop for a dessert or sharing one at the end of a multiple course meal leaves a smile on diner's faces.
Plank Seafood Provisions at 12th and Howard is known for their stellar seafood selection and preparations, but the desserts are the secret star of their menu. Their selections complement their seafood focused first and second courses. "We want the desserts to make you feel like you're eating near the Gulf of Mexico, so our desserts reflect that" says Tony Gentile, corporate executive chef of Flagship Restaurants. "From the bananas foster to bread pudding, the key lime panna cotta and our cobbler, our desserts are rooted in coastal culture, and we hope that once guests have them, they'll ask for them the next time." I've eaten at Plank for a happy hour, before a concert, and even on New Year's Eve. Tony is right. Their desserts are definitely worth saving room for and provide the perfect cap to a coastal dining experience in Downtown Omaha.
B & G Tasty Foods at 79th and Dodge is a step back in time to an old school diner and dessert stop. Their main menu is full of American classics that hit the mark on taste and temperature. The desserts are such an important part of their menu that their number two on their list of three specials includes a shake or float. "The number two is very popular, probably just about equal with the number one," says Eddie Morin, owner of B & G. "By far our most popular flavor is the good old chocolate." In addition to shakes, B & G offers malts, freezes (root beer or orange), ice cream cones, root beer floats, even a banana Nutella frenchee.
I asked Eddie how they are able to maintain such high quality of their desserts on a consistent basis.  "I'd have to give credit to our fantastic staff that is passionate about working at B & G. They do a great job and are a lot of fun to work with," he said. I agree with Eddie. When you walk into B & G, you get more than a good burger and a shake. You feel like you've had a fun, friendly, and flavorful experience. While B & G may look and taste like a generation gone by, their marketing is cutting edge interactive by offering a unique flavor of shake to their social media followers. The combination of the atmosphere and attitude of the employees along with quality and cost of the desserts, B & G Tasty foods is as good a summer family dessert spot as you'll find anywhere.
It's hard to not think of macaroni and cheese when contemplating Mark's Bistro in Dundee. Mark's menu is solid from start to finish though, and I recommend taking home a little mac and enjoy a tantalizing dessert menu. Summertime and S'mores are a tried and true combination. Mark's offers a S'mores brownie that activates your mind to your best campfire memory. It's a warm, fresh brownie combined with a hot toasted marshmallow and a graham cracker crust with a touch of smoked sea salt. "The S'mores brownie has been on our dessert menu for about 3 years now and has seen some transitional changes and modifications as we regularly change menus with the seasons. I like to call it a continuous work in progress! While our menus change to suit the time of year and season, the brownie has remained a constant on our menu. My business partners have agreed not to remove it from the menu due to its popularity!" says Chef James Davis of Mark's Bistro. Chef Davis had been working on the S'mores concept for years before it made an appearance at Mark's in 2013. "It has gone thru some different changes over the years and has been presented in various ways but the core flavor profiles have never changed" added Davis.
If you have a larger group, or would somehow be able to turn down a S'mores brownie, Mark's has other fine choices as well. While it's easy to find a charcuterie or cheese board in the city, Mark's gives diners a dessert board. "Some of our more interesting and exciting new desserts this season include a dessert board with strawberry cream cheese mousse filled profiteroles and house made macaroons. We also have a delicious mousse duo with chocolate mousse and caramel mousse garnished with shards of broken ash salt toffee." Davis says. Chef Davis and his team at Mark's provide excellence, evolution, and innovation in not just dessert making, but the dessert dining experience.
Dudley's Tavern is an anchor in Aksarben Village. I can be found there sharing a post bike ride pizza or downing a burger while watching a game. Cookie enthusiasts should check out their homemade chocolate chip cookies. They are a perfect mix of gooey, sweet, chocolaty goodness. You can take them home if you have that level of discipline, but they are best enjoyed right out of the Dudley's oven. If the cookie just isn't enough for you, Dudley's offers a cookie sundae with French vanilla ice cream, chocolate sauce, and whipped cream.
Goldberg's at 50th and Dodge has thousands of cars drive by during the hectic pace of a work day. The lucky or smart ones stop in and relax. Goldberg's is a comfortable place to grab one of their burgers or share an appetizer. Their dessert menu is straightforward, affordable, and excellent, headlined by their bread pudding. It's been a staple of the restaurant since I visited with my grandparents long ago and is popular enough that they offer up advance orders by the pan in 14 different flavors.
The pan serves six full dessert portions and must be ordered two days in advance. If you're looking for a hit at a family gathering or friend's potluck and don't want to cook, a pan of Goldberg's bread pudding is sure to make its mark. If bread pudding doesn't start your dessert engine, they've got a home baked brownie ala mode, apple crisp, deep fried cheesecake, malts and a root beer float to offer.
Tiramisu has a few different schools of dining thought. There are those who love it, those who don't like it, and those who don't think they will like it. J. Coco at 52nd and Leavenworth only has one category. Their tiramisu will thrill those who love it, convert those who don't, and set an unfair bar for those who try it for the first time there, as it will be difficult to match the J. Coco standard. The coffee flavor is both forward yet pleasantly lasting. The custard is smooth and enticing. The lady fingers bring balance and substance to your spoon as you cascade through the cocoa, custard, and coffee. Garnished with mixed berries, the J. Coco tiramisu is good enough to make it difficult to not rush your previous courses to reach your dessert destination.
Eating at Lot 2 in Benson is never a bad decision. Dining there without saving room for dessert should not be allowed. The Lot 2 chocolate donut holes are a transcendent taste bud experience. Upon arrival, these dessert delights consist of chocolate cake, caramel, a dusting of sugar, and a cream cheese icing dipping sauce. I suggest two orders per couple, and do so one at a time to prolong this majestic morsel's table life.
It's not often one thinks of a bar to order dessert, but Barrett's Barleycorn on 44th and Leavenworth is no ordinary bar. Their kitchen may be small but the output is excellent. Whether you're there for dinner, an after work unwind, volleyball or a late night snack, Barrett's was ahead of the funnel cake fry trend. They are hot, sweet, crunchy, and loaded with powdered sugar for a carnival style treat.
Dolce is a restaurant that is easy to cruise by at 12317 West Maple Road. Their menu however is destination worthy. It's capped by several stellar dessert choices. They take a couple classic dessert dishes, cheesecake and carrot cake, and take them to places not thought of. The carrot cake re-imagined combines carrots and granny smith apples with toasted pecans and tops it with a goat cheese cream cheese frosting. The cheesecake also uses granny smith apples but also includes a seductive combination of toasted honey marshmallows, white chocolate, and almonds. If breakfast for dessert is of interest to you then their "Coffee and Doughnuts" was made for you. Homemade buttermilk doughnuts, espresso whip cream, fresh berries and white chocolate seal the deal here. Dolce strikes a positive chord I've been fond of for years, which is using herbs in desserts. Their dark chocolate mousse has both rosemary and mint in it which takes an already enjoyable dark chocolate and makes each bite last a little bit longer.
A visit to Railcar Modern American Kitchen on 144th and Blondo Streets is worth the drive. The atmosphere is excellent and their servers know food and know their menu. Some of their desserts will change throughout the year, so I recommend asking what they have before ordering a main course. That way you can work your way through the appetizers and main courses with an eye on a take home box to allow room for a dessert. My favorite within the last year was an apple galette with homemade ice cream. Galettes are not an easy creation when they are full sized, but to make one to serve a couple of people is remarkable.
Stop into any Blue Sushi and Sake Grill location in Omaha and the first thoughts that come to mind are sushi and a fine drink menu. If your table is up to the task of taking on a monster dessert, then step up to their tempura fried ice cream. It's a very large scoop of vanilla ice cream wrapped in a pound cake and fried. The dish is big on flavor as well. A chocolate sauce and blueberry ginger compote accompanies the ice cream and it's topped with powdered sugar. "We prefer desserts that can be shared, a social dessert that is visually appealing and tastes great," says Tony Gentile. This dish is well worth the extra exercise the day before or day after.
If your table shies away from the mountain of ice cream, Blue does have other innovative choices that include chocolate spring rolls with toasted cashews, cinnamon, raspberry puree and their vanilla bean ice cream. You can also give their chocolate torte a try with a chocolate ganache, hazelnut cookie crust and homemade ginger ice cream. Blue does an excellent job with their desserts of giving guests contrasts of hot and cold, sweet and savory, and balancing chocolate with the bursts of blueberry, raspberry, and ginger.
Summer in Omaha gives us a lot of warm weather and a lot of daylight. That gives us an opportunity to be active and earn a few extra calories to consume at night. We can spend these calories wisely and tastefully throughout the city in Omaha's dessert scene. If you're a fan of savory or sweet, fruity or herbaceous, you'll be able to find a dessert for you, your significant other, or your family that will satisfy your curiosity and appetite without breaking your budget.

Kent Cisar
Kent Cisar searches the local and national scene for unique ingredients and flavors to bring to the table here in Omaha. He'll catch his own fish from Florida, ship farmer's market shrimp from Louisiana, stash jams from the Pacific Northwest, or find the best cut of meat from a Nebraska farmer. Kent believes that regardless of where the it comes from, good food is meant to be shared.
---
Related Articles
Creativity is an act of problem solving, defined by how well the immutable constraints of the problem are met, mitigated
The leaves are falling, there's a chill in the air, your breath is visible and every step crunches the leaves
I'm constantly drawn to ways to engage in my life-learning quest of food and its relationship to our commUnity.  This
Only registered users can comment.