Noah's Ark was a Sandwich: Eating on the Road with Omaha's Noah's Ark was a Spaceship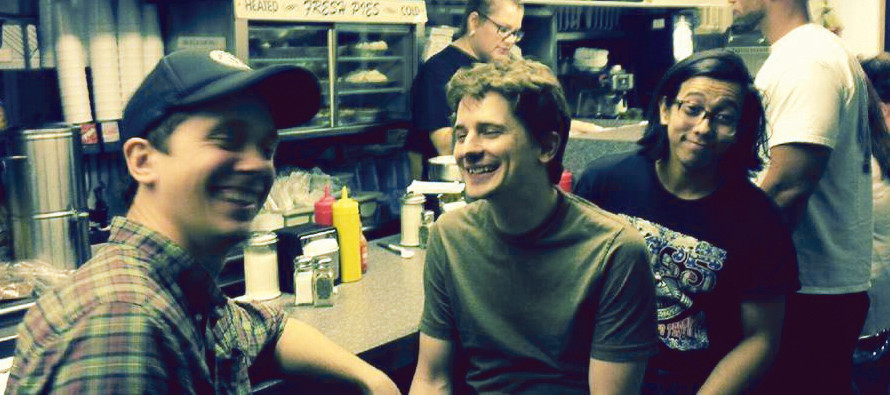 Editor's Note: Omaha has developed a reputation as a 'music town' around the nation so we figured a good way to visit some of the food our community encounters was to talk to one of the finer bands in Omaha as they hit the road. John Svatos, guitarist and lead singer for Noah's Ark was A Spaceship, takes us on a culinary tour of the band's fare on a recent road trip.
Many believe that life on the road is glamorous for the members of a touring band. In actuality, it can be a grueling, tiresome process. Despite the monotony that life on the road may bring, I consider myself fortunate to have traveled the country several times with my band, Noah's Ark was a Spaceship.
We have traveled from New York City to the desert playing shows, and have found regional meals to be one of the most comforting parts of these taxing tours. When the nuts, fruit and tuna packets in our van's cooler are no longer appealing after a long drive, we enjoy discovering great food in a new city. As we travel on a budget, this is a highly anticipated and enjoyable change in routine for my band-mates and I.
When traveling with my band, I have always found that the best way to experience a new place is to eat what the locals eat.  For example, in a big city there is a never-ending plethora of restaurants in which to dine.  We usually pick spots within walking distance to the venue or district we are playing.
Take a city like Chicago, for instance.  Every time we play there, we pick a new place to eat.  One particularly amazing place is a gourmet hot dog joint called Hot Doug's.  There is usually a line the wraps around the building of this casual restaurant, but it is totally worth the wait.  They serve the traditional Chicago-style hot dog, which includes an all-beef frankfurter on a steamed poppy seed bun, neon green relish, chopped onions, tomato wedges, yellow mustard, a pickle spear and celery salt.  While this dog seems extreme, this is only the beginning at Hot Doug's.  They have a huge, ever-changing menu that includes something for everyone.  They even have exotic game sausages such as elk, bison, and alligator if you are feeling adventurous.  Everything is fresh, delicious and affordably priced.  Hot Doug's is a must-stop spot for visitors to Chicago.
Moving on to the eastern part of the United States, you will find one of my absolute favorite sandwich restaurants of all time.  If you are in Pittsburgh, Pennsylvania, please do yourself the pleasure of grabbing a sandwich and a cold beer at one of the Primanti Bros. restaurants.  Originally designed by truckers who wanted a sandwich that had all the fixings inside so they could eat on the go, the Primanti Bros. is no ordinary sandwich.  Starting with two huge slices of Italian bread, the inside of every sandwich contains a scoop of sweet Italian coleslaw, fresh cut French fries, two tomato slices, sharp provolone cheese and almost any type of meat you can think of.  My personal favorite is Capicola, a spicy Italian ham, or good quality pastrami.  Be warned, however: Primanti Bros. does absolutely no substitutions.  If you do not want tomato, or perhaps you prefer fries on the side, too bad. What you see is what you get!  This place does not mess around and is a great way to get the true Pittsburgh experience.
Another unique and fun restaurant to visit on the East Coast is a Washington, D.C. landmark called Ben's Chili Bowl.  Located next to the Lincoln Theater, Ben's Chili Bowl is a historic restaurant that has been a favorite among several presidents and celebrities alike.  Ben's Chili Bowl is famous for its chili dogs, sausages and delicious milk shakes.  One of my favorite items on the menu is the Half-Smoke, which is a pork and beef sausage topped with raw diced white onion, yellow mustard and spicy chili all on a warm steamed bun.   While not overly complex, this simple sausage on a bun packs quite the punch.  Every ingredient is made fresh and tastes fantastic.  Other items on the menu include all beef hot dogs, burgers and, of course, their famous chili, which you can get by itself or on top of almost everything.  If you are looking for a discount, please take note of the sign that clearly states that the only people that eat for free are Bill Cosby and Barack Obama.   But don't worry; Every item is priced affordably at this celebrated restaurant.
Heading west to one of my favorite cities in America, Denver, Colorado, you will find one of the best restaurants in the country to grab a burger.  The Cherry Cricket is a fantastic establishment where you can customize your own burger. With thirty plus toppings including peanut butter, salsa, a fried egg and everything in between, any burger lover will surely find the right combination at The Cherry Cricket. My personal favorite, which came recommended as a house specialty, is the Cricket Burger. This gem consists of a half-pound, all-beef patty cooked to your liking (I recommend medium) topped with cream cheese and fresh minced jalapenos. The combination of the cool cream cheese and spicy peppers is quite the experience.
This would not be complete if I did not mention pizza.  Easily the most consistent type of food that is consumed on the road, it is something that everyone can always agree on. The most unique pizza place I have ever been to is Hoeks Death Metal Pizza on the historic 6th Street in Austin, Texas. So what exactly is death metal pizza? It is just what it sounds like: a heavy metal themed pizza restaurant that serves up one hell of a slice of pie.  The awesome thing about Hoeks Death Metal Pizza is that you can actually hear the restaurant before you see it.  They have two giant speakers that blast brutal death metal from the restaurant's door onto the street, making the restaurant very easy to find.  With pizzas on display at the walk-up counter right off the street, you can simply choose your slice, pay and continue on your merry way. My personal favorite slice, pepperoni and jalapeño, is guaranteed to awaken your inner metal head.  The thin crust of this New York style pizza was designed to be portable, allowing patrons to eat and enjoy as they continue to explore the rest of Austin on foot.  It is a spicy, delicious way to soak up the booze, and it will get you shredding and back on the streets in no time.
True, the rock and roll lifestyle is not always as fast and exciting as one might believe. Most of our time on the road, after all, has been spent in the close quarters of a 1990 Chevy van. When we finally do roll in to that city where we are scheduled to play a show, the game changes and the good times begin. Finding new great places to eat is part of that adventure. It allows for a cultural experience in a different community. Learning about the food culture of another city while simultaneously awakening one's inner rocker can only be described as worldly perfection.
---
---
Related Articles
Grow Your Own Ever been called a "food snob?" It hurt, didn't it? After you cried in your vichyssoise (which
I bought a 16MB Flash card for my camera. The card itself is about the size of a Cheez-It. It
Publisher's Note: Omega Omega Omega (Tri Omega), the culinary fraternity at the Institute for the Culinary Arts at Metropolitan Community
Only registered users can comment.