The Aviation Cocktail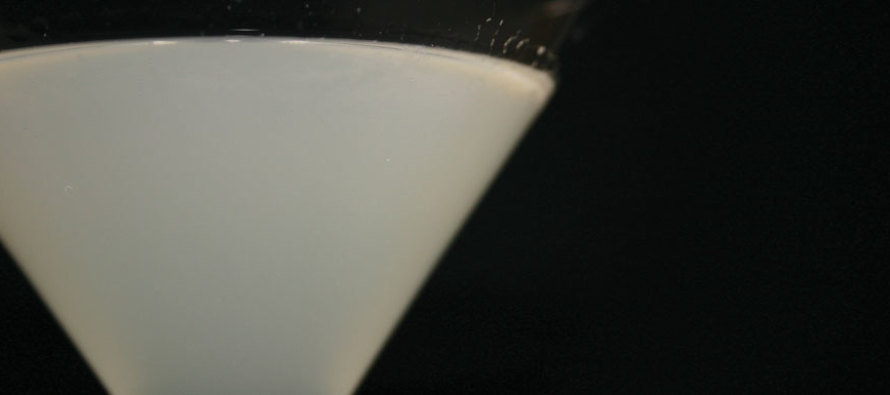 The Aviation Cocktail. The name possesses many of the qualities I love in a good cocktail moniker. It says everything and nothing at the same time. It provides intrigue and fuel for the imagination. It conjures images in the head of goggles, silk scarves and wing-walking. It creates its own set of expectations that can't be confirmed or refuted until one ventures out of one's comfort zone and into the vast unknown. Looking further into the cocktail itself, more mystery and intrigue awaits. What is the actual recipe? What are its origins? What the heck is Crème Yvette?
While it may not be a staple on cocktail menus locally, the Aviation has been used very effectively in other parts of the country to lure cocktail consumers into the realm of "classic cocktails," those cocktails whose origins can be traced to a period from the first appearance of the "cocktail" in 1806 to the beginning of Prohibition in 1920. The Aviation qualifies, but it is a relatively late entrant into the classic cocktail field, having first seen the light of day in Hugo Ensslin's 1916 publication, Recipes For Mixed Drinks.
As is typical with classic cocktails, the original Aviation evolved into a number of differing Aviation recipes as well as other descendant cocktails, including the Blue Moon. Ensslin's original recipe called for Gin, Maraschino Liqueur, Crème Yvette and lemon juice. As we've done in previous columns, let's look at the elements of this wonderful cocktail, beginning, as many worthwhile endeavors begin, with gin.
Gin
Even a cursory look at the universe of classic cocktails reveals that gin is found at the heart of a significant number of these revered old drinks. Its complexity and depth of character form the perfect backdrop for a wide array of complementary flavor additions. But gin is hardly a homogenous category of spirits. Significant differences exist between one gin and another, and an understanding of these differences (and of your tastes and preferences) is critical when deciding which gin is going to grace your next classic cocktail adventure. All gins are influenced to some degree by the juniper berry, which is used to flavor the spirit and lends gin its distinctive "pineyness." Some gins are relatively sweet, with more pronounced citrus and subtler juniper notes, while others are drier with a pronounced juniper presence and hints of coriander. Some Dutch-style jenevers (gin's earliest form) have an intriguing maltiness to them. Finding a gin with a flavor profile that lines up with one's personal tastes and preferences can be a time-consuming process, but in the end your enjoyment of gin cocktails will be greatly enhanced­—and it's a lot more fun than determining your favorite brand of dental floss.
Maraschino Liqueur
If you've read previous Libation Conversation columns, you are probably at least familiar with Maraschino liqueur, even if you have not had the pleasure of tasting it for yourself. If this is your first Libation Conversation, allow me to welcome you and to shed a little light on Maraschino liqueur. This liqueur bears no resemblance to the neon goo that bar cherries float in. Invented by Girolamo Luxardo in 1821, and still produced today according to his original formula, Maraschino is distilled from Marasca cherries and aged in ash vats. Maraschino possesses fascinating depth and a unique, delicate floral note. It is somewhat difficult to come by but well worth the search. It is also the critical ingredient in the original Corpse Reviver, which was also examined in a previous Conversation.
Crème Yvette
This element of the original Aviation has the highest potential to confound. Crème Yvette was a proprietary version (produced by Charles Jacquin et Cie until being discontinued in the 1960's) of Crème de Violette. Crème de Violette is a liqueur whose flavor and color are derived from a maceration of violets in un-aged grape brandy. Crème de Violette is also somewhat difficult to find, but it too is well worth the search. Rumor has it that Jacquin may be reviving Crème Yvette liqueur, so stay tuned. It has been suggested that Marie Brizard Parfait d'Amour, yet another elusive-but-worthy-of-search liqueur, can be substituted for Crème de Violette. While this certainly violates no laws or international treaties with which I am familiar, the two products are not interchangeable from a flavor perspective.
Lemon Juice
Use the real thing. Classic cocktails are no place for substitutes, especially when it comes to fruit juices. Cocktail mixes, lime juice cordials, and "juices" that hide out in plastic replicas of actual fruits are, for the most part, loaded with artificial ingredients and sweeteners that can guide your cocktail to a dark and foreboding place. Perhaps even more offensive is the idea that through the use of cocktail mixes you, the eventual consumer of your cocktail creations, have been robbed of the ability to determine for yourself the balance between the sweet and acidic elements of your carefully crafted libation. Insufferable!
The Cocktail
As was mentioned, there are a number of recipes out there for the Aviation Cocktail. While most seem to agree at least on the elements of gin, Maraschino liqueur and fresh lemon juice, the proportions of each are apparently of some dispute. The five cocktail recipe books I checked each had a slightly different recipe. In fact, only two of them even mention Crème de Violette. How could this critical ingredient become such an afterthought? It turns out that one of the most revered publications in the history of cocktails, The Savoy Cocktail Book (1930), published a recipe for the Aviation that omitted the Crème de Violette. For many years, this was taken to be the original recipe, and it wasn't until the original was discovered some years later that Crème de Violette was once again afforded its place in the cocktail. The fact that Crème de Violette is still difficult to find leads to its being regularly slighted in today's Aviation recipes. Nevertheless, the enjoyment of a true Aviation is impossible without it. After all, the name Aviation itself refers to the sky-blue tint that Crème de Violette gives the drink.
Aviation Cocktail
(from DrinkBoy Robert Hess)
Ingredients:
2 oz. gin
1/2 oz. lemon juice
1/2 oz. Luxardo Maraschino Liquer
1/4 oz. Creme de Violette
Directions:
1) Combine all ingredients in an ice-filled shaker.
2) Shake and strain into a chilled cocktail glass.
Aviation Cocktail
(The Original, from Hugo Ensslin's Recipes for Mixed Drinks, 1916)
Ingredients:
1/3 Lemon Juice
1/3 El Bart Gin
2 dashes Maraschino Liquer
2 dases Creme de Violette
Directions:
1) Shake well in a mixing glass with cracked ice
2) Strain and serve.

Dan Crowell
Dan Crowell, cocktail enthusiast and self-avowed 'spirits nerd', is the Luxury Brands Specialist for Sterling Distributing Company in Omaha. He talks incessantly (even occasionally to other people) about the virtues of what he calls 'investigative imbibement'. An eternally fascinated student of the distillers' art, he encourages any like-minded individuals to engage him in spirited discussion at http://libationassociation.blogspot.com
---
Only registered users can comment.