The Joy of Cold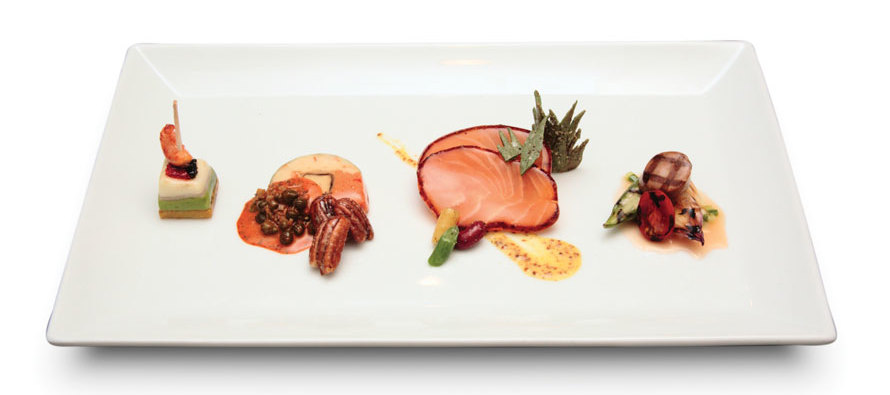 Following in the style of his classic masters, Antonin Carême was famous for his grand banquet displays, highlighting his love for architecture and art and enhancing culinary finesse with his new variety of symmetry and order. His magnificent pièces monteés—pastries assembled to resemble great architectural masterpieces—along with his highly decorated buffets of fish, fowl and game, became his trademark, as he was known to some as the "cook with an architect's eye."
Although he received some criticism from contemporaries, Auguste Escoffier insisted on carrying this tradition forward, further promoting the theory that atmosphere is as important to a meal as taste. This tradition is long-standing, as cooks from many areas of the world have forever known the value of enveloping dining participants in the visual radiance of a refined menu.
That being said, am I thinking of Carême and Escoffier during practice every Friday as my teammates and I prepare components for the late-February Cold Platter competition in Chicago? Sometimes. But there are times, however, that I'm cursing bubbles. Not only does each version of the same menu item need to be identical in size, shape, and color, but each must host a glass-like glaze of gelatin to preserve it's appearance for display. (Bubbles in this glaze cause said bubble-cursing.)
The menu must be realistic, even if only for display, and rooted in classical preparations. The completed platter must exhibit extreme attention to balance, composition and detail. It's a long process, but the end result of hovering over a cauldron of warm gelatin for hours produces the reason for our discipline—watching our love for the beauty of charcuterie come to life.
The joy of cold? Connecting to the great masters of our craft, extending the sensory experience of food, creating life-long friendships through teamwork, and delighting in the art of flawless terrines and canapés. All, hopefully, bubble-free.
---
Only registered users can comment.