The State of the Cocktail: V Mertz and the Artful Pairing of Food & Spirits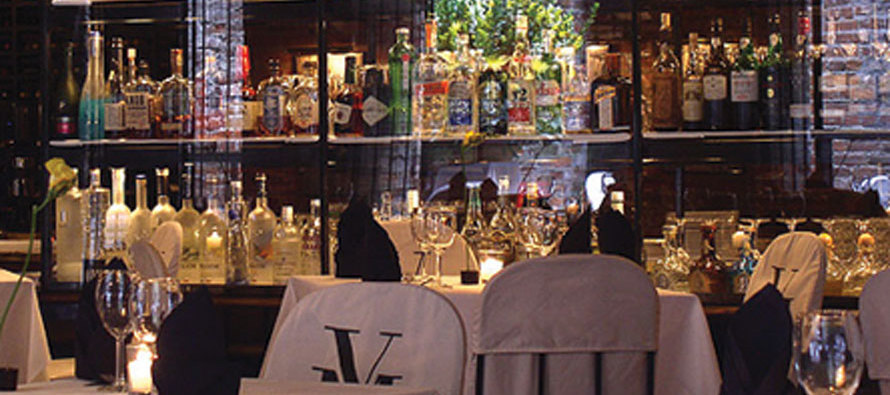 In my continuing quest to evaluate the state of the cocktail art here in Nebraska, I have discovered some applications of this art form that are truly unique in their approach and inspiring in their passionate attention to detail. V Mertz, one of this region's most highly regarded fine dining establishments, located in Omaha's Old Market, houses one of those unique and inspiring applications. The role of the cocktail in the dining experience at V Mertz meshes perfectly with the overall concept of the restaurant itself – a creatively conceived and impeccably executed culinary experience.
The following text is taken from my recent interview with Matt Stamp, General Manager at V Mertz.
Describe the restaurant.
V. Mertz is a contemporary fine dining restaurant and wine bar.  We put an emphasis on intricate and artful cuisine, tasting menus, and we believe that we offer a considerate and thoughtful approach to food and wine pairing.  We bake bread in house, offer an artisan cheese board, local Wagyu beef, and local produce in season; and we really try to support small growers and foragers, small ranchers, artisan producers and small production winemakers.  We believe that our network of suppliers, in general, share our ethic of what fine dining should  involve—from the table to the more intangible responsibilities to our guests.  I know of no other restaurant in Omaha that spends the time and money to recycle glass, or compost vegetable waste, for instance.

What is your philosophy in terms of the overall bar & cocktail profile?
I believe that the offerings of our bar should stand alongside the selections on our wine list.  I do not believe in offering liquors that do not have a place in dining.  I think that our major focus here is on wine, and so the bar is necessarily diminished in a way.  However, not everyone is interested in wine, and I want someone who is a scotch aficionado to be comfortable with our pairing suggestions with scotch, and experience a similar sort of harmonious pairing, for example.  With cocktails, I want something clean and balanced, without too much cloying sweetness.  I want to taste the base spirit, and I do not want it to be so over-developed that the intrinsic qualities of the liquor are lost.  For me, less personality in cocktails is a preference, and I think makes a cocktail a more pleasing aperitif and precursor to wine and food.
What is your goal with the bar?
Last year, we banned our bartenders from making Apple Martinis.  I feel pretty good about that.
How do you implement your vision for the bar?
In the past, we have worked up cocktail menus, but I'm trying to get away from that approach, and allow our cocktails to fluctuate more, as we do with our menus.  I've been heavily involved with the bar and development of cocktails in the past, but now I'm trying to take a more hands-off approach, and allow my bartenders the creativity and freedom to work on their own drinks.
What is your background?
I have worked at V. Mertz for most of the last decade.  I started out as a dishwasher, and slowly worked my way through most of the positions at the restaurant.  Currently, I am the general manager and wine director, and I have recently passed the Advanced Sommelier Exam given by the Court of Master Sommeliers.

From where do you draw inspiration?
In both wine and food, I want to challenge diners, but not in a way that becomes uncomfortable.  For wine pairings, I draw a lot of inspiration from my Chef and his food, obviously, but I also consider my ideal for a good sommelier.  I've got a pairing right now for foie gras with quince and hazelnut.  It's Grand Cru Sauternes.  And you know what, anybody can do that.  You don't need a sommelier to tell you that Sauternes and foie gras and quince is going to be a slam dunk.  It's the more interesting pairings that I really strive for:  like pumpkin bisque and red wine apples with Nebbiolo d'Alba, or Crab Boudin and heirloom tomato with Bouzeron Aligoté.  I really enjoy moving diners beyond traditional varietals and expected wines, because there are a lot of really great wines out there if you look, and one can often find the same qualities that they really like about pinot noir, for instance, in something altogether different.  And that makes a lot more memorable dining experience in my opinion, than just another bottle of Pinot X or Chardonnay Z.  Is the next bottle of $75 Napa Cab really going to change your life?  No.
Name some challenges associated with your approach.
Well, if you've ever tried to talk somebody into drinking a Bouzeron Aligote, you'll have some challenges.  I think that in Omaha in particular, diners are very sensitive about moving out of their comfort zone.  But we see a lot of willing guests who do a tasting menu, or go with something they wouldn't normally order when they came in with hearts set on our Peppersteak, for instance.  I think that in the end these guests become more discerning diners, and expect more not just from us, but from every restaurant in the fine dining category.

Describe the response you've received from customers.
I would say that our customer response to our food and wine has been really overwhelming.  At the bar, we utilize classic recipes for a lot of cocktails.  Our margaritas, if someone requests one, are made from Don Julio Reposado, Grand Marnier, simple syrup and fresh lime juice.  That's a solid margarita.  But you can't get one made like that in most restaurants, they get overwhelmed with Rose's Lime or a box mix and they taste like candy.  Sometimes, that is what someone wants and they are unsatisfied with ours.  But most of the time, we get a really favorable response.  It tastes balanced, and you can taste the tequila.  And its great tequila!
How do you approach bar staff training? What about wait staff spirits training?
We have a very small bar and wait staff, and we try to train continuously, both with set events such as training seminars but also with more informal tastings.  Tasting is key, really, for anyone in this business to sell confidently.  And the Court of Master Sommeliers takes education very seriously, and I try to extend this philosophy with my staff.
Does the bar itself get busy?
Unfortunately, we are graced with a aesthetically pleasing but somewhat uncomfortably-designed bar.  So while the bar may get busy on some nights, with late post-show dessert crowds, etc., it is really more of decoration, and most of the drinks we pour are being served to tables.  The bar only has 6 barstools.  But for someone looking for a quiet and subdued bar setting, I think it's pretty perfect.  You always get plenty of attention!
Do you create cocktails with specific food pairing applications in mind?
Yes, absolutely.  And we try to keep seasonality in mind with our cocktails as well.  For instance, this summer we did a Belvedere cocktail with cucumber water, black lava sea salt, simple syrup and lemon juice.  It had perfect balance, and was attuned to the cuisine of the moment: light, summery flavors.
Are any of your bar ingredients produced in-house?
Fruit purees, fresh citrus, liquor infusions, etc.  We ran a Gibson for a while where we were making our own "cocktail" onions, and a truffle-infused vodka accompanied by house-made rosemary ice cubes, and we ran a really nice Sangria, made in house (with Spatlese-quality Riesling), this past summer.  We are currently looking at making mulled wine and sodas in-house.
What do you have in the works for the near future?
We're experimenting with some allspice infusions, and we're definitely going to do some mulled wine for the winter.  House-made egg nog around Christmastime is always a favorite.
What do you consider to be your signature drink?
I'm really trying to get V. Mertz away from the idea of signature anything.  I think that is a very constraining concept for a restaurant that prides itself on good, seasonal food.  I want the signature to be V. Mertz, and a guest to be comfortable knowing that all of our menus, whether food or drink, are crafted with careful consideration for the final product and, ultimately, the guest's enjoyment.
What's your 'can't miss' drink / liqueur / spirit?
I'm going to go with Achel Trappist Extra.  A beer.  For spirits, I'm a pretty big fan of fiery, rustic Armagnac.  Château Laubade produces some very nice examples.
What's the most recent product or development that has inspired you?
I really love the explosion of interest in good sake.
What do you drink when you go out?
Wine, or Johnnie Walker Black Label.  It's too smooth.
Is there a cocktail / product / category you wish every customer would try?
Good grappa.  We just picked up the Moscato di Poli and it is fantastic.
What's your best-selling cocktail?
Well, we sell an awful lot of Cosmopolitans.  Some things never change.
Do you use a cocktail list? Does the content change regularly?
In the past we used a list but currently we prefer the approach of hand-selling a few very seasonal cocktails.

What would you like to tell the folks at home?
Next time you go out, don't settle for just another Californian cabernet.

Dan Crowell
Dan Crowell, cocktail enthusiast and self-avowed 'spirits nerd', is the Luxury Brands Specialist for Sterling Distributing Company in Omaha. He talks incessantly (even occasionally to other people) about the virtues of what he calls 'investigative imbibement'. An eternally fascinated student of the distillers' art, he encourages any like-minded individuals to engage him in spirited discussion at http://libationassociation.blogspot.com
---
Only registered users can comment.