The Supper Club: Lot 2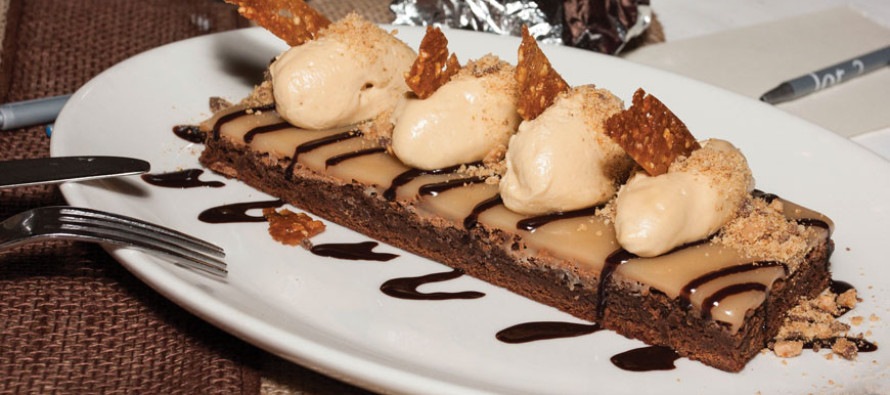 Publisher's Note: Omega Omega Omega (Tri Omega), the culinary fraternity at the Institute for the Culinary Arts at Metropolitan Community College, strives to provide students with opportunities to apply and develop their skills through unique experiences. One of these experiences is the Supper Club. The Supper Club selects a restaurant once a quarter and works with the chef of the restaurant to provide a unique dining experience to challenge the palate and minds of the students with the unique ingredients and techniques found in that chef's kitchen. The article and photography for this article are also done by students.
Supper Club took a trip to Benson this quarter to see what the chefs at Lot 2 had to offer. This time the group sported four groups of seven to eight diners. The restaurant was asked to create a unique three-course menu for the evening.
Lot 2, at 6207 Maple Street, is a cozy spot with a warm and relaxed environment. The students filled the restaurant's candlelit tables and ordered drinks off of the vast list of wine and intriguing cocktails.
The first course was a lyonnaise salad with frisée, Dijon vinaigrette, croutons, finely chopped chives, a 64 degree poached egg and house made bacon. Ohhhh, the bacon… many at the tables could not get enough of it, some even tried to steal pieces off others' plates. The frisée was crisp and the egg yolk balanced out the acidity in the vinaigrette to balance everything out. The heartiness of the salad was not lost on the students either.
The second course was served family-style and was sweet tea brined fried chicken, apple cider braised greens with a ham hock, biscuits with salted chive butter, Yukon gold mashed potatoes and a Sriracha maple syrup to drizzle over everything. Chef Joel said when it comes to Sunday dinners in his house, "Sunday is for comfort food."
The students could not agree more. This course "couldn't be more comforting" according to Nina Sodjj and many other students. The tender chicken with crispy skin drizzled with Sriracha maple syrup was something that was a big hit with students as well. Some wanted to take the syrup home to put on everything.
The third and final course was the best components of candy bars. A layered dessert with a fudgy brownie, soft caramel, fudge sauce, caramelized white chocolate mousse, toffee crisp and graham cracker shortbread crumble. All the students enjoyed it immensely. The bar provided something crunchy, chewy, creamy, not too sweet and was the perfect end to a delicious meal.
Overall, the evening was a delightful, cozy experience many of the students wished to have for every Sunday dinner. Many plan on returning to sample more offerings from Chef Joel and are looking forward to his take on chicken and waffles for Sunday brunch. Lot 2 is a great place to enjoy warm hospitality, delicious food and an exceptional experience overall.

Baily Price
Baily is currently a culinary student at MCC. She love food, science, and feeding people!
---
Related Articles
You just walked into one of your favorite restaurants with family and friends. You're hungry and a tad indecisive as
Accumulated from Mastering the Art of French Cooking by Julia Child, Louisette Bertholle, and Simone Beck as well as re-catching
It was just after midnight on one of those unbearably hot and humid summer nights and my friends and I
Only registered users can comment.