The Supper Club: Mexique­­­|Chicago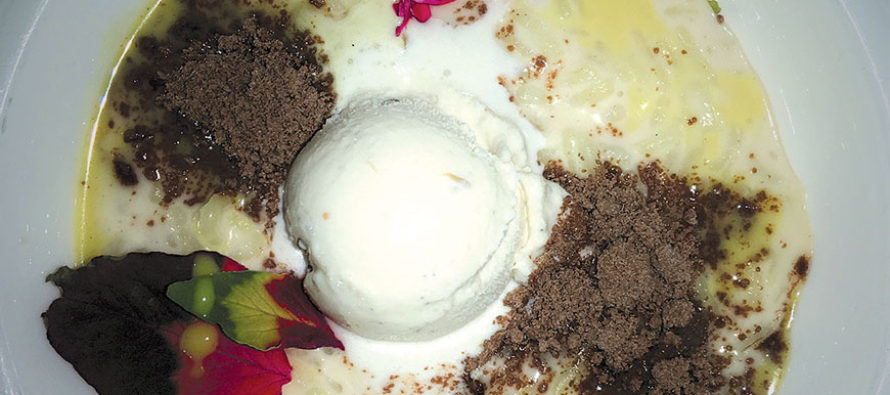 Publisher's Note: Omega Omega Omega (Tri Omega), the culinary fraternity at the Institute for the Culinary Arts at Metropolitan Community College, strives to provide students with opportunities to apply and develop their skills through unique experiences. One of these experiences is the Supper Club. The Supper Club selects a restaurant once a quarter and works with the chef of the restaurant to provide a unique dining experience to challenge the palate and minds of the students with the unique ingredients and techniques found in that chef's kitchen. The article and photography for this article are also done by students.
This quarter's supper club was in the windy city of Chicago where we spent 4 days attending the 2016 National Restaurant Association Tradeshow. Since one of our students, Danny Flores, was working as an intern at Mexique, we decided to have our supper club there. Mexique is a 1 Michelin star Mexican restaurant helmed by chef Carlos Gaytan located at 1529 W. Chicago Avenue, a picturesque street lined with quaint brick buildings, shops and churches.
Chef Gaytan has a familiar story of dishwasher turned chef through hard work and perseverance. As a child he would hunt wild game and iguana with his father, and cook it with his mother from whom he gained his love of food and serving others. He opened Mexique in 2008 to share his style of Mexican food in a modern way with the world. He applies the French techniques he learned from his mentors to his Mexican roots. When Mexique opened its doors, the majority of the equipment was donated. Chairs had holes, the dishes and silverware were mismatched and lighting was minimal. Mexique was very close to shutting down when, out of the blue, Chef Gaytan won his first Michelin star in November of 2012. I was excited to experience this unique cuisine for myself.
As I stepped into small shotgun style building, the high ceilings gave the space an open feel while the large front windows made it bright. I could feel the excitement build with light and airy chatter that echoed the modern, minimalist environment as we gathered around the bar before being escorted to our tables.
The time came to be seated and start my dining experience. As the server handed out menus, he explained that Mexique offers el primero which translates into the first one (appetizer), as well as platos fuertes, a strong dish or sturdy plate (main course), and a tasting menu. The tasting menu was described as starting out light and fresh and building in flavor and richness. I opted for the Chef's six course tasting menu and was not disappointed. The food, atmosphere, and service were excellent. As was the ever humble and gracious Chef Gaytan, who took time out of his busy night to take pictures and talk with each of us
The meal started with an appetizer course of ancho chile liver pâté mousse with pineapple chutney, served with a French baguette. The pâté was soft and buttery with a hint of heat and smoke from the ancho chiles. A sweet, slightly tart pineapple compote with a burst of juicy orange sat on top of the luxurious pâté balancing out the richness of the mousse. The simple act of spreading the pâté onto my crisp baguette and topping it with the compote was sublime and a perfect way to start the meal.
First course was a play on a traditional aguachile, a dish typically made with seafood that is submerged in a liquid with fresh vegetables and spices. Chef Gaytan's version was a blue fin tuna ceviche in a passion fruit gelato with fresh serrano chile water, cucumber relish and sugared micro flowers. The blue fin tuna cubes were fresh and plump, perfectly seasoned with serrano chile water that gave the tuna a wonderful bite of heat. Passion fruit gelato imparted a crisp, tart note to the tuna, while the cucumber added a much needed crunchy texture to the dish. A sugared flower topped off the dish like icing on a cake, sweet and very pleasing to the eye.  I loved this rich, fresh, crunchy, bright, spicy and tart dish. It was a successful modern take on a traditional Mexican dish.
The second course was a lobster bisque with poached shrimp, red radish and micro cilantro. The bisque was warm with a rich, intense flavor of sweet lobster, fresh fennel and thickened with semolina, which gave it a comforting mouth feel. Thinly shaved red radish perched alongside the perfectly poached shrimp imparted a bright visual note as well as a spicy crunch. Chopped fresh cilantro and a single micro bloom topped the dish off adding a grassy, herbal note.  This dish challenged my view on Mexican food. The classic French techniques paired with Mexican ingredients opened my eyes to what stereotypes there are in cuisines.
The third course was a pan seared swordfish with tamal, huitlacoche corn sauce, pickled vegetables, shaved radish and micro greens. My Swordfish was perfectly cooked with a moist, meaty texture and mildly sweet flavor that was brightened with fresh lemon.  Chef Gaytan's tamal is a blue corn masa made with over 40 ingredients including annatto which gives the deep corn flavor a light peppery note. Shaved radish partnered with the peppery flavor of the annatto while bringing a crisp, bright addition to the dish. The huitlacoche sauce was rich and earthy, reminiscent of mushrooms. Huitlacoche is a bluish- black fungus that grows directly on the corn kernel and dates back to the Aztecs. It is used in sauces, stews, soups and tamales. The depth of the corn flavor and the airy consistency of the masa paired with the earthy huitlacoche sauce was my favorite part of the dish. It has become one of my favorite food memories.
Our fourth course consisted of braised pork belly with a mole teloloapan, sweet potato puree, slaw, roasted Brussels sprouts with bacon crumble and cocoa nibs. The decadent pork belly was braised for over six hours and topped with a rich, 20-ingredient mole sauce. The sweet potato puree was a smooth and savory base, while the red cabbage and strawberry slaw added a tart component balancing the fatty pork belly. The roasted Brussels sprouts were perfectly cooked and sprinkled with a bacon and cocoa nib crumble that married well with the mole. Mole is a traditional Mexican sauce that varies by region and usually consists of a mixture of chiles, nuts, seeds, spices, vegetables and sometimes includes unsweetened Mexican chocolate, tomatoes and raisins or avocado leaves. I savored every last bite, and begged my server for a few pieces of bread to mop up the last drops of the mole.  The deeply spiced, nutty mole paired with the rich pork belly made for a truly guilty, almost sinful, dining experience.
For the fifth course, a pan seared duck breast, fresh corn tamal and stewed spinach with a red wine reduction was served up. My duck breast was seasoned well, had a crispy skin and a juicy medium rare doneness.  The tender corn tamal reminded me of a cornbread stuffing with fresh corn kernels. The stewed spinach gave a slightly bitter, vegetal note to the dish that cut through the richness perfectly. A cranberry red wine reduction with tamarind and ancho chiles added the right amount of tart, sweet, sour and spicy to the entire dish which was reminiscent of a Thanksgiving dinner.
The final course was a rice pudding with white chocolate ice cream and a brown sugar, cocoa powder crumble. The rice was cooked through while maintaining a firm, not soggy, texture inside a cinnamon milk custard. A smooth, rich white chocolate ice cream gave an interesting temperature contrast to the rice pudding and wasn't overly sweet. The decadence came from the brown sugar and cocoa powder crumble that I added to each and every bite. This rice pudding was a comforting way to end the meal.
As my meal was winding down, I was lingering over a digestive of Ancho Reyes, an ancho chile liquor, when Chef Carlos Gaytan joined us at our tables. Taking time out of his busy night, he shared a bit of his story, talking with us about his food, family, heritage and philosophies of being a chef, making this a truly memorable dining experience. His final thought to us before taking a picture with all 16 members of our group was, "We can touch so many lives through our cooking and our food, so we as chefs should take that responsibility seriously and truly serve others."
---
Related Articles
Over the past three decades (since about the Carter-era energy crisis) there has been a swirling whisper in this country
We Midwesterners are spoiled by the options abounding when it comes to finding a thick, juicy cut of beef right
  With the break in the cold temperatures and spring making its appearance, patio season is now in full effect.
Only registered users can comment.