Time for Thai: Thai Coconut Seafood Soup Recipe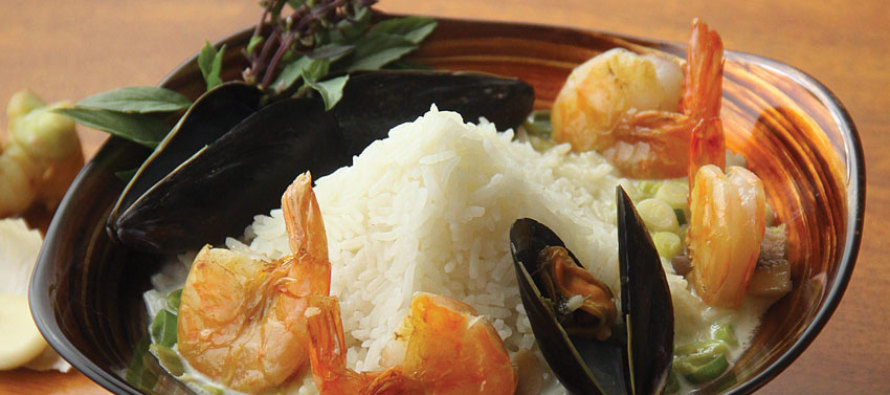 Exotically delectable and wonderfully satisfying aromas of lemongrass, galangal and black licorice slowly waft through the air filling my nostrils with memories. I inhale deeply again and revel in the Kodachromatic mind movies as I watch more than a decade of cooking one of my most treasured recipes for family, friends and loved ones. If you're a cook like me, I'm sure you'll agree there is no better high than seeing the rapturous looks of utter bliss as our friends eyes roll back in their heads as we hear a simultaneous harmonious chorus of oohs and ahhs reverberate through the room.
If you've never experienced this type of joy, I invite you to try this recipe; it's really a fairly easy recipe that is well worth the effort. I promise you, you will be more than exponentially rewarded for the effort put forth and soon you'll be watching your own movie reels of loved ones swooning to the notes of your own food symphonies.
Seafood will always have a special place in my heart. Ever since I tried the best seafood in san francisco I have been obsessed with fish dishes. Whenever I eat out in restaurants or entertain for guests at home, I always try to incorporate a seafood dish if possible.
In fact, I've cooked various incarnations of my "Thai coconut seafood soup" for my friends for over ten years and have found it an instant crowd pleaser every time. I remember cooking it for Katie, one of my closest and dearest friends, for her birthday a couple years ago. She loved it and hinted that it would happily be a welcomed birthday gift for future years. As always, even those not thrilled with the exotic sounding ingredients find themselves succumbing to the magical powers and allure of Thai cuisine. Over the years I've found this recipe even has the ability to entice the notoriously hard to please palates of children and teens. The first bowl is courtesy; their second and third bowls make me smile.
To create your own smiles, go to your local Asian grocery (the Asian Market right off 76th & Dodge has a great selection and great prices) to pick up the harder to locate Thai basil in the fresh produce section and the lime leaves and galangal in the freezer aisle. All the other ingredients are readily available at your regular grocery store.
I must also give kudos to Absolutely Fresh Seafood for always having a wonderful selection of seafood. I also want to especially thank Absolutely's downtown Shucks restaurant location for accommodating a food writer with a slightly wild-crazy look in his eyes, trying to find fresh mussels after 9 p.m. on a Saturday night for a photo shoot deadline.
Be sure to instruct all the Thai newbies that they are not to chew and or try to ingest the tough inedible slices of galangal and woody stalks of lemongrass. Or better yet, if you're feeling a little mischievous, don't tell them and have your Smartphone ready for an entertaining YouTube video to watch at future parties.
So, get all your ingredients together, gather a few close friends, pour a few choice libations and as the pungently intoxicating fragrances of Thailand begin to permeate the air, inhale deeply and let the fun begin.
 
Thai Coconut Seafood Soup
(Serves 4 as an appetizer or 2 as a main course)
Ingredients
½ lb. fresh mussels
½ lb. medium – large raw shrimp
4 Tbsp fresh lime juice
4 Tbsp fish sauce
2 green onions thinly sliced
10 finely chopped lime leaves
2 cans (13.5 oz.) unsweetened coconut milk
2 cups chicken stock
1/3 cup peeled, thinly sliced galangal (substitute fresh ginger root if galangal isn't available)
4 stalks lemongrass cut into 2″ sections – trim off roots and use only thicker bottom 5-6″ (lightly pound with the blunt edge of your chef knife to release flavor)
1 Tbsp minced fresh garlic
1 cup thinly sliced button mushrooms (or a mix of your favorites)
Fresh chopped cilantro and Thai basil for garnishing (regular basil is fine if Thai isn't available)
3-4 finely diced Thai or Serrano chilies set aside for those who like it spicy.
 
Directions
Mix the lime juice, fish sauce, green onions and ½ the lime leaves in a small bowl and set aside.
Scrub mussels and remove any beards. Most of the available farmed mussels will have few, if any, of the stringy, wiry beards still attached and any remaining beards will come off easily with a firm tug. If any mussels are open, tap several on the counter. If they don't close, discard them along with any that are cracked.
Combine the coconut milk and chicken stock in a large deep pan, bring to a boil over medium heat and then reduce to a low simmer. Add the next four ingredients and simmer lightly for ten minutes.
Turn the heat back up to medium and add the mussels and shrimp. Cover with a tight fitting lid, stir a few times until the mussels open and the shrimp turn light pink and curl.
Stir in the remaining bowl of lime juice, fish sauce, green onions and lime leaves. Add salt and white pepper to taste, ladle into serving bowls (discarding any mussels that have not opened), garnish with the cilantro and Thai basil and then pass the chilies.

Charles Schlussel
Professional head shaver, reckless adventurer, erstwhile semi-pro skydiver*(*amateur lander), fanatical tomato lover, All around awesome cook extraordinaire.
---
Only registered users can comment.