8 of Our Favorite Pizza Places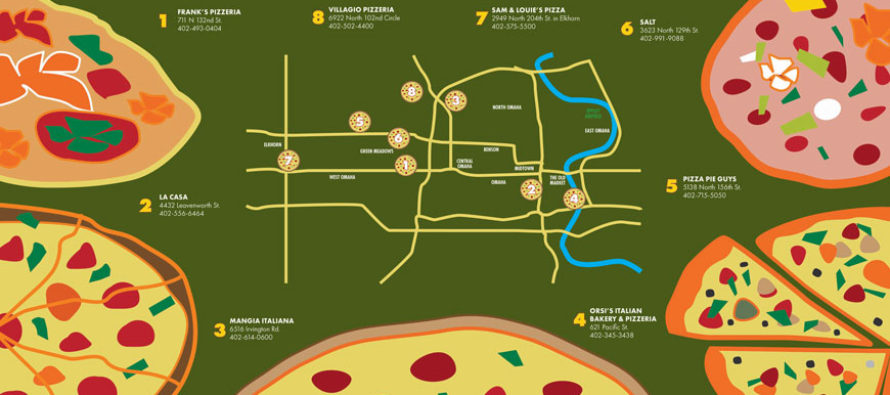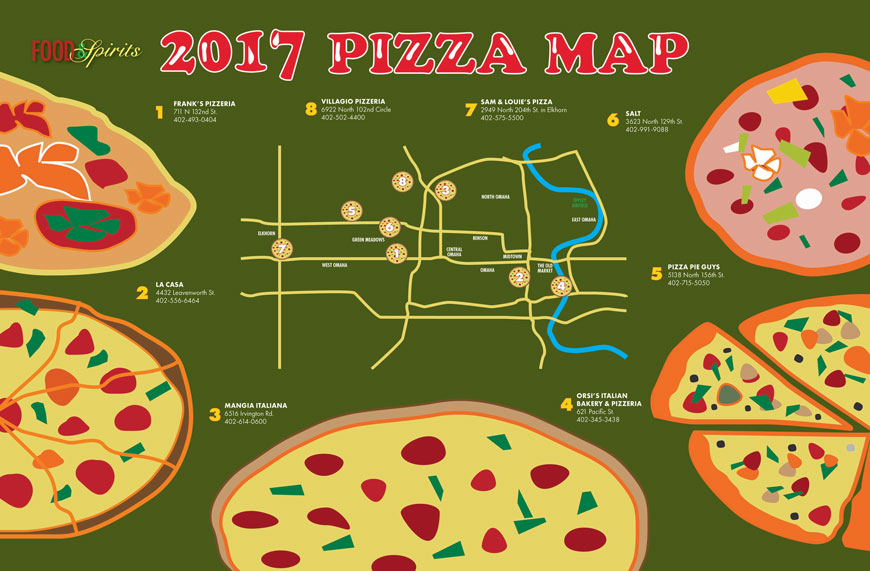 Who doesn't love pizza? It's a great way to enjoy a fast and fun family meal, or to start a night out on the town with friends. Omaha is bursting with pizza restaurants, and each one is unique and striving to put a different spin on this traditional, ever-popular dish.
Frank's Pizzeria
711 N 132nd St.
402-493-0404
When it comes to New York pizza in Omaha, Frank's Pizzeria is at the top of the list. We're one of '35 Reasons You Should Visit Nebraska Now' according to City Style and Living Magazine. Others may claim to have true New York Style Pizza but at Frank's we make it just like the pizzerias in New York City because that's where we started out at. Frank's Pizzeria has been open since September of 2003. Frank's is the only pizzeria in town to offer a true original pizza, a margarita, made with mozzarella fior di latte, fresh basil and olive oil. Need to feed a Big crew or a Big team, well we have what you need, the BIG JOE! 30″ of the best New York pizza in Omaha guaranteed to feed whatever you throw at it. We sell our customers the best of the best. There's pizza, subs, appetizers and pasta! We have daily lunch specials and eat in specials and mouthwatering desserts like cannolis and zeppoles. Hours are Monday – Thursday: 11:00 am – 9:00 pm and Friday & Saturday 11:00 am – 10:00 pm.
La Casa
4432 Leavenworth St.
402-556-6464
La Casa Pizzeria is Omaha's original Neapolitan-style pizza. Founded by Joe and Nellie Patane in June of 1953, La Casa was originally located in a house, giving the business its name. Successful from the very beginning, the pizzeria literally ran out of food its opening night. In 1957 the restaurant was expanded to its current size, and in 1965 a self-service location at 82nd and Grover was opened. Today the third generation of the family operates the business with the fourth generation waiting in the wings. La Casa remains famous for their original pizza, as well as pasta items and pizzas with a modern twist.
Mangia Italiana
6516 Irvington Rd.
402-614-0600
Mangia Italiana's slogan, "Taste the Cooking Traditions of Omaha's Little Italy," is what they strive for in their pizza, their authentic sugo & meatballs and their many Sicilian and Italian dishes. Everything is prepared from scratch from recipes handed down through the generations, and their pride in, and commitment to, authentic Italian food shows in the quality of their dishes. Mangia is the perfect place to experience old-world Italian food in style.
Orsi's Italian Bakery & Pizzeria
621 Pacific St.
402-345-3438
Since 1919, Orsi's have been honing their pizza-making skills while staying true to the traditions of authentic Italian food. At Orsi's Italian Bakery & Pizzeria, they continue a time-honored tradition of baking incredibly delicious hand-crafted pizzas and goudarooni. Each morning they begin by preparing their dough and fresh ingredients for the day. When you visit Orsi's restaurant, you know you are enjoying the some of the freshest Italian food in Omaha, from pizza to cannoli and everything in between. Why settle for chain restaurant delivery when you can pick up a fresh pie of true Italian excellence at their shop?
Pizza Pie Guys
5138 North 156th St.
402-715-5050
Creating the best and most unique pizzas matters to The Pizza Pie Guys. They're the go-to pizza place when you're looking for something different and unexpectedly delicious. The Pizza Pie Guys are driven to continually update their pizzas and ingredients to make certain that your visit to them is more than just a meal – they want it to be an experience. To be sure that their customers taste every ingredient, they continuously sample new products and choose only the best, all-natural and freshest ingredients. With intensely flavorful homemade crust, sauce and toppings, The Pizza Pie Guys offer distinctive, fresh, mouthwatering pizza to satisfy the cravings you never knew you had.
Salt
3623 North 129th St.
402-991-9088
At Salt, each of their pizzas is something special. They enjoy blending different sauces and ingredients in new ways and they've created some classic and distinctive combinations. Baking their pizza dough in a brick oven produces a tender center and a crisp, cracker-like crust. There are seemingly endless ways to make and bake pizza, and Salt has crafted some truly exceptional versions.
Sam & Louie's Pizza
2949 North 204th St. in Elkhorn
402-575-5500
Sam & Louie's is a casual Italian restaurant and New York style pizzeria that is dedicated to providing a dining experience based on tradition, good service, family and fun. Every Sam & Louie's pizza is made with a thin crust that is hand-tossed and stretched to create the familiar size, shape and taste that New York pizzas are famous for, with over 35 fresh and delicious toppings to choose from for pizza perfection, including gluten free. It all started with the Nolan family in 1994 as a small family run pizzeria in Omaha and continues till this day. Enjoy Sam & Louie's pizza by dining in or picking up. Earn rewards with Pinpoint too. Sam & Louie's pizza is perfect for all catering events and needs including Wedding Catering. Let us show you how to enjoy the limitless pizza possibilities from casual family fun to special events and magical moments.
Villagio Pizzeria
6922 North 102nd Circle
402-502-4400
Villagio Pizzeria is a perfect combination of really good food, a warm relaxing atmosphere and a staff that treats their customers like family. Their menu is full of variety. Regulars know that they will never be disappointed in any of the menu choices. The restaurant has a great atmosphere; you can relax, have a glass of wine or beer, enjoy a great meal and have a conversation with your companions. The private party room is perfect for entertaining and celebrating any occasion. With a delicious menu and an outside patio that is as welcoming and charming as the inside area, Villagio is one of Omaha's best kept dining secrets.
All of these pizza places have something distinctive and delicious to offer. The Omaha metro area is lucky to have such a wide variety of pizzerias and Italian restaurants to charm the palate. Some are old favorites and some are enthusiastic new ventures, but whether you're looking for traditional Italian fare or just a place to grab a pepperoni pie and enjoy a cold beer, there's definitely a pizza for everyone. Food & Spirits Magazine's Pizza Map can guide you to the perfect slice!
---
Related Articles
Members of the Institute for Culinary Arts' culinary student organization, Omega Omega Omega periodically gather to share a meal –
Over the past three decades (since about the Carter-era energy crisis) there has been a swirling whisper in this country
Considering that the summer is nearly upon us and nothing speaks to the summer like the smell of pellets burning,
Only registered users can comment.