8 of Our Favorite Places for Brunch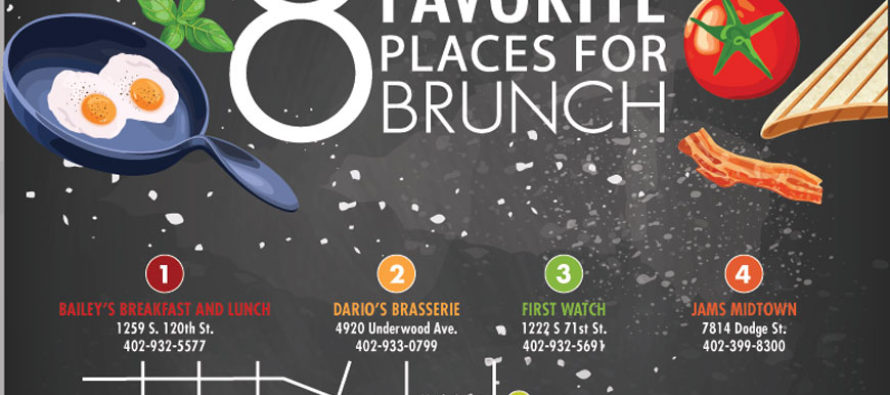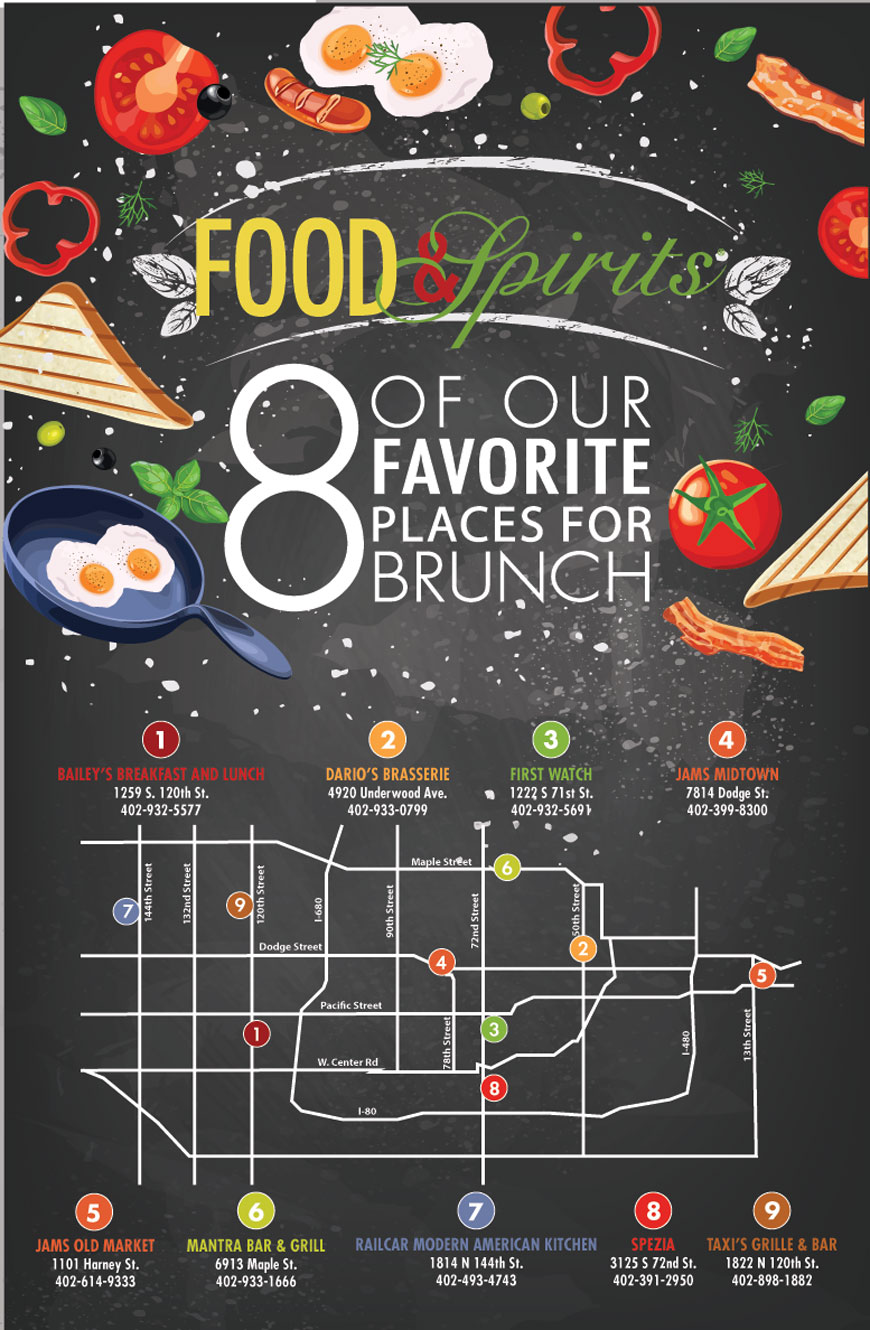 Brunch has been a trending craze in the national food scene for a while now, with bottomless brunch in NYC sprouting up, and Omaha is no exception. Our Metro area abounds with plenty of great options to enjoy a weekend brunch. Here are eight of our favorite places to satisfy your mid-meal cravings.
Bailey's Breakfast and Lunch
1259 S. 120th St. 402-932-5577
Bailey's is comfort food done with flair. For breakfast you'll find all your favorites, featuring one of Omaha's finest eggs Benedict with seven different varieties (and crepes, too), topped with hollandaise made from scratch, fresh every day. And the bacon is something special. Breakfast is served all day.
A highlight of the menu is the 'porkasaurus.' It's just ridiculous! All things pork: bacon, sausage patty and links, Canadian bacon, ham steak, plus Andouille sausage, all on a big bed of red taters with jack and cheddar cheese. Crowned with three eggs any style, a buttered biscuit and choice of toast. Served with a side of sausage gravy. Whew! Finish this dish and get a T-shirt.
And treat yourself to some of Omaha's finest salads, soups, and sandwiches, plus chicken fried steak, fresh Angus burgers, along with Bloody Marys and mimosas. When is the last time you had really good egg salad or chicken salad? You'll find it here. Open seven days a week 7 am – 2 pm.
Dario's Brasserie
4920 Underwood Ave. 402-933-0799
Dario's Brasserie focuses on traditional French & Belgian cuisine and authentic Belgian beers. Dining at Dario's gives you the feeling of being in a beautiful European brasserie with a lovely, intimate patio with a street view for people watching. The perfect spot for a quick burger, date night, celebrations, or bringing friends and family from out of town for a fantastic brunch. Dario's has a passion for honest, authentic food and friendly, attentive service.
Dario's Saturday brunch is one of Omaha's best kept secrets, featuring a one of a kind mortadella croissant, and incredible eggs benedict, their house-infused spicy Bloody Mary and, of course, all of those wonderful Belgian beers. They also offer some of their dinner staples for brunch – croque madame, mussel pots and platters, savory crepes, burgers and our amazing Belgian pommes frites.
Omaha's only brasserie is located in the heart of Omaha in the Dundee neighborhood. Dario's Brasserie is open for dinner service Tuesday – Saturday from 5 pm until 10 pm and Sunday dinner from 5 pm until 8:30 pm. Brunch is served Saturday from 11:30 am until 2 pm and Sunday from 10 am until 2 pm. Reservations are recommended.
First Watch
1222 S 71st St. 402-932-5691
At First Watch they begin each morning at the crack of dawn, slicing fresh fruits and vegetables, baking muffins and whipping up their French toast batter from scratch. Everything is made to order, and freshness is never compromised. They don't use heat lamps or deep fryers and they also use only the finest ingredients possible for the freshest taste around.
When you arrive, your welcomed with a pot – not just a cup – of their Sunrise Select Premium Blend® coffee, along with complimentary newspapers and Wi-Fi internet access. They are open seven days a week from 7:00 am until 2:30 pm, covering breakfast, brunch and lunch – they've got you covered. Fresh food is key, but so is their fresh approach to friendly, fast and accommodating service. Whatever it takes to make your visit memorable and to keep you coming back for more. Your food prepared just the way you like it – and if they can, they will.
First Watch, a daytime café, is located on the southeast corner of 72nd and Pacific. They're close to Aksarben, University of Nebraska-Omaha Pacific campus, First Data and College of St. Mary's. As their trademark says, "Yeah, it's fresh â"¢"
Jams Bar & Grill
7814 Dodge St. 402-399-8300
1101 Harney St. 402-614-9333
Jams, an Omaha restaurant legacy, is an American grill that offers a melting pot of different styles and varieties of food dishes containing high-quality ingredients paired with the optional cold drink or creative cocktail. Opened on 78th and Dodge, twenty-five years ago, it has become a favorite local eatery. In 2015, a second location was opened on the corner of 11th and Harney in the Old Market of Omaha offering the same fine menu but with the addition of a lovely outdoor patio on the east side.
Jams offers an excellent happy hour from 3 pm until 6 pm and after 9 pm at both locations with drink and appetizers specials. Jams also offers a Saturday farmers market brunch from 9 am until 2 pm at the Old Market location and Sunday brunch at both locations from 10 am to 1 pm.
Seasonal food menus offer the best their chefs have to offer and pairings with their wine offerings abound. You can't go wrong with either location. Reservations available through Open Table. They can be found on Facebook, Instagram and Twitter, or at jamseats.com.
Mantra Bar & Grill
6913 Maple St. 402-933-1666
Located in an upscale and urban environment (also known as Benson), Mantra offers up one of the top brunches in Omaha. Along with various versions of eggs Benedict, they also provide a variety of other spectacular brunch dishes including a berry salad, waffles (with sugared pecans, caramel and whipped crème, among other combinations), a prosciutto omelet and a crepe special.
The fun doesn't stop there though. Mantra has some of the best brunch drink specials to be found in the area. Bottomless mimosas (classic, along with blood orange and mango versions) and house-infused veggie vodka Bloody Marys are just a few of their specialties. For dog lovers, Mantra also provides an outdoor, dog-friendly patio.
Mantra serves brunch from 10 am until 2 pm on Saturdays and on Sundays from 9 am until 2 pm. An all-day menu is served after 2 pm until close on the weekends. During the week, they are open for lunch from Tuesday through Friday from 11 am until 2 pm and dinner is available Monday through Friday from 4:30 pm until close.
Railcar Modern American Kitchen
1814 N 144th St. 402-493-4743
Railcar does brunch every Saturday from 9:30 am until 1 pm and on Sunday from 9:30 am until 2 pm. Their menu boasts all made from scratch breakfast and lunch choices made fresh every time.
If you're in the mood for something sweet, their homemade lemon ricotta pancakes will hit the spot and are topped with fresh whip cream, raspberries and maple syrup. If something savory is more to your liking, their 'pig three-ways frittata' will hit the spot; house made country sausage, slab bacon, smoked ham and white cheddar all baked with free range eggs and smothered in homemade made country gravy. In the mood for both sweet and savory on the same plate? Go out on a limb and try their 'no hole waffle and fried chicken;' the made from scratch waffle is cooked to perfection and served with fried chicken, fried free range eggs, bourbon glaze and homemade country gravy right over the top.
Another bonus is their unlimited Bloody Marys and mimosas – they're truly delicious. Stop out in your pajamas or Sunday best and see what makes them different.
Spezia
3125 S 72nd St. 402-391-2950
An atmospheric Italian dining experience, rich with ambiance and romantic charm, Spezia calls you back again and again. Rendezvous with them for a delightful early afternoon brunch buffet offered every Sunday from 11 am to 2 pm with seemingly endless culinary options. Breakfast items including Parmesan prosciutto hash browns, baked quiche, breakfast flatbread or a golden malted mini waffle station fully stocked with warm golden syrup and an array of tasty toppings. Spezia also offers lunch buffet selections like delicious wood fire pot roast, French Acadian chicken pasta or build your own bruschetta, just to name a few.
At Spezia, the wait staff takes pride in delivering excellent and professional service. So treat yourself to a service experience with fresh baked muffins, caramel pecan cinnamon rolls, side salad tossed to order, warm bread service and their famous tomato basil soup served right to your table. Don't forget to take advantage of their enticing cocktail specials exclusively offered during Sunday brunch, such as bottomless mimosas and Bloody Marys. At $20.95 per person, enjoy a tour of our full-service Sunday brunch buffet – perfect for friends and the family.
Taxi's Grille & Bar
1822 N 120th St. 402-898-1882
Nestled in a contemporary and casual setting, while still feeling upscale, Taxi's has long provided one of the best brunches in town, and has racked up the awards to prove it. Taxi's focuses on providing sophisticated dining in a relaxed neighborhood environment. With offerings ranging from gourmet signature salads to fine steaks and seafood, Taxi's is designed to accommodate any occasion.
Mac Thompson and the late Bill Johnette were among the first to bring Sunday brunch to Omaha. Today, Taxi's continues to honor that tradition with many dishes dating back to the Neon Goose. Along with multiple signature benedicts and omelets, Taxi's offers Omaha's favorite Grand Marnier dipped French toast. Specialty mimosas and Bloody Marys are also available from their bar.
Taxi's is open on Saturday from 11 am – 2 pm and 5 pm – close, and on Sundays from 10 am – 2 pm. During the week they are open from Tuesday through Friday 11 am – 2:30 pm and 5 pm – 11 pm.
---
Related Articles
It's about to be summertime, which means grilling and drinks with friends and family outside on sunny days. We'll be
In honor of the Great Omaha Chocolate Festival coming up on September 30th, I've decided to tell y'all a little
Korean food was designed for bringing together friends and family. I lived in Korea for two years as an English
Only registered users can comment.