A "Pizza" Omaha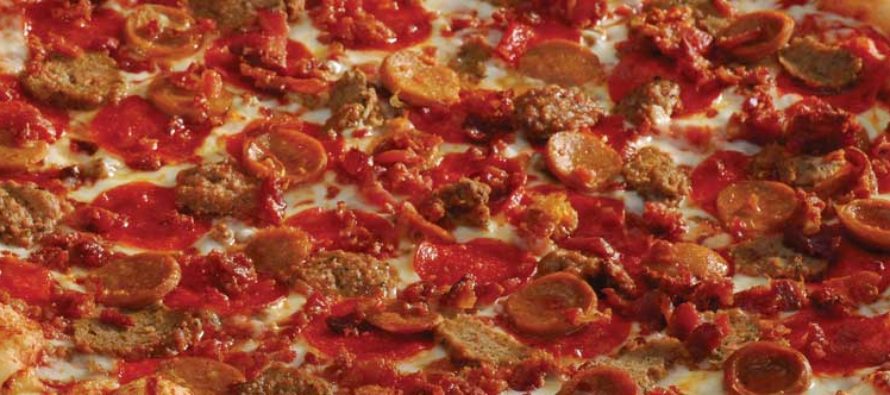 The Omaha pizza scene is an ever-changing carousel of wonderment. Some restaurants are like long-lost friends that remind visitors of eating there since childhood. Others are brand new, bringing pizza unlike any that Omaha has seen before. All pizza is good pizza, and because of this, we comprised a list of 15 pizzerias in Omaha that should meet all your pie cravings.
Dante Ristorante Pizzeria
After studying at The Italian Culinary institute in the Piedmont region of Italy and working at esteemed restaurants, owner Nick Strawhecker opened Dante in 2009. Specializing in authentic, wood-fired Neapolitan pizza, the restaurant uses local ingredients to guarantee an authentic Italian experience. This drive for the best of the best can be seen by the oven's certification by the Associazone Vera Pizza Napoletana, an international organization whose goal is to cultivate the art that is Neapolitan Pizza.
Frank's Pizzeria
Home to the 30″ Big Joe Pizza Challenge, where two guests have one hour to eat a 12-pound pizza loaded with meaty toppings, Frank's Pizzeria has been open since September 2003. The star of the restaurant is the New York pizza, though it could be argued that the scene-stealer is the meatballs, they're founder Joe D'Elia's grandmother's recipe, or the traditional Italian cannoli. In addition, City Style and Living Magazine named the restaurant one of the 35 reasons you should visit Nebraska. Could there be more reasons to visit?
Johnny Sortino's Pizza
Beginning as a fruit and vegetable market in 1965, Sheri Taylor's father, Johnny, wouldn't have predicted the business would take off once they switched to slinging pies a few years later. Johnny Sortino's prides itself on the quantity and quality of the pizza toppings, pasta dishes and homemade onion rings to maintain the standard that Johnny started. Nothing is frozen or pre-made, with everything made to order from scratch. Try out the famous Hockey Players Special with sausage, mushrooms, pepperoni and extra cheese, a special that has become popular with fans and players from the UNO Mavericks, Omaha Knights and Lancers hockey teams.
La Casa Pizzeria
You know a restaurant is destined for success when it runs out of food halfway through the first night of it being opened. Founded by a pair of married Sicilian immigrants, Joe and Sebastiana Patane, in 1953, La Casa was the first dedicated pizzeria in Omaha. The business has moved from generation to generation since then, and added a food truck that serves up pizza-by-the-slice and sandwiches. The company uses a Promotional Branded Food Truck to entice customers and it seems to be working! Key products are packaged for grocery stores, and pizzas may be shipped across the contiguous United States. In 2015 La Casa was inducted into the Pizza Hall of Fame, which celebrates the oldest and most established pizza restaurants in the country.
Mangia Italiana
Private schools don't come cheap, so Tony and Dana Constantino began a pizza food truck business in 2003 to fund their children's private education. The recipes for the pizzas had been in Tony's family for decades, adding only slight modifications to accommodate large batches. What began as a food truck now is now a full-fledged restaurant and a long-term career for the Constantinos, thanks to many of the ingredients being prepared from scratch daily. The menu features hearty sandwiches, fresh fish, scrumptious soups and house-made pasta alongside the pizza.
Noli's Pizzeria
It could be argued that no pizzeria in Omaha desires to bring the New York slice to the Midwest more than Noli's does. As any good New Yorker knows, the secret to good New York pizza is in the water, and more specifically, the chemicals in the water. Noli's partnered with an Omaha filtration company to create a filter for their water to get it as close to New York water as possible. Add locally-sourced seasonal ingredients, and cook it in an oven that uses both gas and wood, and you get a perfect pizza slice to fold. It may very well be these secrets that have spurred the growth of the only two-year-old restaurant: The pizzeria just moved into the old Black Squirrel tattoo location last fall, just a few doors down from the original location.
Orsi's Italian Bakery & Pizzeria
Founded by World War I Veteran, Alfonso Orsi in 1919, Orsi's Bakery & Pizzeria is a staple of Little Italy. So much so that when a fire completely gutted the restaurant in 1997, the community came together to help pick up and rebuild in the same location. With no permanent seating aside from a few benches, Orsi's specialty is serving their thick rectangular pizzas to-go. Old photographs line the walls of generations, and an Italian deli serving only the finest meats sits across the aisle from a market of imported goods that may be hard to find elsewhere.
Pitch Pizzeria
The coal-fired pizzeria was named one of the "Top 100 Hot Spot Restaurants in America" by OpenTable in 2014. Pitch is the brainchild of Willy Theisen, an Omaha restaurateur. Since opening in Dundee in 2009, the concept has expanded to a second location in Omaha, and one set to open in Scottsdale, Arizona this coming fall. In addition to pizza, the dinner menu boasts coal-fired burgers, hand-rolled meatballs, pasta and a selection of entrees, such as the candied walnut encrusted salad.
Pizza Pie Guys
Beginning with two mobile pizza ovens, two generators and a rented U-Haul, Dan Reid had his work cut out for him when he began the Pizza Pie Guys. He began catering events using a "build-your-own" pizza concept. Now, instead of build-your-own, the pizzeria offers more unique pizzas such as the green chili enchilada pizza, with green chili, rotisserie chicken, pepperjack cheese, cilantro and sour cream. But Reid hasn't stopped with just a pizzeria; the concept still caters events and now includes the Flapjack Guys, which specialize in pancakes, and the Grill Guys, who specialize in hot dogs and hamburgers.
Sam & Louie's
Starting as a family-run pizzeria, Sam & Louie's has been bringing thin crust New York-style pizzas since 1994. With over 35 toppings to choose from, it's no secret that this restaurant keeps growing and opening more locations year after year. The company began franchising in 2000, and now offers calzones, salads pastas and hoagies alongside the famous pizza.
Varsity Sports Cafe & Roman Coin Pizza
Hand tossed or deep dish? Whichever style of pizza is preferred, Varsity Sports Cafe & Roman Coin Pizza has it for you! Try out the Chicago Delight deep dish, stuffed with sausage, beef, pepperoni, onions, mushrooms, black olives and green peppers. Wraps, salads, subs and burgers can be found on the menu, additionally, all with the freshest ingredients. With four locations now in the Omaha metro: Dundee, Ralston, Bellevue and Millard, this restaurant has grown over the 22 years of being in business.
Via Farina
Located just south of the Old Market, this collaboration between local industry entrepreneurs Ethan Bondelid and Paul Kulik is producing wood-fired pizzas out of a large, orange-tiled oven. They have put their own stamp on pizza with the "fritti", a fried pizza topped with pancetta, mozzarella, olives, tomato and arugula. Pastas, sauces and appetizers are available in addition, all adorned with locally-sourced ingredients.
Villagio Pizzeria
On Tuesdays at Villagio, kids ten and under eat free with the purchase of an adult entree. Reopening in March 2013 in Cherry Hills Village after being purchased by a local family, Tim and Deb Stuart, the restaurant is using a combination of recipes from the previous owners, with favorites from the family cookbook. Customers are the number one priority at Villagio's and they aim to provide great food, service and a relaxed family-friendly atmosphere.
Virtuoso Pizzeria
Located where Benson's famed pizza joint, the Pizza Shoppe Collective, was located, Virtuoso is currently serving up New York-style pies for lunch and dinner. Run by certified "pizzaioli" David Lasole, the restaurant opened in May and features a "Quick Slice" window, where passersby can grab a slice while on-the-go.
Zio's Pizza
Boasting three large locations since opening in 1985 with the original 50-seat store, Zio's continues to impress newcomers and regulars alike with its New York-style pizza and calzones. The chain came under new ownership last year, after being purchased by Omaha-native Steve Johnson. Johnson insists that the iconic menu will not change, but hopes to expand the chain across the Omaha metro and Lincoln in the future.
---
Related Articles
Some say you are what you eat. That's fine, I get it: if you eat carrots, you feel good. If
Food is a divine pleasure in life, to be hedonistically consumed without regard to its previous state of existence, allowing
From childhood, learning to ride a bicycle with training wheels in the driveway, parallel parking with pops in an empty
Only registered users can comment.