Bartender Portrait: Phoe Mess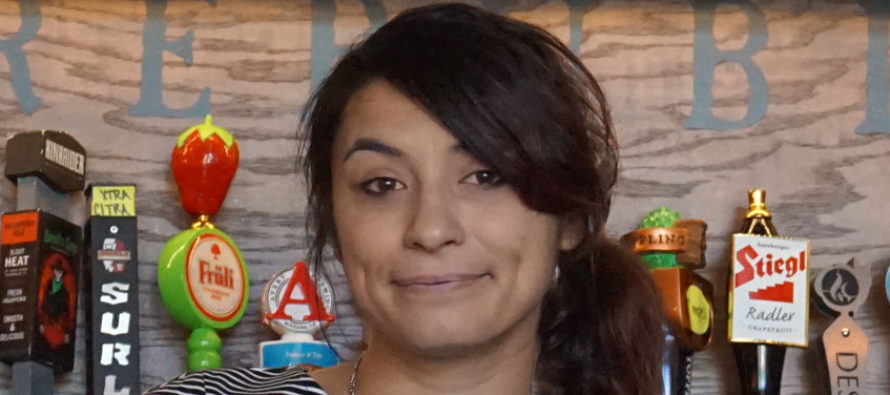 I sat down with Phoe Mess for this issue's bartender portrait. Phoe and I have a known each other for over 10 years. We've mostly gotten to know each other as customers at some our favorite local bars, but she also been my bartender more times than I can remember (literally). She can serve up a great cocktail and pour an infinite amount of shots superbly, but her 'barside' manner also really stands out.
Food & Spirits Magazine: Where do you work and how long have you worked there?
Phoe: Cask Republic in Dundee. Since October 2016.
FSM: How long have you been bartending and what are some of the past places you bartended at?
Phoe: A little over ten years. In Omaha, 1912, Espana, Darios; one of my favorite places was Matthews Market in San Marco, Jacksonville, Florida. It was a gourmet market also, so as a personal shopping assistant, we'd basically get a little toasty on wine and buy pounds of purple carrots together.
FSM: When did you know you wanted to be behind the bar?
Phoe: Ever since I was a little kid. I didn't know what the people were doing back there but I knew I liked that they gave me plastic swords covered in cherries.
FSM: Have you had any people along the way who have helped you be the bartender you are today?
Phoe: Absolutely, you have to. The entire skill set is based just like any other, you are a sum of your experience. Shoutout to Nick O'Connor, Alex Jochim, & Ian Ranne.
FSM: Where do you find inspiration?
Phoe: Through my travels, definitely, and interestingly enough, at times, social media.
FSM: What is the best part of your job? And the worst?
Phoe: The immersion of yourself into not just your community, but into the culture of humanity itself. The worst? See above.
FSM: Do you think bartending will be any different in 20 years?
Phoe: Oh my God, I hope not! I feel like we're talking about robots here. Unless we get our AI game on lock I'd like to think the career has a bit more stability due to the idea that bars, pubs, and watering holes are a time-honored tradition where people go because we like talking to real people… more than a robot, maybe? There will, in my opinion, always be an evolution of the culture but the integrity will always remain.
FSM: What makes a good bartender?
Phoe: Someone who is always striving to be better than the shift before. Someone who has great empathy but also takes no $#*T.
FSM: What is your favorite drink to make?
Phoe: Shots. Okay, just kidding, probably a New York Sour.
FSM: What do you drink?
Phoe: I've never met a drink I didn't like. It varies depending on so many things, the weather, my mood, who my bartender is.
FSM: What's something you wished people knew about being a bartender?
Phoe: This isn't a fallback, 'things didn't work out for me', kind of job. I'd say most of us love what we do and have always wanted to do it.
FSM: Describe the perfect cocktail?
Phoe: The half drank bottle of wine found at home that morning that was left behind before going out on that summer nights adventure. Okay, a New York Sour. The wide library of whiskey plus the endless types of sour mix combinations, as well as a drink that shows the versatility of wine? That's a deal in my book.
FSM: What do you think some of the current trends are with bartending?
Phoe: Classic cocktails with modern twists. For instance, foam – substituting aqua faba for egg whites, now your cocktail is vegetarian and not potentially loaded with bacteria.
FSM: Where in Omaha are some of your favorite places to go out for drinks?
Phoe: I really like the Down Under Lounge, usually I can find a lot of innovative cocktails using new products on the market and the staff is super nice.
---
Related Articles
Ask any woman what her favorite cocktail is, and chances are she'll say the Cosmo. A Cosmopolitan is a delicious
Social media outlets and pop culture trends are creating a new breed of consumer that is more product-educated and less
If you offered to pour me a glass of one of my favorite wines, or instead to pour me a
Only registered users can comment.