Little Wine Lies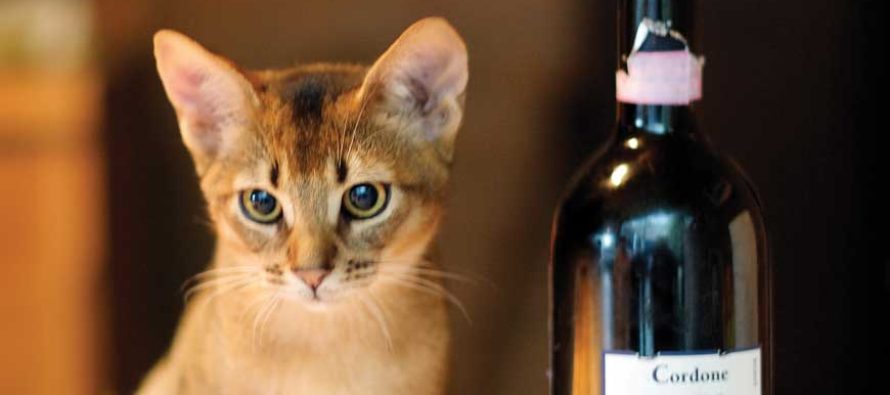 For the most part the business of wine is an honest one, albeit not perfect. Over the course of its two thousand year history there has been a smattering of documented crimes. For example, there is the phony bottle of 1787 wine, allegedly once owned by Thomas Jefferson, purchased in 1985 by one of the Koch brothers. Lawsuits followed. In 2008 Italy was hit by scandal when it was discovered that producers in Montalcino were 'enhancing' large quantities of their pure Sangiovese wines with other inferior grape types. Oops. Busted. Speaking of Italy, there was the massive recall of their wine in 1986 due to the addition of methanol. (The fact that the ingestion of such adjunct might actually kill you didn't seem to faze the perpetrators.) I was involved with the recall. It was not fun. More recently there was the epic sale of millions of dollars of phony rare wines by a sir Rudy Kurniawan. His deft use of an exacto knife, copy machine, and Elmer's Glue was all that was needed to produce counterfeit Bordeaux in his basement. He is now in prison.
The wonderful world of wine is not so squeaky clean. But when you've been in business since the time of Noah's Ark one has to expect a few rotten vines.
My concern here is not with the criminal element, but rather the non-criminal deceptions that many average wine buyers may believe. No one will go to jail for these misconceptions. If anyone did, it would be the consumer for buying into such lies. Let's straighten some of these out.
The Vineyards – Have you ever driven through wine country or perused pictures in brochures or magazines of beautiful vines? News flash: The lushest, green, dense, over grown vineyards do not produce the best grapes. They likely produce mostly pedestrian, non-descript, everyday cheapo bulk wines. Now, take a peek at those sickly looking acres of rocky soiled, stumpy, craggy vines with scarcely few leaves and minimal grape clusters hanging from. They may look sick, but that is the good stuff. Herein lies a concept referred to as "vine stress". Growing grapes is kind of like raising kids. Make 'em struggle a bit. Make 'em work for it. They will dig deeper. Later, after they have strained and persevered, they will turn out beautifully. Guaranteed.
Color – Deeper color does not indicate richer, better wine. That's just silly. The optimal color of a particular wine depends largely on the grape type. Red burgundy (pinot noir) and Beaujolais will almost always be paler in color than cabernet or zinfandel. A big oaky chardonnay will likely be much more yellow ('yellower' isn't a word, is it?) than a terrific sauvignon blanc. Different grape types have different coloration. Do not judge a book by its cover. And do not judge a wine by its color.
Wine labels – Speaking of judging a book by its cover….Pretty, modern, creative, artistic labels do not automatically mean the wine inside is better. It's all window dressing. Some, if not most of the great wines on planet earth possess very plain, outdated-looking labels. Look at traditional French, Spanish and Italian bottles and you will see what I mean. For some odd reason, America went through a good half dozen or so years of labeling new, trendy wines with bizarre animal names. I have no idea what animals have to do with wine. But it worked. Truckloads of this nondescript drivel were sold. And that blew me away. At a bare minimum a wine label should say something about the contents, such as the region it was produced or at least the name of the winery. "Skinny Giraffe Riesling' and "Monkey Junk Cabernet" do nothing of the sort. (These brand names were changed to protect the innocent animals). If wine labels were to use living creatures as names, we should have used humans. At least this would have indicated a little something about the wine inside the bottle. "Tom Selleck Syrah" would obviously be rustic, sturdy, and certainly not wimpy. I would buy it. "Kardashian Merlot" would likely be full bodied, but overpriced and overrated. Pass. In a related wine, "Kanye Chardonnay" would simply be an empty bottle. Bottom line, pretty jazzy stylish artsy packaging is absolutely no indication of the juice inside, especially if it's a zoo animal.
Price – I get it, you're bringing wine to a dinner party. You want something good. But spending $40 instead of $20 or $30 does not guarantee you a better wine. Within a particular wine brand, the higher priced cabernet absolutely should be better than that same winery's cabernet at half the cost. But such a price comparison between two or three different wineries is not an absolute contest of cost. Do some homework, use your own palate, and enlist the knowledge of your local wine shop. Tell them you want "something very good, for special friends". They may have something at far less cost. Or they may show you a killer wine for a mere $5 more. Get it? We're not buying lottery tickets here, hoping we get a winner. We want a terrific wine, within a reasonable price range. Now go find it.
Flavor descriptions – I tip my hat to the wine writers on this one. Their level of creative absurdity is off the charts. A quintessential description of sauvignon blanc is often described as having aromas of "cat's pee on a gooseberry bush". No, I'm not kidding. World class cabernet can possess notes of "tar, tobacco, slate, and old leather". Yeah, drink that. Wine with "scent of wet wool" makes you want to run out and buy a case, doesn't it? And did you know that "graphite" could be experienced in liquid form? How 'bout "camphor"… I mean, what's that? What's disheartening about these bizarre descriptions is that we, as consumers, often feel as if our palates are not developed or matured if we can't pick out such taste components. Don't buy into it. This is wine's version of the emperor's new clothes. I mean, think about it. Do you believe that these geeks have ever really tasted graphite, tar, or the gooseberry bush thing? Yuck.
You know wine. You love wine. Trust your palate. Do not hesitate to enlist tips from publications, trusted friends and wine shops. But take such recommendations with a grain of salt, or maybe an entire shaker. That rare $40 bottle of Screaming Turkey Zinfandel with 'barnyard notes of damp newspaper and mud' may taste like, well…just that. Not that I would know.

John Finocchiaro
John Finocchiaro is a former co-owner of Johnson Brothers Finocchiaro, LLC, a Nebraska wholesale wine, spirits, and beer distributor. Formerly the owner of Finocchiaro Wine Co., Inc., John has been in the wine distribution business for the past 25 years and the Finocchiaro family's association with the Nebraska wine industry has been continuous for the past 73 years, since 1935. John was a Certified Public Accountant before entering the family business and is a Certified Specialist of Wine.
---
Related Articles
"God is going to get you." That is just one of the crazy remarks I have received from customers at
Imagine creating an appeal to a global company whose business plan is, metaphorically, carved in stone. Picture the change is
Soon we will be in the last gasps of the hot and humid summer, a time I loathe – mainly
Only registered users can comment.