Harnessing the Harvest: A Spring & Summer Infusion Guide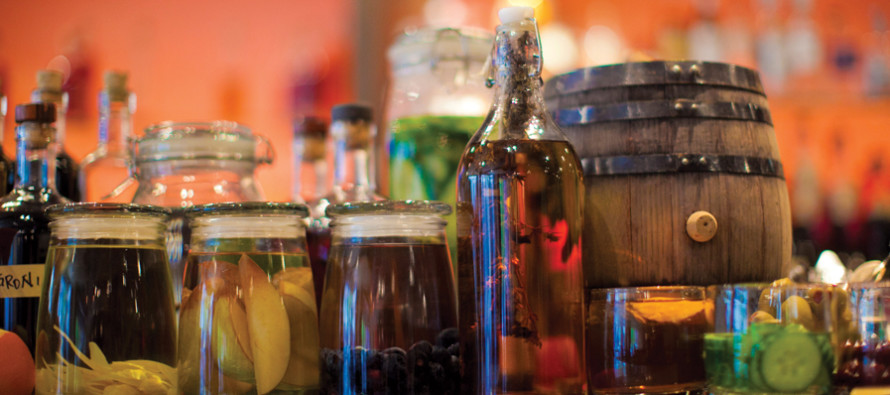 After months of plodding and dawdling, spring has finally arrived. For most, this signifies the end of wintertime doldrums or a fresh start with some new endeavor. The most sacred moment of the green season comes with those tenderest of shoots clamoring up from the black earth, a tip-off to the bounty of fine fruits and vegetables to come with warmer weather. While the variety of green food available can be astounding, availability fluctuates with the season. So how does one capture the best flavors spring and summer have to offer?
I thought the answer was obvious. Alcohol, of course.
The simplest means are to incorporate whatever delicious herb or vegetable one seeks to enjoy into a cocktail or punch. Throw some fresh mint in that mojito, muddle some sliced cucumber in that Hendricks and tonic. Keep it simple, stupid.
Then again, some of the more delicate and complicated flavors in the edible world do not lend themselves well to a one-note application. Certain herbs play better with others. In keeping with simple tradition, the most effective method happens to be the easiest: by infusing a spirit base with fresh plant material, one can preserve a long-lasting souvenir of the harvest with minimal effort.
| Infusion | a spirit that has been imparted with a particular flavor, through extended permeation of certain fruits, herbs or spices.
There are a million and one applications for these infusions. The flavor combinations are highly customizable, and easily altered. If an infusion doesn't have quite enough of the desired flavor, re-infuse it with fresh materials. If an infusion lacks certain panache, try adding another element. If an infusion is too strong, cut it with more of the base spirit. Infusions are difficult to screw up – the key is using fresh, organic produce and a decent base spirit.
A note on base spirits: alcohol strips plant material of the chemical constituents that make up its color, flavor and aroma, and a higher-proof alcohol will absorb more of these compounds. Cheap alcohol contains impurities, caramel colors and other unnatural additives and should be avoided. Top shelf liquor is not a requirement, but finding a spirit with a good reputation and high-quality flavor will only serve to improve your infusions and subsequent imbibing experiences.
When possible, I recommend seeking out local and regional "micro-distilleries" – generally, a smaller operation means increased transparency in business practices, and support of the craft distillery encourages diversity in a business dominated by conglomerates and international buy-outs. Not all small distilleries produce great product, but there are some fine spirits available in the Midwest to work perfectly for the purposes described below.
Now, on to the fun part: building a flavor profile. When creating a new infusion, I tend to build the profile with three elements: a fresh fruit or vegetable, a fresh herb, and a third part consisting of dried herb, dried flower or citrus. One can certainly add more or less to the infusion, but this formula finds middle ground between simplistic and overcomplicated. Think of it as three-part harmony – the vegetable holds down that sexy bass line, the fresh herb sings out like a warm tenor, and the dried herb or citrus harmonizes in a smooth falsetto above. Adding the right spirit base will round out that flavor profile into a regular barbershop quartet.
Basic Infusion Recipe: makes approximately 750mL infused spirit
750mL base spirit
2 cups fresh fruit or vegetable
1 cup fresh herb
½ cup dried herb
Prepare plant material by washing, removing any debris, skin, etc. Place plant material in a glass container large enough to accommodate ingredients. Cover material with base spirit; seal opening. Store for one week out of direct sunlight, tasting every other day until desired flavor is achieved. Strain liquid into a clean, sealed container and discard plant material.
At a loss for ideas? Try a few of these seasonal combinations.
Sweet Basil | Serviceberry | Citrus in a neutral spirit base
Known by a myriad of colloquial names – shadbush, Saskatoon berry, Juneberry – the serviceberry bush grows vigorously throughout Canada and the northern United States. For a short period in late spring, it yields a delectable fruit, looking and tasting similar to a blueberry. Pair this native wonder with young sweet basil and dried lemon rind in a neutral spirit base to highlight the berry's unique flavor. Mississippi River Distilling Company (Le Claire, IA) produces a corn-based spirit called River Baron – its mild, sweet profile makes it a perfect complement.
Note: if you miss the serviceberry harvest, substitute blueberries to similar effect.
Dill | Cucumber | Pickling Spice in a vodka base
Fennel | Citrus | Vanilla Bean in a millet whiskey base
Fennel possesses that distinct aniseed flavor – the bulb and aerial plant parts sharing a milder taste than the seeds. Both fennel and anise contain anethole, a chemical compound responsible for both the liquorice taste and medicinal effect of those herbs. To make a fennel-infused spirit, I recommend millet whiskey. The sweetness of fennel and fresh vanilla bean interplay with the sweet vanilla notes already present in the oak-aged spirit, while dried orange and lemon rinds complement its fruit and cereal notes. Koval Distillery (Chicago, IL) manufactures an 80-proof 100% millet whiskey. Bonus: this spirit is certified organic and gluten-free.
Ultimately, a fennel-citrus infusion would be ideal in late winter or very early spring, for two reasons: Meyer lemon and blood orange. Their complex fragrant flavors really round out the combination of sweet fennel, citrus and grain.
Lavender | Grapefruit | Coriander in a gin base
Cilantro | Pineapple | Hot Pepper in a mezcal base
The sultry older sister of tequila, mezcal's subtle smokiness makes it a perfect canvas for the sweet-hot combination of fresh pineapple and hot peppers. The level of heat depends entirely on preference – dried peppers tend to play up the smoke in the spirit, while fresh peppers tend to become more dominant within the flavor balance. Use ancho or jalapeño types for less heat, or go bold with the hotter Carib varieties like habanero and scotch bonnet. Cilantro adds its typical je ne sais quoi to the mix – use sparingly.
Mint | Peach | Gingerroot in a bourbon whiskey base
Sage | Sour Cherry | Caraway Seed in a white whiskey base
Rose Petal | Vanilla Bean | Raw Honey in a single malt whiskey base
Some classic spirits have effectively bottled the ephemeral, unique character of flowers — elderflower liqueur St. Germain chief among them – but capturing the classic essence of summer roses can be easily achieved at home. Come June, most roses will be in bloom – seek tea, bourbon and damask types for their intense fragrance. (Never harvest petals from a plant that has been treated or sprayed with chemical pesticides.) Traditionally brandy is the alcohol base of choice in a rose cordial, but a clean, single malt whiskey like Cut Spike (LaVista, NE) will elevate this infusion from grandmotherly to elegant. Finish the infusion with fresh split vanilla bean and sweeten with locally sourced raw honey for an old-fashioned, heartwarming liqueur.
| Local & Regional Distilleries: Recommended Products |
Cut Spike Distillery (LaVista, NE): Single Malt Whiskey, Vodka
Mississippi River Distilling Company (Le Claire, IA): River Baron corn Spirit, River Rose Gin
Koval Distillery (Chicago, IL): Bourbon Whiskey, Millet Whiskey, Oat Whiskey
Death's Door Distillery (Middleton, WI): Gin, White Whiskey

Mallory Finch
Mallory Finch is an entrepreneur with an ardent interest in the intersection of food and spirits. Born and raised in the Midwest, Mallory constantly seeks to broaden her knowledge of native edibles and herbs through self-education and discovery. In 2013, she co-founded Black Iris Botanicals, an herbal body care and cosmetics venture which focuses on local and natural sources.
---
---
Related Articles
Following along the lines of last issue's Publisher's Pick, picking the place that I hear the most about during the
Well, I have decided to write about Kickapoo Joy Juice, and I'm already regretting it. Sentence one, and I have
In most cases, a red herring is a clue left at a scene; a distraction meant to mislead others from
Only registered users can comment.