Our Favorite Patios in Omaha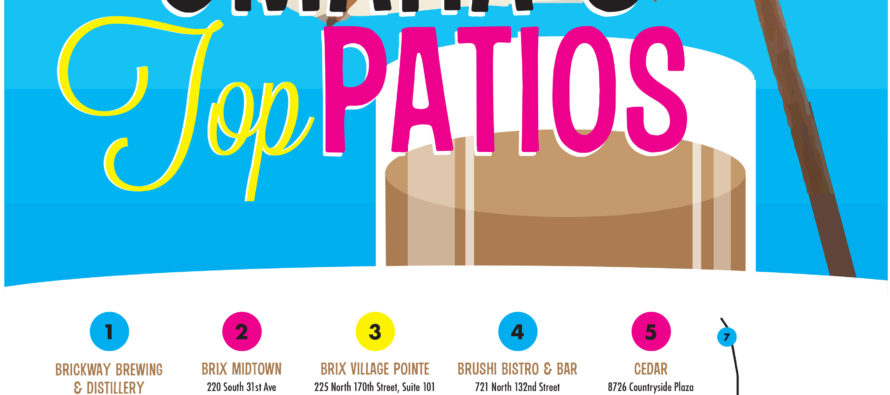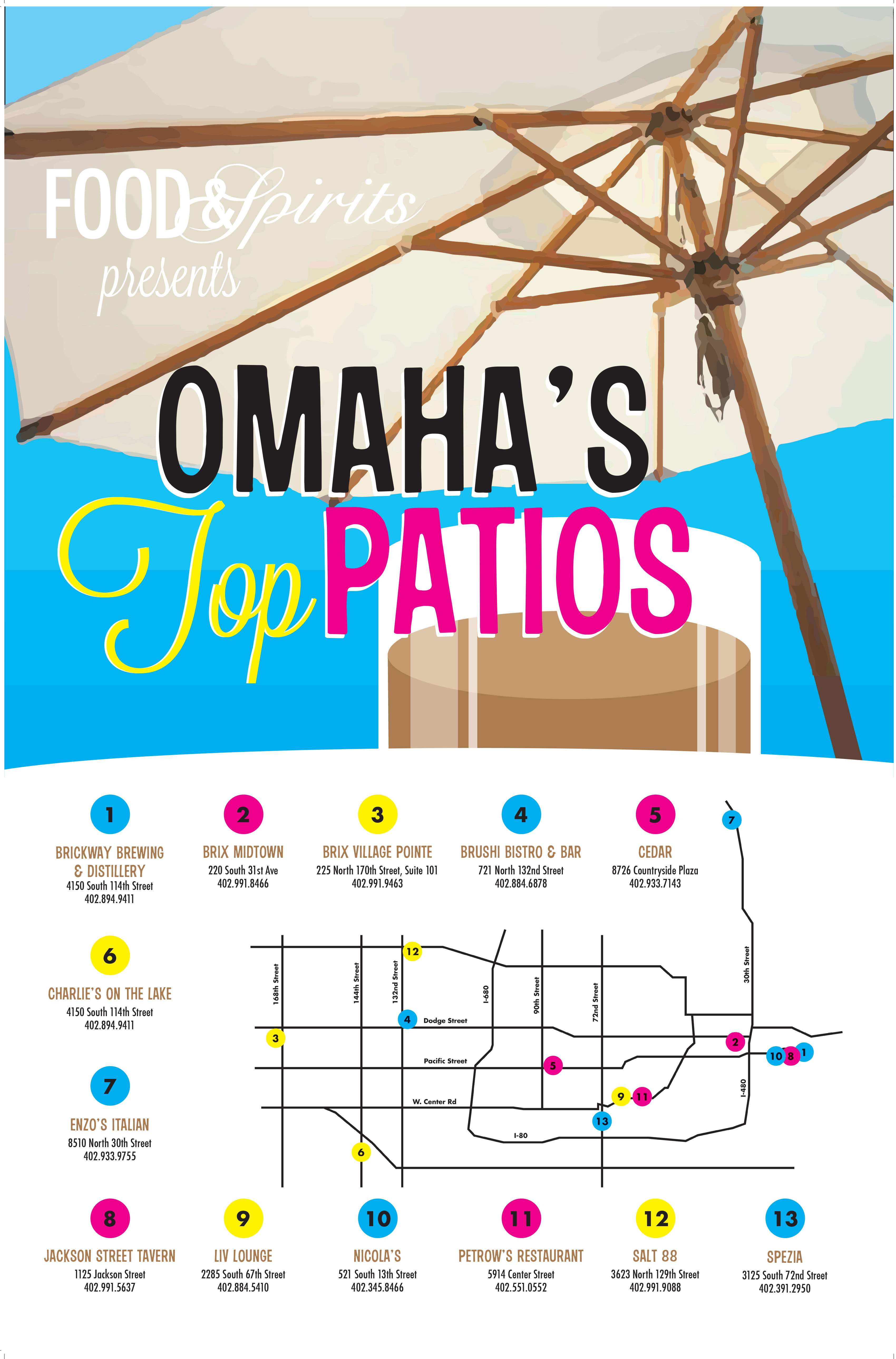 With the break in the cold temperatures and spring making its appearance, patio season is now in full effect. The ability to enjoy beers and cocktails on an ideal 4 seater patio set is once again, ours for the taking. With that in mind, Food & Spirits Magazine has compiled a list of some of our favorite patios to be found in the Omaha Metro. Make sure to check out the accompanying map to find the best patio near you! If you're looking to build a patio of your own, you need to make sure you get yourself the right flagstone that can deal with all sorts of weather. You may just think "stone is stone" but there's more to it than that, so having expert advice from those that have been in the industry for years can prove vital and save you paying double if things don't go to plan. If you're not 100% confident in going through the process yourself, but still want a patio creating for you on your land, is call a hardscaping contractor who will look after the whole project from start to finish, so check out this inspo for some ideas.
Brickway Brewery & Distillery
1116 Jackson St, Omaha, NE 68102
402-933-2613
Brickway, located in the Old Market, has one of the best patios in the area with the south facing deck insuring sun all throughout the day and 1st Rate Summerhouses to make the most of golden hour views. Daily happy hour drink specials are available throughout the week and all day Sunday with $5 Bloody Mary's and $4 pilsners. Starting on May 2nd, Brickway opens at noon Monday through Fridays and 11 a.m. on the weekend. Brickway offers a massive selection of local brews and spirits with over 20 Brickway beers as well as at least four of their own spirits including their American Single Malt Whisky.
Brix Midtown
220 S. 31st Avenue #3103
402-991-8466
Visit Brix at Midtown Crossing to experience one of Omaha's largest patios. With seating for up to 150 people, high and low-top tables, and the incredible view of Turner Park or the "city feel" of Farnam Street, you may want to stay all summer long! If the evenings get a little chilly, their three fire pits with cushioned soft seating will be sure to warm you up. Their patio is the perfect venue to sip on an ice-cold beer, enjoy a great glass of wine or refreshing cocktail – all while savoring a juicy Brix Burger, Avocado Crab Tower, or Chicken Club. Patio seating is in high demand during Jazz on the Green and other live music events at Turner Park, so call to book your reservations.
Brix Village Point
225 North 170th Street, Suite 101
402-991-9463
The Brix Village Pointe patio is the perfect place to enjoy spring, summer and fall with friends, family, and business associates. With seating for up to 50 people, you are surrounded by a casual and inviting atmosphere, and just steps away from Main Street at Village Pointe – Omaha's premier shopping experience. Enjoy your favorite glass of wine with our innovative wine dispensing technology, a refreshing beer, or a house-made craft cocktail, all while taking in the open air of west Omaha. And in case of rain, they've got you covered – literally. Their covered patio will keep you dry from the rain, protected from the sun, and warm and toasty on the cooler nights with our ceiling space heaters. Brix at Village Pointe is your go-to patio in west Omaha.
Brushi Bistro & Bar
721 N 132nd St.
402-884-6878
While lounging in Brushi's incredible patio make sure to order some food with your drink. Brushi's daily happy hour is from 4-6 p.m. where they offer cocktail, wine and beer specials as well as appetizers that include pulled pork sliders with citrus barbeque sauce, or beef carpaccio with mustard aioli. Full lunch or dinner complete with chocolate mousse cake or fresh rhubarb strawberry tart is also available. "I want people to come in, sit at the bar or on our patio, and try it," chef and owner Paul Braunschweiler said. "I think they'll really like it." For those who were regulars at Prima 140, they'll be happy to know that their favorites are still available at Brushi. In fact, Braunschweiler keeps a Prima 140 menu on hand so customers can refer to it.
Cedar Omaha
8726 Countryside Plaza
402-933-7143
Newly opened Cedar will soon be adding a patio to their location in Countryside Village. Featuring wrought-iron railings and piped in music, Cedar's patio will be a prime destination for midtown denizens throughout the spring, summer and fall months. Cedar's impressive drink menu, focusing on craft beers, wines and classic cocktails will be available in its entirety. Look for this up and coming patio to open in May.
Charlie's On the Lake
4150 S 144th St.
402-894-9411
Charlie's on the Lake, open since 1995 under the same management and ownership, provides and extensive list of appetizers and dozens of martini selections. It's also been voted best of Omaha in seafood, martinis, patio, and steaks over the past years. Using only the best products available for their guests and having a kid-friendly menu is just one of the reasons. The patio atmosphere overlooking their private lake with waterfalls and fountains is something that guests can enjoy from May to October. Along with a great patio, they also have two beautiful private rooms that they use to host wedding receptions, private parties and holiday parties. And don't forget happy hour – Charlie's on the Lake offers happy hour every weekday from 3 to 6 p.m. with ½ price appetizers and $1 off all adult beverages.
Enzo's Italian
8510 N 30th St.
402-933-9755
Enzo Zurlo, owner of Enzo's Italian in the Florence part of Omaha is a first born American and NY native. He brings a traditional Italian cuisine with a new age flair to the Midwest. His menu consists of fresh and local ingredients that is all made in house and to order. Pastas, breads, brick oven pizzas and dressings are just a few to mention. This summer their 500 square foot patio will be open with a cozy fire pit and an exclusive al fresco food and drink menu and featuring a wide selection of Italian wines. Be sure to make a reservation on the weekends because, with a featured special on Fridays and Saturdays, they pack a full house. Enzo's is great for a fast casual lunch with mouth-watering paninis and salads. If you don't have time to sit in their quaint dining space, call ahead and place a to-go order (everything on the menu is available to go). Hours of operation are Monday-Thursday 11am-2:30pm and 4:30-9pm, Friday & Saturday 11am-2:30 and 4:30-10pm.
Jackson Street Tavern
1125 Jackson St.
402-991-5637
Enjoy open air dining at its finest at the Jackson Street Tavern. Their patio, with its massive roll-up door provides for excellent people watching and a great way to enjoy after work drinks. Whether you are looking for a light bite after enjoying the farmers market, Sunday brunch with family, or wining and dining a special friend under the stars, the patio at the Jackson Street Tavern is your spot. Join them for delicious fresh food, full bar service and courteous and professional service served seven days a week on their patio that offers a great view of the Omaha skyline and the Old Market. And if it's too hot or too cold or raining, they have plenty of seating available inside.
LIV Lounge
2285 S 67th St.
402-884-5410
An award-winning cocktail bar in the Aksarben Village area of Omaha, LIV Lounge offers an extensive cocktail menu, diverse wine & beer selections, and small plate appetizers in a warm and inviting environment, including a large outdoor patio. Since opening in 2009, LIV Lounge has become one of the most respected cocktail bars in Omaha with a menu that includes over 100 hand-crafted classic and craft cocktails. Only steps away from Stinson Park, Baxter Arena, the Keystone Trail, restaurants, theaters, hotels, shopping and convenient free parking, LIV Lounge is the perfect place for happy hour, after-dinner drinks, or evening cocktails in a civilized setting. The LIV Lounge outdoor patio, one of the largest outdoor patio spaces of any cocktail bar in the area, is a popular spot for groups large and small. With a gas-fired fire pit, bistro table seating, and designated outdoor wait staff, the LIV patio provides a relaxing setting for socializing with friends, enjoying fresh air, day-time sun shine and evening star gazing.
Nicola's Italian Wine & Fare
521 S 13th St.
402-345-8466
Nicola's Italian Wine & Fare has been in Omaha's Old Market since 2003 and they are known for their divine Italian Lemon Cream Cake and incredible lasagna. Dinner at Nicola's is a delightful experience. Whether you are dining on the outdoor garden patio or inside the rustic cozy dining room, the freshness and care for each menu item is unmatched. "Stay Sweet, Nicola's" is the newest part of Nicola's. They offer amazing desserts, baked goods, hand painted cookies and artisan chocolates to enjoy at home or for that special occasion. Order online at StaySweetNicolas.com . Or call us at 402.403.YUMM. They love taking requests and working with you to make your event extra special. Catering is also available for all of their dinner, lunch and dessert items.
Petrow's Restaurant
5914 Center St.
402-551-0552
Petrow's recently added one of the best outdoor spaces in Midtown Omaha. With seating for 65 and a bar capacity of over 200, their patio lends itself to accommodating any event or casual dining experience with a contemporary feel. Stay comfortable eight months out of the year with an automatic louvered and watertight awning keeping the area cool and shaded in hot weather and dry if rainy. Heaters warm the space on cool days and nights. Big screen TVs along with water and fire features complement their patio and bar menu. The fast casual menu features salads, wraps, homemade falafels and appetizers. Enjoy a beer or a drink with drink specials and a full bar. Petrow's on the Patio is open for breakfast (self-service), lunch and dinner Monday through Saturday during the outdoor dining season.
Salt 88
3623 N 129th St.
402-991-9088
The patio at Salt is tucked away on the south side of the strip. There are no streets with rush hour traffic hurrying past and the patio overlooks the golf course at Eagle Run. The feeling on the patio is an upbeat scene of people enjoying cocktails, catching up with friends and even laughing at the occasional bad golfer, making their way through the course in the distance.
The patio is a popular spot at Salt and although they offer the largest patio in Omaha, their outdoor tables are available on a first come, first serve basis. Salt offers numerous styles of dining when it comes to al fresco. Enjoy seating under the cover, or next to one of their beautiful wood walls, crafted from 100-year old reclaimed wood. If you have the shades in toe and want to catch some rays they offer seating under the elegant patio lights or the stars of the night sky.
Spezia
3125 S 72nd St.
402-391-2950
Spezia has a quant hidden patio off the main dining room and bar. The architectural charm of the building is well received with brick surround and slanted windows. Two large trees shade the area and rows of string lights add a nice ambiance as the sun goes down. First come first serve and weather permitting. Serving lunch and dinner seven days a week and a brunch buffet on Sunday morning. Expertly prepared wood fire steaks, seafood and innovative pasta dishes offer excellent variety from their award winning menu. High backed booths provide privacy under sky lit windows or in the cozy "cave" area. Along with craft cocktails and an extensive wine list, Spezia has happy hour every day from 4-6 p.m. with ½ price cocktails Private party rooms available for large groups, weddings, meetings or special events. Reservations recommended.
---
Related Articles
If you've hosted a dinner party recently, this may sound familiar. "Will there be a vegan option?" "Should I bring
It never fails. The holiday season always makes me count my blessings. And tops on my list are family and
For the past year, I have been working with many of my beloved industry comrades to establish the Omaha-Lincoln chapter
Only registered users can comment.