Supper Club: Benson Progressive Dinner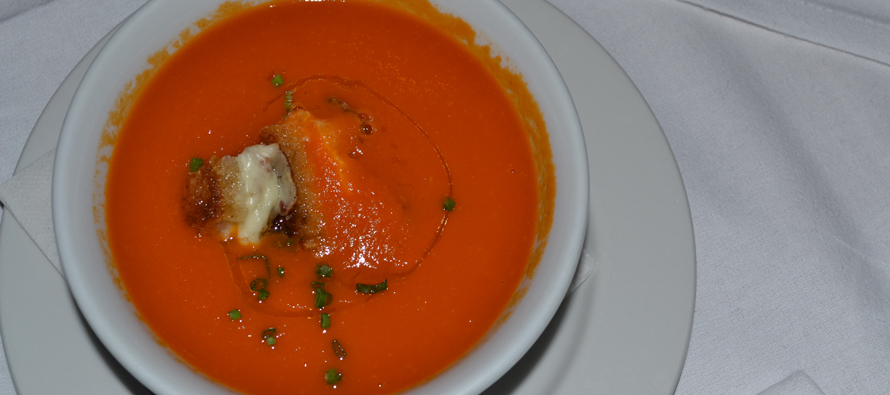 Publisher's Note: Omega Omega Omega (Tri Omega), the culinary fraternity at the Institute for the Culinary Arts at Metropolitan Community College, strives to provide students with opportunities to apply and develop their skills through unique experiences. One of these experiences is the Supper Club. The Supper Club selects a restaurant once a quarter and works with the chef of the restaurant to provide a unique dining experience to challenge the palate and minds of the students with the unique ingredients and techniques found in that chef's kitchen.
This edition of the Supper Club found the culinary students taking Benson by storm. Benson has become a local food haven in the last few years, cultivating new and outstanding restaurants. Tri Omega held their first ever Discovering Benson Food Tour. 40 students and their guests were lucky enough to get to take part in one course at four different Benson restaurants. The participating restaurants were Taita, Benson Brewery, Lot 2 and Espana.
The night started with a meeting at Jake's Cigars & Spirits and then four groups of 10 dispersed to each of the four restaurants. Each restaurant was given the task to create a four course menu and the guests would each have one course before departing for the next stop on the tour.
The first stop was Taita at 6109 Maple St. Taita is a Peruvian inspired restaurant that holds the meaning "father" in its name.
The first two of Taita's courses required diners to choose between hot and cold.
Hailee, the general manager of Taita, offered us a choice, "Hot or cold?"
For appetizers, the cold course was a scallop ceviche presented in its shell and including mandarin oranges, tiger's milk and avocado. The hot course was an anticucho of tender beef heart with confit potatoes. For those so inclined, a refreshingly smooth pisco sour was also available.
For the second course, we were surprised to find that our hot option was a beautiful nigiri sushi with rice, fois gra and caramel gastrique. The roll had a perfect melt-in-your-mouth feeling that was thoroughly impressive. Our cold option was yellow tail tartare with bits of cilantro and fresh wasabi in each bite.
For the third course of the night Hailee gave our group a different choice, "Land or sea?"
The land option was very tender rabbit with an apple and hazelnut chutney, confit potatoes and kale in adobo sauce. The apple and hazelnut chutney provided a homey feel to the plate and complimented the rabbit nicely. The sea option was a whole rockfish with chorizo and eggplant puree. This entire dish was spicy, crunchy and tender all at the same time.
The final course at Taita was a dark chocolate pave with caramel and powdered chocolate. It gave a smooth, rich flavor that was complimented by the saltiness of the caramel.
It wasn't just the food and staff that made us fall in love with Taita. The attention to detail was also very clever. Chef Jose has put his heart into this restaurant, from the small nook that holds 10 guests, to the urban style murals on all of the walls.
The next stop for the night was the Benson Brewery at 6059 Maple Street. Benson Brewery is a cozy brewpub and upon entering you receive a warm, industrial feel that is finished with some excellent wood fixtures.
The first course of the night was spent grain bread with a beer cheese dipping sauce and paired with an Uncle Sunkel's beer. The beer cheese sauce was a solid hit for the group and provided a light, creamy texture by using white cheddar, Taleggio and baby Swiss cheese, with a hint of the beer flavor. The process of using spent grains was inventive – they use the grains from their brewing process and use them in their breads.
The second course was a pork confit salad accompanied by chevre cheese, cranberries, pickled onion and mustard vinaigrette. Overall, the salad was light and refreshing with the vinaigrette cutting the sharpness of the cheese and making it sweet, tangy and savory.
For our entrée course we were excitedly brought a true pub favorite: bangers n' mash. Benson Brewery's take on this dish brought a new life to it. Rabbit and sauterne sausages sat upon mashed potatoes, topped with the most glorious sweet onion demi, and buttered Brussels sprouts. Everything in this dish made you feel like you were sitting in a true British pub.
"The caramelized onions really make it," Steven said as he lifted our beer, Lord Benson, which was paired with the dish. Lord Benson holds up to its name and is a crisp pale beer that leaves you wanting more.
As the fourth course came out it was explained that the light and creamy cheesecake with caramel sauce was a family recipe. It delivered on all counts including its Belgium-style beer pairing of Stunt Dubbel.
Benson Brewery held true to its name and provided us with a great pub style feel. The staff, including brewer Andy Elliot, was extremely willing to talk to us about their brews as well as their process. Not only was Tri Omega able to take away good vibes from Benson Brewery, but we also took away new knowledge.
Our third restaurant of the night was Lot 2 at 6207 Maple Street. Chef Joel Mahr helped to cook and serve our meal, making quite the impression with his humble personality.
Our first course was an heirloom tomato soup using house canned heirloom tomatoes, grilled cheese croutons, bacon jam, smoked olive oil and chives. The combination created a smoky, better-than-mom's, tomato soup.
The second course for the night will be premiering on their menu this spring: braised beef brisket croquets, along with a shaved Brussels sprout salad.
"If you could deep fry beef stew, this is what it would taste like," Tri Omega Vice President Angie Thomas described.
The entrée course at Lot 2 was salmon with beans, bacon and mushrooms. A citrus note was added to create a good balance in the flavors.
The fourth course of the night was a maple bourbon yellow cake with chocolate ganache and a caramel center. This dessert presented an amazing sweet, salty and textural contrast.
"I want to crawl inside of this and stay for a little while," a student commented as they ate.
Lot 2 brought out all of the best parts of our childhood memories with their menu. They also provided a laid back setting that makes you want to come back for cocktails and a good conversation with Chef Joel.
The last stop of the night was Espana Tapas Bar at 6064 Maple Street. Walking into Espana, modern paintings by local artists make you feel like you have been transported to an upscale restaurant in the heart of Spain.
The first two courses were served as tapas which are a wide variety of small appetizers. A wonderfully salty, but nice, acidic chicken croquette with garlic aioli was a hit, along with a very tender and sliced Serrano ham. A solomillo, or a steak sandwich, with Manchego cheese, roasted peppers and aioli was also raved about during this course.
The entrée course was a creamy chicken, pork, and chorizo paella using saffron rice with peas and carrots. This course brought a new experience to quite a few people, and impressed them all.
"Miracles happen," Coral Hernandez commented on the paella.
The last course at Espana was a trio of desserts including cinnamon flan, tres leches cake with strawberry jam, and churros with chocolate sauce. The flan was perfectly light and creamy while the tres leches cake had a hint of lemon to compliment it. The churros were accompanied by a chocolate sauce that had most of us licking our plates clean and asking for more.
At the end of the each meal, Chef Carlos brought out the porron. The porron is a glass wine pitcher that you pour wine (or cranberry juice) in a stream to your mouth, and it usually produces entertaining results.
Espana is a wonderful treasure to Benson. They provide a warm atmosphere of friendly faces that want to introduce you to true Spanish cuisine.
Over all, this was a truly amazing experience. Tri Omega provided an adventure for their members for this Supper Club and a big thanks to all of the chefs, owners, servers and everybody else that made it possible for us to experience Benson.
---
---
Related Articles
Korean food was designed for bringing together friends and family. I lived in Korea for two years as an English
Recipes used to be simpler: 1. Hit pigeon with rock; 2. Pull off feathers; 3. Hold over fire until inside
Food & Spirits Magazine hosted the 8th Annual Omaha Pizza Review at The Waiting Room Lounge and Reverb Lounge on
Only registered users can comment.