The Wine Leading the Blind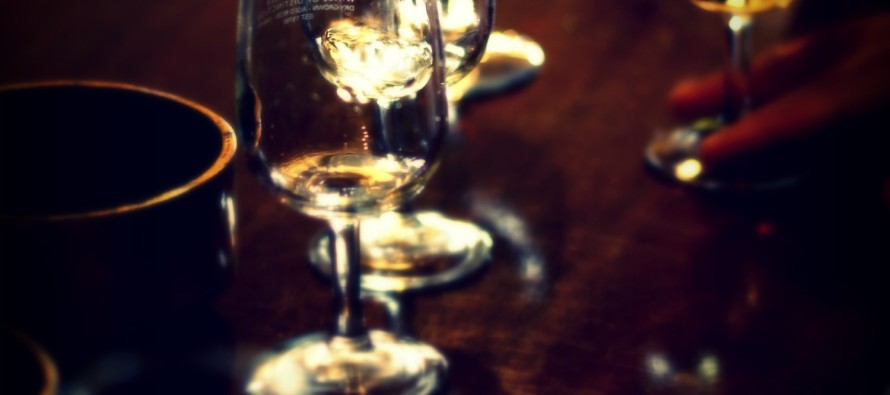 Purchasing wine can be a daunting task. Restaurant lists and store shelves are loaded with seemingly endless brands and varieties from which to choose, and it is impossible to know about all of them. As a result we often find ourselves buying blind.
Navigating the ocean of available wines can be, at best, imprecise. The decision making process is like a fork in the road, only this fork has about a dozen prongs to consider. Strictly speaking, consideration should be given to the country of origin, producer, appellation, vintage, the food it may accompany and even the company it may accompany. There are wine ratings as given by the 'experts', complete with ever so colorful wine notes that include such delectable and mouth-watering flavor descriptors as "earth", "tar" and "wood".
Also, there is price to consider. While one side of your brain asks, "How much do I want to spend?" the other side is probably responding with," How much do I need to spend in order to get something good?" If answering your own question with another question sounds frustrating, well, that's because it is. After all, we aren't buying a car or a house or even an article of clothing. Whatever we buy will most likely be soon consumed and gone forever. Shopping should be fun, right? Then why is this so difficult?
The recent boom in popularity of craft beers is somewhat similar to the American wine boom of the 1980's with one major distinction: the price tag. Experimenting with a bottle or six pack of unknown beer is relatively cheap. If you don't like your beer selection you are out only a few bucks. And unless you are completely throwing darts and don't know a stout from a wheat beer, this probably won't be the case. In the rare instance that this does occur, simply choose another. It's no big deal.
Wine is different. Wine can be expensive. It's one thing to blow $5 on a beer and quite another to waste $20 or $30 – or more – on a couple of bad glasses or subpar bottle of wine. And because the tab is more expensive, you are far less likely to dispose of the undesirable wine than you would a beer. The cork has been pulled and you're stuck with that bad date for the evening. Fun just left the building.
So, what exactly should be considered when making a wine selection? Here is a rundown of common criteria upon which to make an intelligent buying decision.
The vintage of a wine is the year in which the vast majority of the grapes (85% or more usually) were grown and harvested. Its importance is largely overrated. Granted, for expensive wines the vintage can be of significance, particularly in old world wines (think Italy, France and Spain). But in the past twenty years winemaking technology and viticulture practices have advanced tremendously. Good producers and winemakers are putting out wines much more consistent from year to year than in prior decades. Cool vintages may yield wines stylistically different than warm vintages, but the wild annual swings in overall quality are, for the most part, not to be feared. Again, this is true more so for new world wines (USA, Australia, etc.) than old world wines. Unless you are buying expensive collectibles to be cellared for years to come, you can probably leave your vintage chart at home.
A reputable producer or winery is generally a safe place to begin your search. But be careful. Not all wines produced by such a winery are of the same quality. A good cabernet producer may not be as adept with, say, chardonnay or pinot noir. When it comes to quality wineries, bigger is not always better. Wonderful wines can definitely be found in the smaller, largely unknown wineries. Reliance on the more popular brands may be a somewhat safe place to start, but does not always produce the best bang for your buck.
Wine ratings can be quite helpful but they are far from infallible. For one thing the rater's taste preferences may not be the same as yours. Remember this redundant phrase: taste is a matter of taste. One person's darling may be another person's dreck. A lover of Bach may find Led Zeppelin unbearable, and vice versa. Equally important as the rating, is the actual publication from which it came, as some are definitely more reputable than others. It is not unusual to find good ratings on wines that coincidentally pay for advertising within the same pages of some magazines. (Now, isn't that convenient?) Ratings from a reliable publication, although not an exact science, can be helpful.
A wine's appellation designation may be the single most significant general indicator of its quality. In nonspecific terms, appellation is the geographic region from where the grapes were grown. Every designated region has unique characteristics, and each grape variety has certain preferred appellations that are more conducive for producing better fruit. The majority of what you taste in wine comes from the grape itself, not the post-harvest machinations of the winemaker, so it only makes sense that the grape's appellation is key to producing excellent wine.
There are hundreds of appellations in existence. No worries. Learn but a few and grow your knowledge from there. Pinot noir from the reputable Willamette Valley in Oregon, or Russian River Valley or Carneros in California or the Burgundy region of France are certainly among the finest. Zinfandel from Lodi or Dry Creek Valley can be quite reputable. Cabernet from Napa Valley is a no brainer. You get the picture. Become familiar with a couple of these regions. Then read the wine labels and find the renowned appellation designations for the particular grape variety you are interested in. Buy accordingly.
Regarding price, it is assumed that the better wines cost more. However, know that not all grape varieties are created equal. Finding a decent pinot noir for less than $20 is difficult, but spending more than $20 for a palatable malbec, sauvignon blanc or zinfandel is probably not absolutely necessary. The price for a quality wine varies by grape variety. A knowledgeable wine steward or store clerk can be most helpful in guiding your selection here. The good news is that the quality/price ratio for most wines is much better today than it was a generation ago. The world's wines are better than ever. Today you can get some pretty tasty stuff for $15 or $20. If you don't want to spend that much, do not apologize. Discovering a nice little $8 bottle of wine is one of life's great pleasures. Bargains can be found.
The absolute best method of selecting a wine for purchasing is to taste it. Granted, this is not always possible. Search out a wine shop or restaurant that allows you to sample wines affordably or one that holds regular tastings, and one with a knowledgeable wine staff that can assist you with your selection. You will be glad you did. And then trust your palate. Taste trumps all rules and ratings. If it tastes good, then it is the right wine for you. After all, the only palate you need to please is your own.

John Finocchiaro
John Finocchiaro is a former co-owner of Johnson Brothers Finocchiaro, LLC, a Nebraska wholesale wine, spirits, and beer distributor. Formerly the owner of Finocchiaro Wine Co., Inc., John has been in the wine distribution business for the past 25 years and the Finocchiaro family's association with the Nebraska wine industry has been continuous for the past 73 years, since 1935. John was a Certified Public Accountant before entering the family business and is a Certified Specialist of Wine.
---
Tags assigned to this article:
wine
---
Related Articles
  Happy hour is a tradition and an excellent way to treat yourself after a long, hard day at work
It's about to be summertime, which means grilling and drinks with friends and family outside on sunny days. We'll be
Cynics and singles bash Valentine's Day by calling it a "Hallmark Holiday". Men loath the pressure of buying the correct
Only registered users can comment.