You Cannoli Live Once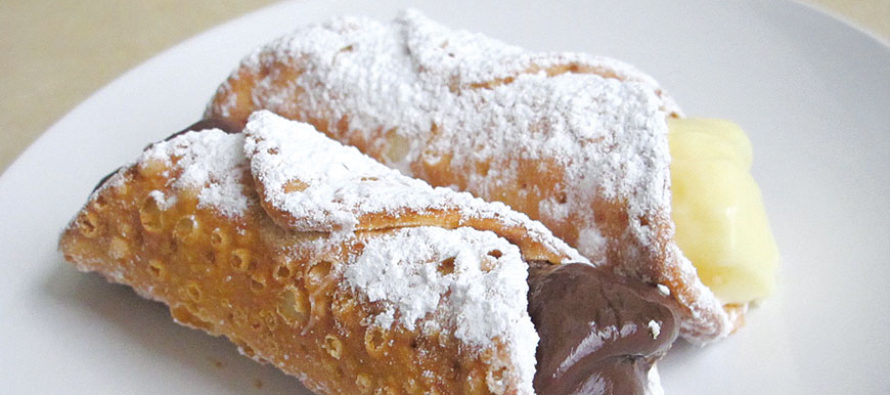 So why dredge it out? In light of recent political chaos, the fact that we've been wearing shorts in February, and the all-together dissolving of organized society, this writer thought it would be best to focus on a story of the sweeter things.
Namely, cannoli, little ricotta filled tubes o'love.
The cannoli originated in Sicily, a sweet member of a pastry family believed to have been a part of the festivities of annual Christian rites. The cannoli itself has a background similar to the one your cousin Carl has who ran off to Brazil to "find himself" for a while. These lucky pastries are associated with 15th century Carnevale, a vibrant festival where attendees are draped in bright colors, beads and masks for a little party before Lent.
Some historians say the cannoli may have originated earlier than the 15th century, since it was made with ingredients like cane reed, brought to Italy by the Saracens from Turkey. Hard to argue when the word "cannoli" itself is derived from "canna," the word for cane reed, which was also used to create the cylindrical shell.
The shape of the cannoli (and its creamy filling) is interesting when thinking of the modern sexual innuendos and "debauchery" associated with the Carnevale festival even today, which makes you wonder where these people's heads were at so long ago. Even the Saracens are theorized to have used these sweets in fertility festivals. Nonetheless, this little pastry has been captivating hearts, taste buds and dirty humor enthusiasts for centuries.
Omaha is fortunate to have easy access to fantastic Italian restaurants. Hell, we even have an entire neighborhood dedicated to the delicious genius of the Italian population. But great Italian food isn't just found in Little Italy. Throughout the metro, there are a number of fantastic restaurants, bakeries and little out of the way places, with some of the best cannoli you've had, this side of a fertility festival. Each spot has its own version of a traditional cannoli; some with pudding, some with cream cheese, some with triple sec. The only thing to do is try them all. After all, you cannoli live once.
With its bright logo and cheerful marquee, it's hard to miss Petrow's on Center St. A local favorite for over 50 years, this spot serves everything from eggs benedict to pork tenderloin. And their dessert display is enough to distract from dinner all together. As I devoured a silky cannoli with chocolate chips the way a lioness would a gazelle, owner and operator, Nick Petrow, proudly pointed towards the display case, saying, "Everything that's got piping, we make here. We also make the cinnamon rolls, muffins, and brownies."
But there is a magnificent partnership in this dessert case that started years ago.
"Nick's dad used to buy products from my dad, and Nick and I went to high school together," said Mark Pettit, co-owner of Pettit's Pastry. "I went into Petrow's after they remodeled last year, and I asked if I could bring in some dessert samples to help both of us with our business. After trying a few items, he said go for it!"
Today Pettit's supplies the cannoli at Petrow's, along with hazelnut ganache, red velvet cakes, mini cheesecakes, and more.
Pettit's Pastry has been servicing Omaha's sweet tooth since 1954. Made from scratch favorites include donuts, cinnamon rolls, and the infamous cannoli, which have made a career out of being bought out of the Petrow's display case quicker than they can be made. If you are having a bad day (or a good one), these cannoli will make you feel like a million bucks.
The secret is in the filling, literally.
"It's a family recipe that I created after requests for cannoli that were a bit more shelf stable," said Mark. "It's sweeter than a traditional cannoli."
Thick, rich and velvety, these cannoli are truly unique. A blend of cream cheese icing, triple sec and chocolate chips are blended together in what must be the most luxurious and delicious mixing bowl concoction on earth, one that celebrities would pay big bucks to pose in and post on Instagram. The filling is then piped into a crispy shell, a perfect blend of sweet and crunchy.
As sad as I was to leave Petrow's, I was also excited to stop into Orsi's Italian Bakery and Pizzeria, an Italian joint tucked in the heart of Little Italy. Famous for their pizza and, honestly, pretty much everything else, this staple has been serving fresh made items since 1919. Owner Jim Hall has seen his share of food trends over the last few years at Orsi's. 50 years to be exact.
"We make our ricotta in house every day," said Hall, prepping a few pizzas for carry out. "Then we realized there was a need for cannoli for people who can't have dairy. Ricotta is too expensive not to use. So that's why we started making pudding-filled cannoli."
If you think you cannot possibly have a cannoli without the ricotta, then you haven't tried Orsi's. Offering both chocolate and vanilla, the pudding is a lovely, quicker way to get through the filling and into that satisfying, crispy shell crunch.
"A lot of people buy the shells from us, and make their own ricotta to fill them with," said Hall.
Due to the increasing line behind me, I took my cannoli home to try. The lack of cheese, dairy or cream, actually makes the cannoli lighter, making it (dangerously) easy to eat both of them and not feel too full. The pudding is also sturdier than you might think, giving a sweet resistance between filling and the pastry shell.
But what about the ricotta, you may be wondering, clutching your favorite framed picture of cannoli the way a tween would a poster of One Direction.
For the traditionalist, Mangia Italiana has what you are looking for. This Sicilian eatery boasts a reputation for authentic, delicious Italian food, and the cannoli are no exception. "The recipe itself is based on the standard cannoli recipe, but it's zipped up quite a bit," said owner Tony Constantino. "My dad has been making the cannoli here for 10 years."
And because of this, Dad has job security for life.
"I don't even know exactly how he makes the filling," he said. "He keeps it a secret!"
There are three types of cannoli handmade and mixed at Mangia: lemon, vanilla with chocolate chips and chocolate. All three are accented with chopped nuts and pistachios, giving a gorgeous, subtle savory foundation to the richness of the ricotta. For a moment I considered running off with the chocolate cannoli to live happily ever after. "The chocolate is fantastic, but I would say the customer favorite is actually vanilla," said Constantino. "Every so often Dad will make something a little crazy, with Reese's or Oreos, and we'll have the staff try them out. If they like it, we will run them as a special."
You need to remember to call in your order prior to making the trip to Mangia's. "The cannoli are all made to order," said Constantino. "We also make them for celebrations and events. We made 375 for a wedding not too long ago." 
What really makes the cannoli at Mangia stand out is the adherence to tradition. "We really focus on making sure everything is authentic. That's what makes our products stand out," he said. "We started making them because we wanted to offer our customers cannoli done the right way." 
For God's sake, order these cannoli. Get all three, but snuggle in with the chocolate. It's rich, but not too rich; sweet, but not too sweet. Much like the type of person you hope cousin Carl ends up with someday.
From the Saracens to Omahans, everyone can agree the cannoli is delicious. Though the traditional cannoli is something special, there is something wonderful about the innovative ways restaurants in Omaha have made the cannoli their own. The next time you wear both a snowsuit and shorts in the same week, or the next time your Facebook feed is nothing but negative drivel, remember the cannoli. Life is short anyway, so order dessert first, and remember; it cannoli go up from here.
Petrow's
5914 Center St, Omaha, NE 68106
(402) 551-0552
Pettit's Pastry
502 N 16th St. (Cannoli's at the downtown location)
402-345-1111
Orsi's Italian Bakery and Pizzeria
621 Pacific St, Omaha, NE 68108
(402) 345-3438
Mangia's
6516 Irvington Rd, Omaha, NE 68122
(402) 614-0600
http://www.mangiaitaliana.com/indexs.php

Jessica Clem
Jessica Clem is a freelancer writer based in Omaha, Nebraska. A marathon runner and food writer, her favorite way to get motivated to finish a project is the promise of a craft beer. She has a B.A. in English and an M.S. in Urban Studies, and enjoys traveling, finding typos on billboards, and the smell of a real book. She currently works for National Media Brands as an account executive.
---
Related Articles
We have been invaded. The Europeans snuck in and now all our signature foods are named after their home towns.
Every year at this time we make a few notes regarding the hits and misses of our backyard garden so
This is the furthest I have been out for Finding the Food to date. I found myself with some friends
Only registered users can comment.