Bayou Bonanza: An exploration of Omaha's expanding Cajun, creole, and soul food scene.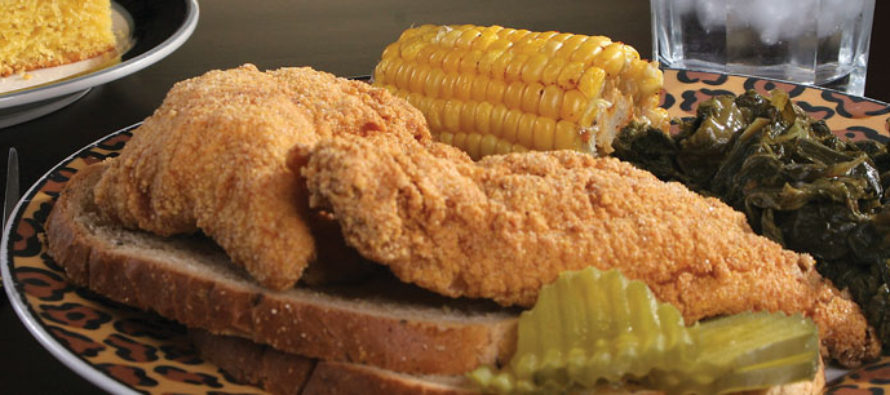 It was a warm and windy Wednesday morning in Mid-June.  My girlfriend Melissa and I were driving down Interstate 77 from Charlotte to Charleston. It was our first visit and we had heard first hand from friends that their food scene is spectacular. We were going over culinary wish lists as we got closer:  shrimp, scallops, crab cakes, the freshest fish we could find, biscuits and cornbread. Charleston lived up to our high hopes. From the hushpuppies at Red's Ale House on Shem Creek to the low country paella at the Low Country Bistro in Downtown Charleston and the best biscuits of my life at Callie's Hot Little Biscuit, our appetites were squelched and our flavor palate full of Southern delights. One would think that leaving such a fine food city such as Charleston would leave us longing to make a trip back as quickly as possible. While we'd enjoy the getaway immensely, our tastebuds can take pleasure in the blossoming Southern food scene we have here in the Omaha area year round.
The most recent entry into this tasty genre is Simply NOLA. Simply NOLA opened in May and is located in the Mall of the Bluffs. It's the dream come true of Iris Thomas, a New Orleans native. Thomas offers a chicken etouffee, shrimp creole, crawfish pasta, a jambalaya and a gumbo as her current menu staples.  On Friday and Saturday evenings they create their own version of stuffed peppers that is quite popular.  I was fortunate enough to try her crawfish pasta. The crawfish were tasty, the sauce hot and creamy, and the seasoning she adds gives the perfect New Orleans aftertaste. She makes an ooey gooey cake for dessert and even makes two custom drinks: a Roffignac fruit punch and berry infused tea. Their hours are Tuesdays 11-6 and Wednesdays-Saturdays 11-8. 
"Our hours and location make it very easy for people to pick up lunches and dinners to go," Thomas explained. Her portion sizes are extremely family friendly and meant to be shared. They can be ordered in a small size or large (which Thomas calls a "Louisiana small"). 
A highlight of their menu is their homemade seasoning they use. "We make sure our customers can season their food to their flavor and spice tolerance, and it's become so popular we sell it by itself now," says Thomas. Their combination of portion sizing, spice adjustment, beverages, and proximity to the interstate make it one of the best to-go dinner options of any cuisine type in the area.
Our next stop for Southern food takes us to one of northern most parts of the metro in the Florence neighborhood to meet the Mouth of the South.  It opened in May of 2014 and word spread quickly that a mouthful of Southern flavors awaited diners. Ryan Ernst, the owner, grew up eating jambalaya, gumbo and loves everything about the food. "We've kept the menu pretty static due to the consistent popularity of it and because of our regular clientele, for whom I am very appreciative of".
He thinks people come for the food and for the history of the Florence neighborhood. It's easy for anyone to find it as its only six blocks south of Interstate 680. On my visits there, I've always had a terrific meal.  The boudin balls are a fantastic starter and their poblano chicken has become a restaurant favorite. Their po' boys and onion rings make a satisfying plate. I've loved sweet tea for 20 years, and they fill my glass with the best sweet tea I've had in the last few years anywhere in the country.
Cajun food can also come to you if you follow the Taste of New Orleans Food Truck on Facebook. Taste of New Orleans' kitchen is small but their Cajun choices are vast every day.  Their po' boys come in array of carnivorous treats including: shrimp, catfish, chicken, steak, even pork. They have fried pickles and okra as starters too. Lee Franklin works in the truck on a daily basis and stressed the importance of cooking their catfish and seafood perfectly. They combine it with their homemade sauces to give customers the best taste and texture possible. The truck is evolving to meet the growing needs of their client base.
"Our rice bowls with creole steak and creole chicken are more popular than ever," said Franklin. "We're starting to roll out a menu with more healthy choices without sacrificing any of the flavors people love."  Through their Facebook page and word of mouth, they've learned how to prepare enough food to meet demand at each stop.
Big Mama's Kitchen has a menu full of food that brings happiness to your mouth, satisfaction to your stomach and comfort to your soul. They are located on North 45th Street between Bedford and Wirt Streets.  Big Mama's specialty is their fried chicken.  Marinated with buttermilk and seasoned with her own special rub, it's the best of Southern fried chicken right here in the heart of Omaha.  The tasty bird can be accompanied by macaroni and cheese, fried okra, collard greens or other Southern delights.  Do save room for her signature sweet potato pie.  It's baked fresh daily and is the perfect way to top off your Southern staycation.
Lolo's Chicken and Waffles originated in Arizona and Cutchall Management opened their first location in Omaha near 72nd and Military last fall. As their namesake states, they serve any combination of the chicken you can eat along with their homemade waffles. A quick look at the rest of their menu and you'll find generous portions of other Southern staples such as grits, mac n' cheese, catfish, fried green tomatoes, cornbread and more.
A downtown Cajun connoisseur can find Southern shelter at Jazz, a Louisiana Kitchen at 1421 Farnam Street. Jazz has an assortment of po' boys. You can choose from Cajun, fried or blackened seafood choices, including an alligator entrée. Diners can dive into sautéed shrimp, scallops, chicken, or crawfish pastas as well.
The metro also has several establishments where Southern, Cajun/creole cuisine may not be the central focus, but have dishes offer worthy representations of it. Plank Seafood and Provisions at 12thand Howard has excellent Cajun and creole food within their menu. Their fried alligator is one of my favorite appetizers in the city. Their po' boys are diverse and flavorful.  Plank has a spicy yet satisfying Andouille sandwich not found often here. A visit to a Shucks Fish house will reward you with a shrimp po' boy that's so big it's best to eat it with a fork.  You can also find jambalaya, gumbo, Cajun catfish and a Deep South risotto that has fresh shrimp and Andouille sausage. My first experience with chicken and waffles came from Wheatfields on 105th and Pacific. Their deep dish Belgian waffle, crispy chicken tenders and maple syrup make it hard for me to try anything else on their expansive menu! , Voodoo Taco may be known for their tasty tacos, but it's hard for me to pass up their beignets every time I spend an evening in Aksarben. They are hot and crispy on the outside and doughy on the inside.  The beignets are served with a choice of chocolate sauce, strawberry sauce or both.
The Southern, Cajun, and creole food scene is alive and well here on both sides of the Missouri River. Excellent fare exists in almost all corners of the area and several in between.  It's easy to find a dish to meet your palate's preference. If you're a catfish, oyster, Andouille, shrimp or alligator enthusiast we have it here.  If you seek po'boys, jambalaya, etoufee, or gumbo we have it.  Do not let your thirst go unattended and choose a sweet tea, fruit punch, hurricane or other creative cocktail. Somehow if an appetite still exists then chase it with an ooey gooey cake, sweet potato pie or beignet.  The quality and diversity of this cuisine in our area may come as a surprise. The good news for diners is business is bustling for our eateries so our opportunities to eat and share sublime Southern cuisine is only getting better!
 Web and Contact Information
Simply Nola:  Search Simply NOLA on Facebook
Mouth of the South: Facebook.com/mouthofthesoutsoutherngrub
Taste of New Orleans:  search Taste of New Orleans Food Truck Omaha on Facebook
Lolo's Chicken and Waffles: www.loloschickenandwaffles.com
Big Mama's Kitchen:  www.bigmamaskitchen.com
Jazz, A Louisiana Kitchen:  www.omaha.jazzkitchen.com
Plank Seafood and Provisions:  www.plankseafood.com
Shuck's Fish House:  www.absolutelyfresh.com
Wheatfield's:  www.wheatfieldscatering.com
Voodoo Taco: www.voodootaco.com

Kent Cisar
Kent Cisar searches the local and national scene for unique ingredients and flavors to bring to the table here in Omaha. He'll catch his own fish from Florida, ship farmer's market shrimp from Louisiana, stash jams from the Pacific Northwest, or find the best cut of meat from a Nebraska farmer. Kent believes that regardless of where the it comes from, good food is meant to be shared.
---
Related Articles
Why is comfort food so popular at many restaurants nowadays? Because a big bowl of mac and cheese is more
The most recent endeavor from the Ground Up Restaurants group is giving a Spanish twist to locally sourced food. Sebastian's
Food & Spirits Magazine hosted the 8th Annual Omaha Pizza Review at The Waiting Room Lounge and Reverb Lounge on
Only registered users can comment.