Omaha's 8th Annual Pizza Review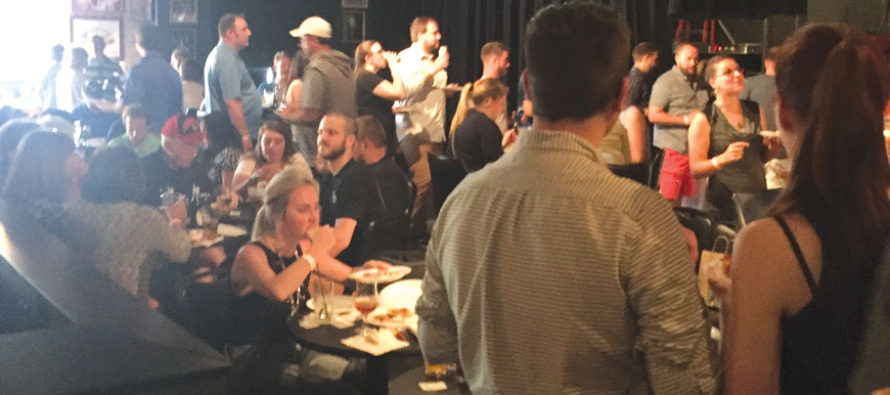 Food & Spirits Magazine hosted the 8th Annual Omaha Pizza Review at The Waiting Room Lounge and Reverb Lounge on June 7th at 6:30 pm. Musicians John Finocchiaro and Sarah Benck Tardy performed.
Those attending voted for their top three pizzas and judging was conducted by Food & Spirits Magazine's panel of judges.
People's Vote
1 – Villagio Pizzeria Omaha Nebraska
2 – Johnny Riccos Brooklyn Pizza
3 – The Pizza Pie Guys
4 – Dudley's Pizza & Tavern
5 – Official LaCasa Pizzaria Fan Page
6 – Pizza Shoppe Collective
7 (tie) – Varsity Sports Cafe & Roman Coin Pizza – Dundee
7 (tie) – Orsi's Italian Bakery
Judge's Vote
1 – La Casa
2 – Johnny Ricco's
3 – Prairie Fire Pizza
4 – Mama's Pizza Omaha
5 – Villagio
6 – Pizza Shoppe
7 (tie) – Red's Savoy Pizza & Sports Pub, Omaha
7 (tie) – The Official Sam & Louie's
Publisher's Pick
Salt 88
Misc. Category Winners
Best Omaha Throwback – Prairie Fire Pizza
Best No Show – Godfather's
Most Traditional – Orsi's
Most Original – Salt 88
Omaha's 8th Annual Pizza Review – Menu
Hosted by Food & Spirits Magazine
Dudley's Pizza
Chicken-Bacon-Spinach-Artichoke Pizza (CBSA) – Dudley's favorite, this pizza is exactly what it says:  full flavors of chicken, bacon, spinach and artichoke made with our famous Dudley's cheese blend and house made garlic white sauce.
 Johnny Ricco's
Ricco's Red – Italian sausage, pepperoni, red onion, and basil pesto, with mozzarella and our house-made red sauce.
 La Casa
Bourbon Bacon Sausage Pizza – This features a bourbon bacon marmalade, house made Italian sausage, spicy sliced sausage, pepperonchini and mozzarella cheese.
 Mama's
Bacon Cheeseburger Pizza – BBQ sauce or ketchup and mustard for the base, fresh ground beef, cheddar cheese, then topped with red onion, pickles and fresh cooked bacon.
 Marco's
Deluxe Uno – Cheese, classic pepperoni, Italian sausage, mushrooms, green peppers, onions and a sprinkle of extra cheese with all our crust toppers (garlic, Roma seasoning and Parmesan).
 Orsi's
Combo – Hamburger, pepperoni, sausage, green pepper, mushroom, onion, black olives.
Vegetarian Combo – Green pepper, mushroom, onion, black olives, tomato.
 The Pizza Pie Guys
Spicy Meatball (both regular and gluten free) – Spicy red sauce topped with all-natural and gluten-free meatballs and cream cheese.
 Pizza Shoppe
The Captain Kirk – Alfredo base, Italian sausage, red onion, black olives, mushrooms, mozzarella, oregano and Parmesan.
 Prairie Fire Pizza
Ruben Pizza – Base is Thousand Island, layered with thin sliced corned beef and sauerkraut, finished with my 5 cheese blend plus Swiss cheese.
 Red's Savoy
Hammer Pizza – The Hammer has our house made pizza sauce, our house made Italian sausage, cream cheese, banana peppers, sauerkraut and our house blend mozzarella cheese.
Salt
Teriyaki Salmon Pizza – Our pizza dough is made in house and features a cracker-like crust with a tender center.  We bake our pizzas in our stone hearth oven at 600 degrees.  This pizza grilled Scottish salmon, rich house-made teriyaki sauce, crisp snow peas, green onions and toasted sesame seeds a top our mozzarella, provolone and Romano cheese blend.
 Sam & Louie's
Sriracha Chicken & Spinach Pizza – Ranch dressing base, Sriracha chicken, spinach, red onion, cream cheese, Romano, mozzarella and Sriracha drizzle.
Varsity
Tommy Girl – Cream cheese and ranch sauce base topped with buffalo style chicken and mozzarella. 
 Villiagio
Sweet Chili Chicken Pizza – Chili base, grilled chicken, cream cheese, red onion, red pepper, pineapple, our house blend cheese and topped off with chopped fresh scallions.
BONUS PIZZA (wasn't voted on)
Roberto's Pizza
Mediterranean Style Chicken Pizza – It is a savory blend of white garlic chicken, onions, red, green, and yellow bell peppers, mushrooms, parsley, mozzarella cheese and creamy feta cheese on a medium style crust.
---
Related Articles
A seemingly endless stretch of cold, short, grey days from November to February makes some of us want to put
On a recent jaunt to Hawaii's Big Island, I was introduced to the traditional bowl of raw ahi stirred up
A country-wide guide to bringing the flavors of the mountains, prairies, and coasts to your kitchen Traveling and Christmas shopping
Only registered users can comment.